Matthew Allen decided to study law online because he wanted a profession where he helped others. Knowing he was able to make a difference to someone's life and advocate for those who have no one else in their corner. And he wanted an engaging career – where every day brought something different. That's why he's studying a Bachelor of Laws online with Charles Sturt University. Let's see what a week in the life of an online student looks like.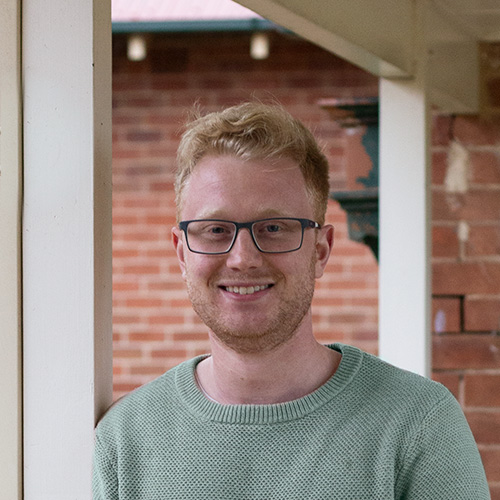 By Matthew Allen
Bachelor of Laws
Charles Sturt University

Monday
I don't have work on Mondays so they're intense study days. I'm off to the library and rip into it. I always start with the most challenging readings and today it is for my Criminal Procedure subject. We look at police powers, arrest and bail, sentencing, access to justice, and contemporary issues relevant to regional, rural, remote and Indigenous communities. But before I start reading I check out CSU Replay. It's the online home of all materials we need from our lecturers: summary notes, practice questions and recommended readings. Checking that out helps me concentrate my efforts in the right place.
I also do some of my own research as I go through the textbook and external readings. A good Google search can help, but I like to throw my subject name or code into Primo Search. It does a lot of the work for me – it's a tool for finding books, eBooks, articles, journals and videos. When I find what I need I request them and the library staff get them ready for me to collect. There's some points I need clarifying about the readings, so I email my lecturer a few questions.
I start typing up my Criminal Procedure summary notes. In my first year at Charles Sturt I realised the value of staying on top of study and the best way is to do summaries for every subject, every week. So when exam time rocks around I don't waste time going back and preparing notes. I've already got my game plan and I'm good to go.
They take a while because laws notes are a little different – they're more like a step-by-step problem solving guide.
After a full day of study its home for dinner, Seinfeld and then bed.
Tuesday
Study at home today. I check my emails and look at my lecturer's reply to my questions, then update my notes. Go through the Criminal Procedure learning module, drop in on the tutorial and check out the lecture on CSU Replay.
Tutorials are a great way to revise the week's content, ask questions and clarify any points I'm not sure of. You get an in-depth understanding of the topic and hear everyone else's thoughts and queries.
Then I change things up a little and start on my other subject, Administrative Law. This is an interesting subject because we look at mistakes administrative bodies make, compare courts with tribunals and learn about rights individuals have in relation to government bodies.
Tonight I play multisport with some friends from uni. Good night for soccer, but we get schooled at netball.
No matter what your goal is – a better job, new career, shoring up your current position or realising a dream – online study with Charles Sturt University can help you get there. And it's easier than you might think (yes, it really is). We're here to help – download your guide to online study.
Wednesday
I suit up for my role with a private legal practitioner. Today we're off to court where my role is to assist the lawyer by doing admin work. This includes things like speaking with the police prosecutor to get the case brief (that's information like the fact sheet, criminal record and evidence). I also get the paperwork ready for legal aid clients so the lawyer can review a client's eligibility.
For the rest of the day's court session I watch how the lawyers advocate and present their cases in court. I try to learn about the formalities of the courtroom and the language used.
I was lucky enough to get this volunteering opportunity after my lecturer put me in touch with a local lawyer who was looking for a law student to help out.

Matthew Allen
After a day in court I head home to chill out a little before a quick dinner and then back to the books to continue the week's reading. I check in with the Charles Sturt Bachelor of Laws Facebook group. It's a great way to network and see what others are thinking about our assessments. I ask a question about our current assessment and a few minutes later another student clues me in. Easy.
Thursday
I spend a few hours working through some practice questions for Criminal Procedure. This helps me highlight any weakness in my knowledge. Then, in the afternoon, it's off to my part-time job.
Friday
Today I get into my assessment for Criminal Procedure. This is interesting because it's like a puzzle that you have to piece together. I've started this assessment nice and early – so no stress. I read through the requirements, word count and the case study. I have to go through the case study and highlight the key components in law. That tells me where I need to do my research. Then I map out my assessment game plan. I start by gathering evidence and supporting materials (with references). This will take a few weeks, so the sooner I start the better.
Saturday
No study today. It's a full day of work and tonight I catch up with friends and de-stress.
Sunday
A slow start to the day before I get stuck into some revision. I tackle the leftovers from the week – the last bits of reading I didn't get to. Go over all my notes with fresh eyes and fill in any gaps. Then I set up for the coming week. Check out what the workload looks and pencil into my calendar when I will get tasks done.
That's a 'study law wrap' for the week and I get to say hello to my Xbox for a few hours.
What does your week look like?
Want to fill your week with things you're passionate about studying? Do you have a plan to study law online and help your community, like Matthew? You can at Charles Sturt. And you'll get all the dedicated support you need. Let's get to work!