Not sure what communication career you'll pursue once you complete a Bachelor of Communication? One thing's for certain – a career in the communication industry will be interesting! Just ask Charles Sturt journalism graduate Justine Ford.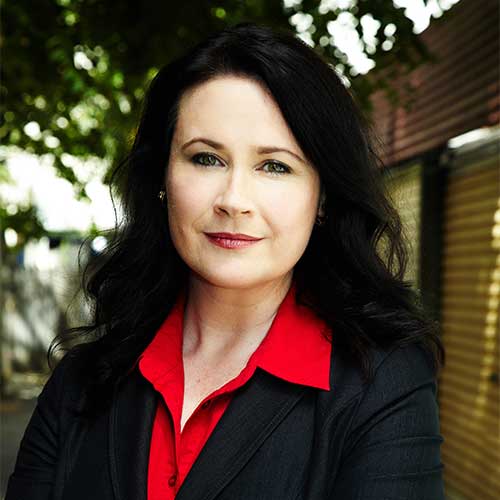 Justine began as a radio producer and regional news reporter. Then she nabbed a research job on the television show Australia's Most Wanted. The role opened the door to her true calling!
"Working in regional news, I was assigned court rounds and often reported on local crime. The subject was fascinating. I was interested in solving mysteries even when I was a child. I loved The Secret Seven, Nancy Drew, and books on how to be a junior detective.
"I'm pretty sure I was the only eight-year-old in my neighbourhood with their own magnifying glass and dusting kit!
"After a few months, [on Australia's Most Wanted] I was asked if I wanted to be a reporter. So, I was researching, reporting and producing stories on unsolved crimes all around Australia.
"I realised just how much the media could help as an investigative tool for police. We gave a voice to the families of the victims. I saw a really incredible, proactive role for the media and thought, 'I can do something here, I can make a difference'."
Telling stories to help healing
And, make a difference she did, helping victims of crime and their families by telling their stories.
"I feel very privileged that the police and families have trusted me over the years. In its time, I think Australia's Most Wanted saw about 800 results. That meant a huge number of missing people were found and suspects arrested for murder and other crimes.
"You get close to the victims' families and hope they all get the answers they need."
Throughout her career, Justine has covered some of Australia's most tragic crimes, including the mistaken identity murder of Melbourne mother Jane Thurgood-Dove; the Sunshine Coast disappearance of Daniel Morcombe; the murder of beauty queen, Bronwynne Richardson in Albury; the disappearance of Bathurst teenager Jessica Small; the disappearance of Sydney man, Matt Leveson; and the murder of Maria James, stabbed to death in her Melbourne bookshop.
The public's appetite wasn't diminishing for true crime content, so Justine used her experience to branch out into other communication jobs.
She's penned five true crime books and been an executive producer. Justine has also worked on some of Australia's most well-known and successful observational docuseries programs, including RPA and Border Security, as well as Missing Persons Unit.
But wait, there's more!
Her production company Queenpin produced The Good Cop for Foxtel Crime + Investigation on Australian homicide detective Ron Iddles. Based on Justine's book, the program won the Logie for Most Outstanding Factual or Documentary Program. Justine also produced The Good Cop podcast, which hit the Top 10 in iTunes.
A springboard into communication jobs
With decades of experience in communication jobs like crime reporting and producing now under her belt, Justine acknowledges that studying communication at Charles Sturt gave her the grounding to launch her stellar communication career.
The Logie winner has some tips for the next generation of content creators. Importantly, Justine highlights the power of balance when working in highly emotional environments.
"I try to separate myself enough from it so I can communicate in a useful way. You want to be professional but at the same time I often feel emotional when I interview victims' families.
"By listening and being empathetic you have a greater chance of telling the true story of what a missing person was like. Telling the truth for their family.
"In true crime journalism it's important to be genuine and compassionate. That needs to be at the heart of the work. You wouldn't be human if you didn't shed a few tears along the way.
"But you do need to balance your own life if you're going to do work like this. You need to take time out, exercise, eat and sleep properly, and take care of yourself emotionally. Then, if someone needs to lean on you a bit while telling you their story, you can be there for them."
Want a career in communication?
Make your mark on the world, and develop new and exciting ways to captivate audiences and tell the stories that need to be told. Follow your passion for all things media, like Justine, and see where it'll take you! From journalism to digital media production, advertising and public relations to theatre media, you'll find the right course at Charles Sturt University. Let's get to work!
Bachelor of Communication CRICOS code: 0101020