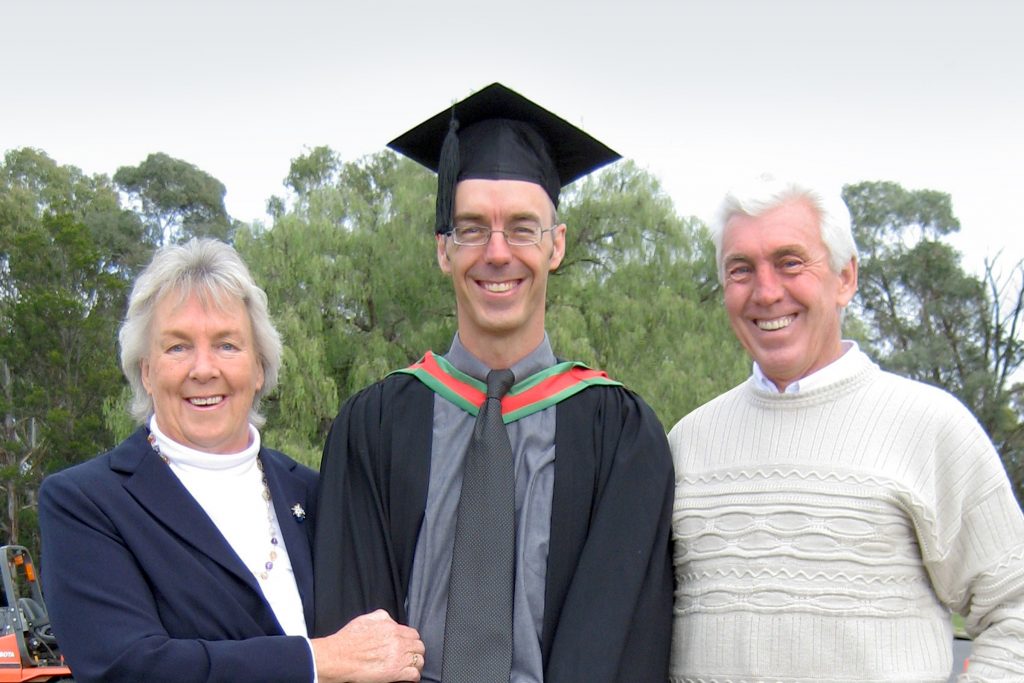 When he was a kid, Darren Denmead was captain of Bathurst West Public School. Today he's the school's principal. Little did Darren know that his career change into teaching would take him back to his childhood school.
Darren hasn't always worked in education. Straight after finishing Year 12, Darren came to Charles Sturt University to study marketing. It was great fun, and he went on to a successful career in the field.
However, after many years in the workforce – in a completely different industry – he wanted a career change. He wanted to do something that would help him make a difference to others' lives. So he decided to become an educator.
Darren returned to Charles Sturt University as a mature student to study a Bachelor of Education (Early Childhood and Primary). He could not have imagined how life-changing it would be.
A helping hand to make a difference
Part of Darren's drive to succeed at his new career direction came from receiving four scholarships across the course of his degree: the Dr Henry Nowik Scholarship, the Gerry & Helen Baber Scholarship, the White Family Scholarship, and the Western Research Institute Honours Scholarship.
"Receiving those scholarships was my best Charles Sturt University experience. I just couldn't believe how much everyone wanted to help me succeed. Financially, the scholarships meant I could give up casual employment, which not only gave me more time to focus on studies but also allowed me to spend more time with my family.
"Even more importantly, I was encouraged by the support and heartened to know that determination, motivation, passion and respect were rewarded. The scholarships showed me that age was no barrier and, significantly, that others could sense potential in me. That was a wonderful, life-changing feeling.
"My donors fostered an ongoing belief in my vision and skills. This has led me to pursue leadership positions in my subsequent career. I am sure this would not have happened as quickly, or perhaps at all, if it were not for receiving this support."
You too could get support to pursue your teaching career goals with a scholarship from Charles Sturt University. Whether you are starting on your career journey or, like Darren, coming back to university after some time in the workforce, we've got scholarships to help you succeed.
For instance, the Wagga Wagga Teachers College Alumni Association Scholarship is for anyone, studying on campus or online, in any year of a Bachelor of Education (Early Childhood & Primary), Bachelor of Education (K-12), Bachelor of Education (Technology & Applied Studies) or Bachelor of Educational Studies.

It's there – but to stand a chance you have to apply. You've got to be in it to win it, as they say. And you don't need to be the world's best student to apply for a scholarship. They are for anyone who needs a helping hand. So don't rule yourself out!
To inspire hope – the drive behind Darren's career change
In his current role, Darren leads a community of school leaders, highly professional teaching staff and a school population of more than 400 students from a wide range of backgrounds and cultures.
And the original drive to change tack and pursue a teaching career – to make a difference and enrich the lives of children with learning, curiosity, a deep connection with culture, and a respect for others – still remains and motivates him every day.
"I still love learning and teaching, and my enthusiasm for them grows all the time. Plus, I have presented numerous times to first- and fourth-year Charles Sturt University students over the past few year. I love helping them prepare for – and be inspired by – the best job there is.
"Let's be honest, who doesn't love the idea of making life a little bit more special for our kids and their families? No matter how trying the day, I go home knowing that I have helped children to believe in themselves and to love learning. Yes, the job is very demanding, but there is no better feeling than when you help kids to learn and to hope."
Find out how we can help you help others

Are you considering a career change? Perhaps, like Darren, you're keen to move into teaching or another field where you can give back to the community. Or, you might simply want to try something new. Wherever you want to take your career, we've got practical, hands-on courses to get you there. It's what we do.
Contact our friendly team to discuss where we can help you go next.