In the age of wearables, apps and fitness trackers, it can be tempting to think that these are the best way to stay the course when it comes to reaching your fitness and health goals. Charles Sturt University exercise science academic Dr Jayden Hunter acknowledges that technology can be used to help clients change their behaviours. However, he also suggests these gadgets may not be the solution to maintaining long-term success when it comes to health management.
"Wearables, aps, Fitbits, pedometers and gadgets used to monitor physical activity are relatively new devices. There's research surrounding the short-term effects of wearables and there is evidence they do help to improve engagement in the short term ," Dr Hunter said.
However, when it comes to achieving long-term results Dr Hunter said that technology should be used to support the process instead of being the only method.
"I believe that technology does have a role in addressing exercise science related health issues. As exercise physiologists, we are all about helping people achieve lifestyle change for the better and to improve their health. One-on-one time with a client is important to determine what affects their lack of activity and to look into psychological and social factors such as mental health."
Exercise science for treatment and prevention
This is where exercise physiology comes in. This rapidly growing field of exercise science is still relatively new compared to allied health fields such as physiotherapy and dietetics. Exercise physiologists provide lifestyle advice about using physical activity to:
prevent illness and disease by maintaining good health
managing conditions related to chronic health issues and physical inactivity.
They also treat a broad range of conditions including cardiovascular, pulmonary, metabolic, neurological and musculoskeletal disease (including arthritis, osteoporosis/osteopenia, acute and/or chronic musculoskeletal issues). Exercise physiology can also help treat depression and other mental health conditions.
Accredited exercise physiologists can work across a range of health settings including hospitals, private and multidisciplinary clinics, workplace health and rehabilitation, aged care facilities, fitness centres, gyms and sports organisations.
Patients the winners with new digital rehab tool at Charles Sturt University
So how can exercise physiologists harness new digital technologies to improve rehabilitation for their patients? Our School of Exercise Science, Sport and Health is currently exploring this through a partnership with Physitrack, a digital exercise prescription tool, which they're using for teaching, research and clinical practice.
Dr Hunter and fellow Charles Sturt academic, Professor Frank Marino, are both practicing accredited exercise physiologists at the Exercise Physiology and Functional Rehabilitation Clinic, and have been using Physitrack in their clinical practice to improve the degree to which patients stick to their exercise plans. They also remotely monitor each patient's progression through their exercise rehabilitation program.
"Physitrack is being used to provide patients with personalised video-based exercise prescription," explained Dr Hunter. The app also lets patients communicate with practitioners remotely via messaging and video calling so they can receive advice and guidance between consultations.
Dr Hunter said Physitrack and other digital tools for prescribing exercise programs are becoming increasing popular in clinical settings, particularly in eHealth circles. He's finding that more patients are being referred to exercise physiologists as general practitioners and other medical professionals become more familiar with the benefits to patients for a variety of health issues. "Patients at our clinic include people with a range of chronic health conditions including arthritis, cardiovascular disease, cancer and type 2 diabetes, to name a few," he said.
Students completing the Master of Clinical Exercise Physiology have also been given free access to Physitrack throughout their studies, and for six months after their graduation. Dr Hunter uses the tool in teaching the master's program, particularly as the course is completed online. He incorporates Physitrack into student assessment tasks that require exercise prescription.
Breaking down barriers in remote areas
Dr Hunter plans to investigate the effectiveness of tools such as Physitrack to improve exercise adherence and health outcomes in patients. He's particularly interested in how this technology can be used for people in remote or rural areas who don't have easy access to health and rehabilitation services.
"Digital exercise prescription tools such as Physitrack may enable people suffering chronic health conditions to more easily access safe and effective exercise rehabilitation programs that are individually prescribed," Dr Hunter explained. "I also refer patients to Exercise is Medicine, a worldwide organisation that aims to educate people on how exercise can help to fix a health condition."
"Having the support of a digital platform with detailed exercise guidance videos and instructions, combined with practitioner communication features, may improve exercise program adherence and health outcomes."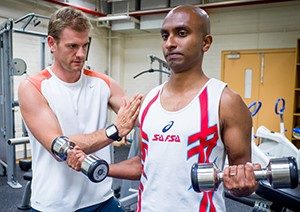 Physitrack is also being used in other Charles Sturt research. Dr Hunter is leading a team of researchers in a project partnership with NSW Ambulance to investigate the effects of different types of exercise training on a range of cardio-metabolic and musculoskeletal health outcomes in regional and rural paramedics.
"Regional and rural paramedics are among the most frequently injured healthcare workers in the country, and the project is in its early stages," Dr Hunter said.
The project involves 150 paramedics for whom supervised exercise at the workplace is not a feasible option. Dr Hunter believes Physitrack may be an effective tool due to its ability to remotely prescribe and monitor exercise training programs.
"The digital platform allows safe and effective exercise prescription, with functions that allow researchers to track program adherence and outcome measures over time."
Put your best foot forward with exercise science online
Tackle health and fitness with a rewarding career in exercise and sports science with Charles Sturt University. Take advantage of diverse opportunities within this evolving industry that could lead you to a career in exercise physiology, sports performance, exercise science, health education, sports media, exercise rehabilitation or even research in areas such as physical fitness and disease prevention.