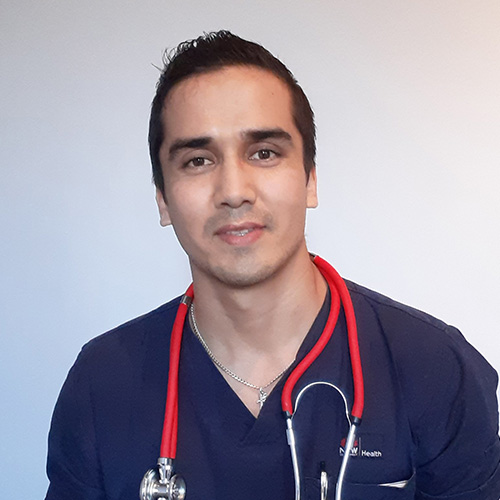 There's no dream too big. And no hurdles that can't be overcome. Want proof? Former refugee Ali Abbas Haidari wondered how to make a difference in healthcare. This Charles Sturt University graduate's story is one of hope, persistence, passion and caring. Prepare to be inspired by his desire to make a difference in nursing.
Overcoming some huge hurdles
Ali was born in Afghanistan and was only four years old when Taliban persecution forced his family to flee their home. Ali's family sought a new life in Pakistan.
"We migrated to Pakistan and lived as refugees. But living as an unwanted refugee meant life there was also difficult – with many insecurities and a lack of human rights."
Young Ali, who saw education as the best way to reach his goals, found this new life handed him another hurdle.
So, at 16 years old, Ali was put on a refugee boat that was headed for Australia. It was the teenager's biggest challenge and his biggest hope for a fulfilling life.
"My family and I decided to search for a safer place for me to live, with better future opportunities. I came to Australia by boat. Then I spent five months in a detention centre."
"I settled in western Sydney and attended an Intensive English Centre for almost a year to improve my language skills. I studied extremely hard during that time so I would be allowed to go to high school."
Charles Sturt shows Ali how to make a difference in healthcare
Getting the chance to go to school meant a lot to Ali and he didn't waste his opportunity. During the two years he spent at high school he was school vice-captain and completed his Assistants in Nursing training – which spurred Ali on to take another step towards realising his dream.
"I was very passionate about getting into university and studying a Bachelor of Nursing. I had two reasons for becoming a registered nurse. Firstly, I was interested to know more about the human body, and our health and wellbeing. Secondly, I wanted to help people – others who were in need.
"But not being an Australian citizen, or having permanent residency, meant I wasn't eligible for HECS – nor could I afford the international student fees.
"I was disappointed and heartbroken because it looked like I wouldn't be able to get into university. I'd applied for scholarships through many universities across NSW in order to study Bachelor of Nursing, but my applications were always rejected.
"But, I had also applied for a scholarship through Charles Sturt University. And they gave me the opportunity to fulfil my dreams and become a registered nurse! I was offered a full scholarship to study Bachelor of Nursing."
It took Ali three years to complete his degree, and aside from the huge benefit that the scholarship offered, he found Charles Sturt supported his study every step of the way.
Ali's nursing career is off to a great start
The 2022/23 Good Universities Guide shows that Charles Sturt grads get jobs faster than grads from any other uni! So after he graduated, Ali quickly found employment – and peer recognition!
And Ali's career got off to a flying start when he received an award from the South Eastern Sydney Local Health District for his work with mental health and dementia patients. Now that's how to make a difference in healthcare! He's realised his dream and, like our many other grads, is well on his way to helping create a world worth living in!
"I work as a registered nurse at Sutherland Hospital where I'm very proud to be helping the community at this critical time. COVID-19 has greatly impacted people's lives and health.
"I was really surprised by the award. It's a staff recognition award for exceptional performance as a newly graduated nurse who provides the best care for patients."

Create a world worth living in
What does a better world look like to you? Does it mean improving education, making new discoveries, leading a movement or developing innovative technologies? Or is it about having an impact in your local community and, like Ali, caring for those in need? If you've ever wanted to make a difference in a career you're passionate about, you can with us.
Our wide range of courses will give you the skills and industry knowledge you need to be the change you want to see in the world. Follow your heart, get qualified and land a job you'll love with Charles Sturt University. Let's get to work!