Let's face it, we're in the age of digital education. Studying online has heaps of advantages – like the flexibility to learn at your pace and the convenience of studying from anywhere. However, if you're going to embark on an online study journey, you want to know that the results will benefit you and your career. You want your qualification to deliver quality – not just to you but to your employer (and future employers), as well as your community. Accreditation is one way of ensuring that, but you might have questions about it. Questions like: Are online courses accredited? Is my course backed by recognised quality and standards? And will employers value it?
Let's put your mind at ease.
What is accreditation?
In a nutshell, accreditation is a mechanism that assures students, parents, employers, and the broader community that educational institutions and programs are operating at a certain level of quality and meeting established standards of excellence.
A formal process of evaluation and recognition is carried out by authorised agencies. These agencies assess the quality, credibility and standards of educational institutions and courses.
Accreditation serves a few important functions, for example:
Quality assurance: Verification that educational institutions and programs maintain a certain level of quality. This includes curriculum, faculty qualifications, teaching methods, resources and student support services.
Credibility: Accreditation provides a mark of extra legitimacy. It indicates to students, employers, and other stakeholders – such as parents – that the education being offered meets industry standards and is recognised by relevant authorities.
Continuous improvement: Accredited institutions have to participate in regular evaluations and improvements to maintain their accreditation status. This creates a culture of ongoing education quality.
The accreditation process typically involves a self-assessment by the institution, a comprehensive evaluation by external reviewers from the accrediting body, and a review of the institution's self-study report and supporting documentation. Accrediting agencies evaluate various aspects of the institution, including its mission, governance, faculty qualifications, student outcomes and resources.
How does accreditation work in Australia?
Before an Australian university can offer degree programs, it must obtain institutional accreditation from the Tertiary Education Quality and Standards Agency (TEQSA). This process involves a comprehensive assessment of the university's governance, management, resources and academic policies to ensure it can maintain high-quality education and student support services.
Here's the good news. A TEQSA accreditation applies to all programs an institution offers – both on campus and online. So, if a university is accredited by TEQSA, it means all of its online courses are accredited.
The even better news is that Charles Sturt University is a TEQSA-accredited institution.
Are online courses accredited by professional bodies?
In a word, sometimes.
Degrees in some fields of study have additional accreditation from relevant professional bodies or associations. These bodies assess whether graduates are equipped with the necessary skills and knowledge to practice in their respective professions.
Charles Sturt has accreditation with more than 35 professional bodies. Here are just a few of them:
Australasian Veterinary Boards Council
Australian Association of Social Workers
Australian Psychology Accreditation Council (APAC)
Australian Nursing and Midwifery Accreditation Council (ANMAC)
Chartered Accountants Australia and New Zealand
Exercise and Sports Science Australia
NSW Education Standards Authority (NESA)
World Customs Organization
Check out our handy tool – it shows which courses are accredited by professional bodies .
Other degrees may not have professional accreditation, but that doesn't mean they have applied for it and failed the assessment. Often, there simply isn't a relevant national organisation that oversees standards in that field.
If we think about, say, accountancy, we can see how as a profession it needs common standards and consistent application of knowledge. This ensures fairness, accuracy and compliance with the law. In contrast, take digital media. It is all about crafting unique, creative stories. So standardisation is not really applicable. In these sorts of study areas, as long as the online degree comes from an accredited institution, you're good to go.
Are online courses recognised by employers?
Accreditation by a professional body is certainly a good sign in the eyes of employers. However, employers will regard any course from an accredited education provider – such as Charles Sturt – highly, as the institution has to meet TEQSA standards.
The qualification that an online student receives when they graduate from their course is identical to that received by an on-campus student. It is only the method of study that is different.
What's more, with the growth – and growing acceptance – that remote work is a facet of the modern workplace that's here to stay, employers recognise the value of remote learning experiences and the self-discipline required to succeed in such programs. The emphasis online study puts on the qualities of self-sufficiency, commitment and dedication are some of the key soft skills that employers look for.
The benefits of online study
In 2022, the Australian Bureau of Statistics reported that 42% of Australians aged 15-74 years had participated in some form of learning in the last 12 months. And that 55% of them undertook online study.
It's not surprising. The flexibility that online study provides is perfect if you want – or need – to keep working while you upskill. It's also ideal for parents, and for those returning to study after an extended time away and who want to ease themselves back in at their own pace.
And it's not only flexibility that makes online study attractive. It's geographic freedom too. In this respect, online courses democratise learning. If you can't – or don't want to – relocate to a university campus, that shouldn't prevent you from getting the qualification you want. Online study means you don't have to.
Geographic freedom works on the micro scale as well – you can make your classroom wherever you want. From the park to the coffee shop, whatever works for you to make online study work in your life – go for it.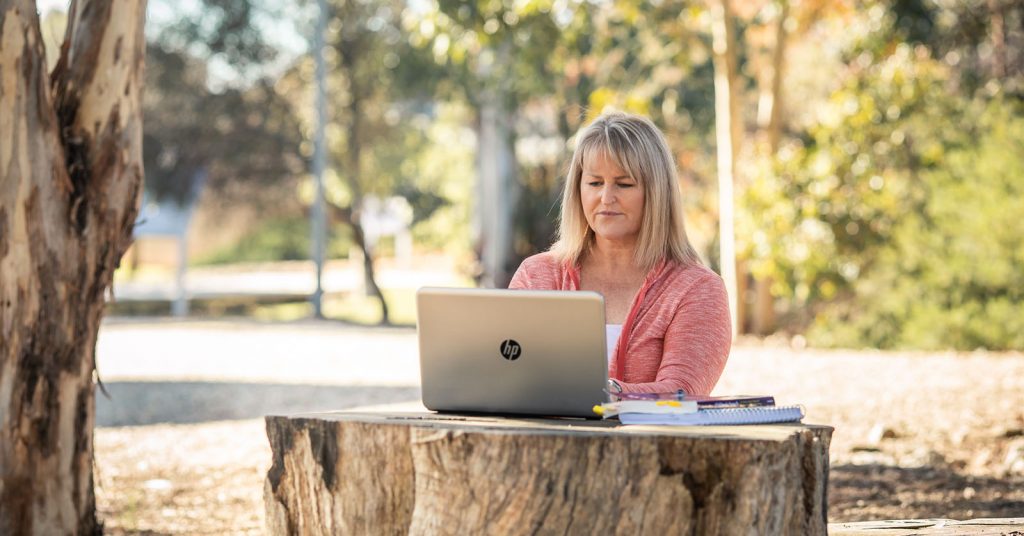 Study with Australia's most experienced online university
More students choose to study online with Charles Sturt University than any other university in Australia.* In fact, more than half of our students study online.
Study online with us and you have everything at the click of a mouse: lectures, tutorials, recordings, assessments and resources. And you can join online social spaces to connect with your classmates. IT support comes as standard. And you can access free software, including Microsoft Office 365, as well as our full digital library.
So, you can get an accredited degree from Australia's leading online uni – from wherever you are.
Download our online study guide now to find out more.
---
*Department of Education, Skills and E 6 | Charles Sturt University employment Higher Education Statistics