Want to turn your fascination for how people think, feel and act into a career? The human mind is a complex thing. If you're driven to explore the psyche, you may be well-suited to a career as a registered psychologist.
Now, if you're thinking, I'll need a uni degree to become a registered psychologist, you're 100 per cent correct. Since psychology is one of the more complex and intricate disciplines – let's face it, you're dealing with people's minds – there's a bit more to it than just completing your degree. You'll need to go a little further to become a fully-fledged registered psychologist.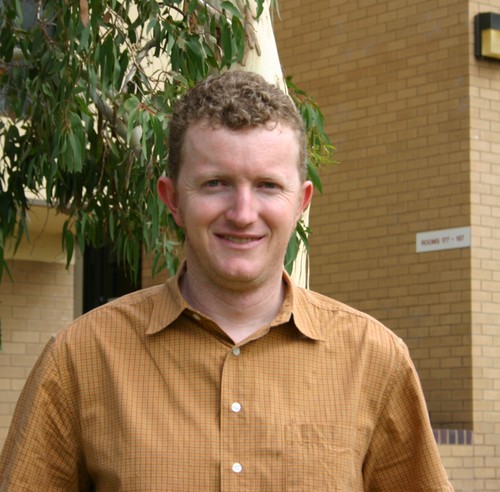 We spoke with Charles Sturt's Associate Professor Gene Hodgins – who is also a clinical psychologist – to shed some light on what it takes to be a registered psychologist, and the steps you'll need to take to get there.
"I had been a clinical psychologist for seven years before starting in academia. What sparked my interest was my lifelong curiosity in trying to understand 'what makes people tick', and also how to help people who struggle with mental health issues like anxiety and depression."
"One of the advantages of being a clinical psychologist is the incredible variety of work that is available – from working in hospitals to outpatient clinics, working with kids to the elderly, school settings, forensic settings, major organisations and government departments, through to NGOs and sporting groups."
What's a registered psychologist?
First up, what do registered psychologists actually do? And what makes them unique? Well, psychologists observe, interpret and record mental processes, human behaviour and how patients relate to one another and their environments. Psychologists understand and explain thoughts, emotions, feelings and behaviours. In turn, they can help people live better lives.
So Gene, what does a typical week look like for a registered psychologist?
"A typical week can consist of:
seeing clients for assessment and therapy (often with anxiety disorders, depression, and post-trauma reactions) in outpatient clinics;
seeing patients on the inpatient psychiatric ward (including with schizophrenia and psychosis, severe depression and personality disorders)
coordinating clinical psychologists to visit our depression and anxiety clinic
providing supervision to psychology interns and psychiatry registrars
providing training to GPs and community health clinicians in mental health assessment and treatment
conducting rural mental health research."
As you can tell, there's plenty of variety and challenges when you're a registered psych.
Am I suited to a career in psychology?
There are some telltale signs that a person could be well-suited to a psychology career. Psychologists tend to be investigative, inquisitive, analytical and logical. They also have strong social and listening skills and are helpful, empathetic, tactful and patient. If you're curious, intellectual, kind and caring, as Gene notes, you could have the strong foundations for a future career as a registered psychologist.
"I think you need an interest in people, in helping them and understanding them. You need to be empathic and caring, and also hardworking and persistent to get through the six plus years of training."
It's no secret that psychology can be both challenging and rewarding. But Gene, what's the best part of being a psychologist?
"Feeling like you are making a difference and helping people. When you initially meet some clients, they can be struggling so much with their mood, their thoughts, and their behaviour. They can feel helpless and may not understand what is happening to them. To see them through to the completion of therapy where they have worked so hard to assist themselves and feel healthier, and have new skills and an understanding of themselves to take into the rest of their lives, is very fulfilling. And working in rural mental health, you also get to know the communities you work in and experience their unique welcoming nature."
Your step-by-step guide to becoming a registered psychologist
Now, back to how you're actually going to become a registered psychologist. To keep things super simple, we've included a step-by-step guide. We'll show you how to get your full registration as a psychologist.
Gene is a firm believer that there is no more perfect time to become the psychologist you want to be than the present.
You are never too young or old! There are so many opportunities for you to genuinely help people regardless of your age and background.
"There are multiple pathways to becoming a psychologist. The most common are as follows. To become a registered psychologist takes six years of training. There are two options. Your first is to complete a three-year accredited undergraduate degree in psychology, followed by a two-year master's (fourth and fifth year), and then a one-year internship. The second option is to complete a four-year accredited undergraduate degree in psychology, followed by a one-year master's (fifth year), and then a one-year internship.
"To become endorsed in a specialised area of practice (e.g. clinical, neuropsychology, forensic, sport, educational/developmental, organisational) takes eight years of training. You'll complete a four-year accredited undergraduate degree in psychology, followed by a two-year endorsement master's (fifth and sixth year), and then two years as a registrar."
With this in mind, let's take a closer look at each pathway, shall we?
Step 1: three-year accredited psychology degree
First things first. You'll need to get accepted into and complete an APAC-accredited Level 1 program. That's typically an undergraduate psychology degree.
If you don't get the ATAR you need or you're looking for an alternative option into a psychology degree, you still have options. You can study our Bachelor of Social Science (Psychology) or an undergraduate degree with a major in psychology as a pathway to your first psychology qualification.
Alternatively, if you study an undergraduate degree without a psychology major, and decide you want to study psychology after completing your course, reach out to discuss your options for bridging courses.
Step 2: internship pathway or postgraduate study
So, you've got an undergraduate degree under your belt and possibly an honours degree or some postgraduate study related to psychology. You must be feeling so full of knowledge and ready to get hands-on with your new skills.
After completing your fourth year, it's time to choose your own adventure through one of three pathways.
Option 1: 4+2 pathway
The 4+2 pathway means you'll complete a two-year internship of supervised practice as a provisionally registered psychologist.. This pathway is due to end on 30 June 2022, so check the latest information.
Option 2: 5+1 pathway
The 5+1 pathway means you'll complete an APAC-accredited Level 3 course (a fifth year of study, such as our Master of Professional Psychology) as a provisionally registered psychologist. After that, you'll do a one-year internship of supervised practice.
Option 3: master's or doctorate
Complete an APAC-accredited packaged Level 3 and 4 (fifth and sixth year of study) master's, combined master's/PhD or doctorate program as a provisionally registered psychologist. You can then choose to specialise. After you complete your postgraduate program, you must also complete the registrar program with the Psychology Board of Australia to be eligible for this option. There are nine areas of practice endorsement.
clinical neuropsychology
clinical psychology
community psychology
counselling psychology
educational and developmental psychology
forensic psychology
health psychology
organisational psychology, and
sport and exercise psychology.
Step 3: registrar program
Finally, we've reached the most crucial step of your journey. You guessed correctly – it's your registration to practice. Provisional registration is required after you complete your fourth year of study. This allows you to undertake clinical placements. After you've completed one of the above pathways, you'll need to apply for general registration. General registration is done through the Psychology Board of Australia.
If you've chosen the 4+2 or 5+1 pathway, you'll also need to pass the National Psychology Exam. And this needs to take place before you can apply for general registration. It's worth noting that you won't need to sit this exam if you've completed a master's or doctorate in psychology (lucky you!).
Once you have general registration – congratulations! – you can practice as a psychologist throughout Australia or New Zealand.
If you enjoy learning new things, here's some good news. To keep your registration current, you'll need to do some professional development. This could be through short courses, further study or supervision by an experienced practitioner. You need to renew your registration annually.
Ready to become a registered psychologist?
Alright, so now that we have your study journey mapped out for you, ready to take your first step? Find the psychology course that's right for you and get set to make a meaningful impact on the lives of others.