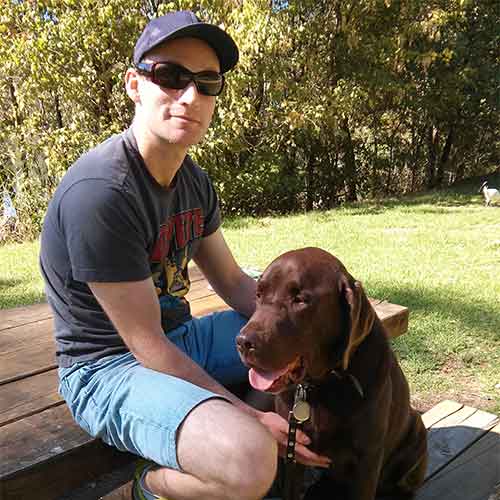 Keen for an inspiring story? Daniel Searle's strength when faced with adversity and determination to make a difference is uplifting. Now a qualified physiotherapist, small business owner and volunteer pain educator, Daniel faced a life-changing challenge at the age of 16. He lost most of his eyesight to a rare genetic condition.
For the then Year 10 student, it meant milestones young people experience – finishing school, leaving home, going to university, and starting a career – looked almost impossible.
"It was a really tough year. Sixteen is a difficult age for anyone, and it was a huge period of adjustment. In your late teens and early 20s, you're just forming your identity, and at the time it felt like I had mine ripped out from under me.
"Losing my vision really made me question things. Year 10 is when kids get their learner's drivers licence and go on work experience. So it reinforced that there were things I'm not going to have. I can't drive and I might not be able to work."
Daniel regrouped and completed school – even learning braille as a Year 12 subject. He deciding to stick with his previous career ideas and he accepted an early study offer for a Bachelor of Physiotherapy at Charles Sturt. So, he moved to Albury-Wodonga after finishing school.
"Prior to losing my vision, physiotherapy was already in the back of my mind. I liked sport and I wanted to work with athletes.
"When I lost my vision, I got a lot of support through Guide Dogs Australia and Vision Australia and from occupational therapists. That made a big difference to my life. It reinforced that I wanted to do something to give back. I wanted to help others in the way that I received help."

The next big challenge
The next big challenge in Daniel's inspiring story was to adjust to university life.
"I'm by no means the first vision-impaired physiotherapist. But I was probably the first vision-impaired physio to go through Charles Sturt University.
"For me, it wasn't just adjusting to university and the higher demands in terms of workload. It was also adjusting to living on your own for the first time and as someone who is vision impaired.
"I had to learn to cook, clean and get around a whole new town. It was very demanding, but some of my fondest memories of university were how willing people were to help me and how they treated me just like any other student.
"It was nice knowing that if I did need help in those first few years, my uni mates were there."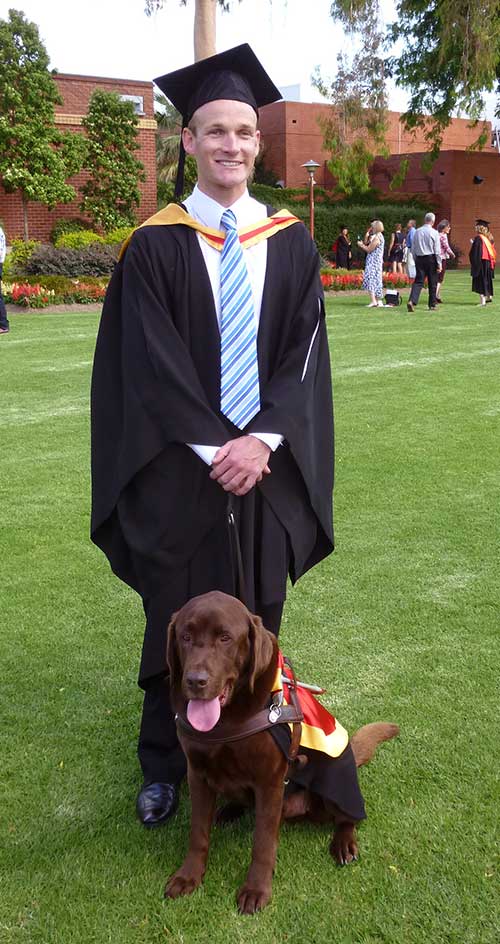 There was one university friend Daniel always relied on – his guide dog, Bear.
"I got Bear in my first year at university and he was a huge part of my experience. All the lecturers and students knew him, and he was treated as part of the year group.
"He was always present in lecturers. Often he'd fall asleep, but just before the end when people starting shuffling papers, he was always up and ready go to."
Come graduation day, Bear was right by Daniel's side and even received a certificate of his own!
"When I graduated, they announced my name and Bear's name and gave Bear a certificate too. That was really special to me – Bear was another member of our cohort."
A physiotherapy career – in the business of helping
After university, Daniel travelled to Europe before landing back in Albury-Wodonga to begin his physiotherapy career. He worked for a few local private practices before discovering a passion for pain education and deciding to do more study and start his own physiotherapy practice.
"For me, being a physiotherapy career has been a really good choice – one where I can give back.
"My study in pain science helped me realise I needed to grow and explore what else I was capable of, so I decided to set up my own business, Daniel Searle Physiotherapy.
"I really enjoy running my own business. If I recognise that a patient needs help and they can't afford it or if I think a patient needs extra time during their appointment, I can make that decision.
"I can also spend extra time with my patients and find out what is going on in their lives and what factors might be influencing their health.
"Having that relationship, where I'm able to share my vulnerabilities with people and they can share theirs with me, they completely forget that I'm vision impaired."
Become your own inspiring story!
What does a better world look like to you? Does it mean improving education, making new discoveries, caring for those in need or becoming your own inspiring story? If you've ever wanted to make a difference in a career you're passionate about, you can with us.
Our wide range of courses will give you the skills and industry knowledge you need to be the change you want in the world. So, follow your heart, get qualified and land a job you'll love. Let's get to work!