What did Kiera Zappacosta want to be when she grew up? Certainly not a dentist! Fast forward and Kiera is now one of the first rural First Nations students in Charles Sturt University's Bachelor of Dental Science in Orange. And she's looking to tackle barriers in First Nations health.
Starting out in the industry
Kiera's journey to uni wasn't the easiest. As a child, she moved around a lot with her family. At 13 years old, Kiera left the nest to attend Yanco Agricultural Boarding School – more than six hours from home. There, she became the first in her family to complete her high school certificate.
Kiera was unsure of her next step after high school.
"I had multiple gap years after high school and no direction during this time. I moved around a lot and couldn't commit to a job or degree."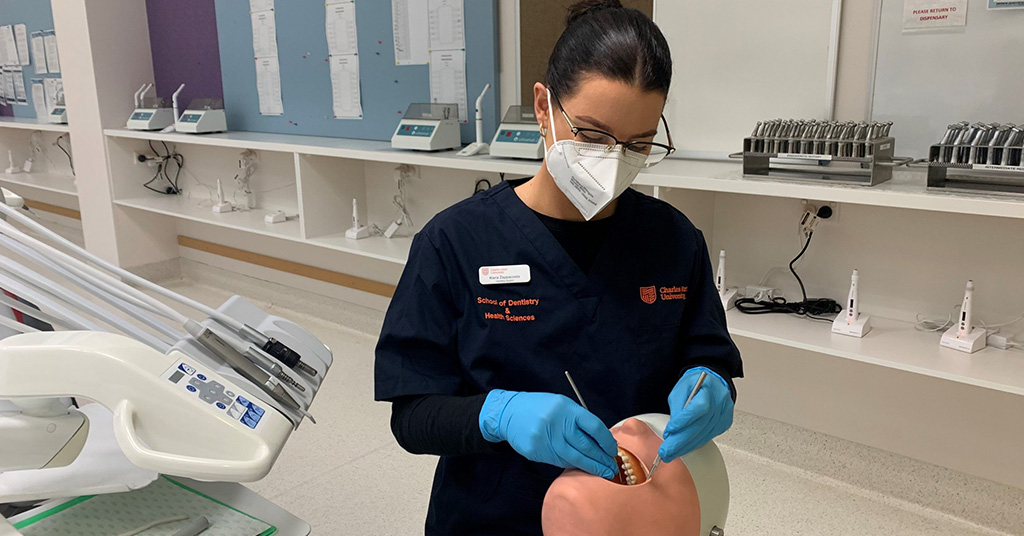 Despite having no previous experience, Kiera landed herself a job as a dental assistant. This was her turning point. She quickly fell in love with the dental industry and wanted to dedicate herself to caring for people.
"I got a lucky break as a dental assistant – having absolutely no experience. I loved it and it was the longest job I've held."
Her co-workers' belief in her was the boost Kiera needed to climb even higher. Her next pursuit was a role as a specialised dental assistant.
"They were all really supportive and encouraging. I was so inspired and realised that I found my niche. I decided I wanted to be providing the care instead of just assisting."
Providing quality care to regional communities
After providing dental assistance in small regional NSW towns, Kiera noticed these communities had limited access to quality rural heath services.
"Travelling more than 200 kilometres to see the nearest doctor, dentist or specialist had become the norm in these small communities."
This experience was Kiera's catalyst to pursue dentistry at Charles Sturt.
"My hope is to work in a small town to ease the burden of having to travel such long distances for basic healthcare by providing quality care closer to home."
Support from Charles Sturt's First Nations team
"I didn't have the best ATAR so when I didn't receive an offer to study a Bachelor of Oral Health (Therapy and Hygiene) at Charles Sturt I applied for the Bachelor of General Science and selected oral health subjects to show I was capable."
Kiera worked hard and reapplied the following year.
"I took a breath and applied again for the Bachelor of Dental Science. And this time I got in!"
Kiera credits Charles Sturt's First Nations student support team for playing an important role in achieving her academic milestones.
Tackling First Nations health challenges
Course director and senior lecturer in biomedical science, Dr Jennifer Cox congratulated Kiera for becoming one of the first, First Nations students to study dentistry at Charles Sturt.
"Kiera's journey is one that should be commended. She has carved out her own path and overcome any self-doubt she may have had regarding her academic ability and suitability to become a dentist.
"Being able to offer dentistry as a First Nations woman will go a long way for instilling confidence in local First Nations communities when it comes to culturally appropriate dental care."
As Wiradjuri woman, Kiera understands the importance of having access to culturally appropriate healthcare.
"Oral health plays such an important role in the overall health of the body. I hope to use that knowledge to improve the oral health of First Nations communities by encouraging and educating residents on how to better manage their oral health."
Making a difference at Charles Sturt
Ready to pursue your dream career? A degree from Charles Sturt will help you get started. If you want to make a difference in dentistry, explore our dentistry and oral health degrees.
If you identify as First Nations, Indigenous, Aboriginal and/or as Torres Strait Islander, our First Nations student connect can help you with all aspects of their academic journey, as well as social, cultural and personal support.