Dentist Dr Jessica Zachar makes people smile. Not just because of the Charles Sturt University graduate's great work as a dentist and lecturer, but also as a result of her commitment to give back to rural and regional communities. An Associate Lecturer at Charles Sturt, Dr Zachar, who is currently on sabbatical doing further study in Queensland, signed up for an undergraduate dentistry degree in 2011.
Her drive to dig deep, get involved and help people was acknowledged right off the bat when she received the Vincent Fairfax Family Foundation scholarship. This award is given to students who are passionate about working with, and giving back to, rural communities.
During her five years of studying dentistry at Charles Sturt, Jessica served as both vice-president and president of the university's Student Dental Association (SDA), where community engagement was in focus. Through that organisation she became involved with charity fundraisers for the Royal Flying Doctor Service, helped with the Carevan Sun Smiles program and was the rural officer with the Australian Dental Student Association. She bagged a National Rural Health Leadership Award for her passion, work and commitment to closing the gap in oral health for rural Australians.
A focus on others
Jessica doesn't just talk about changing the world – she dives in and makes practical progress. It's what she does.
"Through the SDA we tried to get involved with our communities in any way we could. Each year we ran a fundraiser for the Royal Flying Doctor Service. This supported their dental program for rural and remote communities, serving those who didn't have access to a dentist on a day-to-day basis.
"We received a community service grant to establish a partnership with Carevan and fund some outreach Sun Smiles programs to communities in Albury-Wodonga. Dental students and hygiene therapy students would take the van out to do general dental screening, explain healthy diets to students, and give tooth brushing demonstrations.
"In 2013 we began a volunteer program for fourth-year students to head to Cambodia for two weeks each year. There, they would provide treatment in remote villages or orphanages where children don't usually have access to dental services."
Some early inspiration
The desire to create a world worth living in began when Jessica was young.
"My parents came to Australia as immigrants from Poland. When they arrived they didn't know a lot of English. Their local community really helped them settle into the Australian way of life. My parents felt like Australia gave so much to them, they then were always giving back in some way. It was an ethic that was passed on to my brother and me.
"From a young age I wanted to give back, too. Then, as I got older I wanted to work in the health profession and became aware that there were difficulties in regional areas. It came down to me wanting to make the world a better place."
And what drew Jessica specifically to healthcare?
"I grew up in a healthcare setting because my mum was a phlebotomist [someone who collects blood], and as a child would often visit her at work. That was teamed with the fact I was always interested in the sciences at school: biology, chemistry and physics. Dentistry is a unique profession. It involves the sciences, engineering and art or creativity.
"If someone comes in with a broken tooth, you have to build it up from scratch. You think about it from a biological point of view – what you have to fill it with. Also, how you're going to make it look. Then there's the physics and engineering of it – how are you going to make it stay there. The best parts of the job are always bringing back someone's smile, helping people eat and function again and giving them a better quality of life."
Charles Sturt University was the perfect fit
For Jessica, Charles Sturt was a perfect fit – the place where students make a difference in their communities.
"What attracted me to Charles Sturt was the opportunity to give back to communities in different ways – even while I was doing my undergraduate degree. Furthermore, I was someone who'd experienced metro and regional living and could see the differences. As such, I felt like I would have more impact in a regional setting.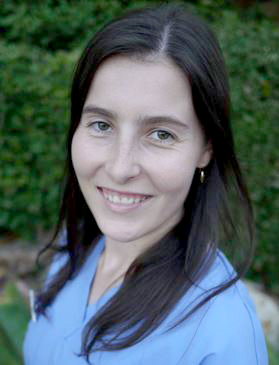 "There aren't many dental schools like Charles Sturt which give you the opportunity to give back. It's unique in the sense that you graduate with really good attributes and become a very well-rounded person simply because of the [community engagement] experiences."
Dr Jessica Zachar
Regional experience makes a difference
"The beauty of being at Charles Sturt – in a rural setting – was we could do important placements in places like Dubbo, Wagga Wagga, Albury-Wodonga, Bathurst and Orange. I loved the workplace learning structure. From day one, you're into the dental simulation clinic working on the phantom heads. Moreover, a lot of other dentist schools don't get you to jump into that until second year. With Charles Sturt you get hands-on from early on in the course.
"Then, when you transition into the clinical area, you have really good local supervisors and mentors from all different NSW country towns. All of those unique experiences, therefore, make Charles Sturt University dental graduates very well-rounded professionals."
To top it all off, Charles Sturt's unique learning environment is complemented by small class sizes.
"I graduated with a cohort of around 35 students and it gave us a real community feeling. For instance, you knew everyone in your class, the locals and the patients quite well. As a result, it gave you a sense of belonging. In big classes, I feel you don't get the best opportunity to develop as a health professional."
Dentistry offers so much scope
Her degree from Charles Sturt was the foundation Jessica needed to get out into communities and address issues that need to be tackled. And the opportunities to have an impact through dentistry are many and varied.
"In this world we live in, we should be striving to make it a better place. And there's so much scope in dentistry. You can go into research, work in hospitals or join the defence force. I know a lot of dentists who go overseas every year to do humanitarian work. The beauty of what I do is that I can make a difference in the dental chair, in local communities or overseas – thanks to the skills and attributes I obtained studying at Charles Sturt."
Jessica's journey after graduation
After graduating she worked in the public hospital system and began to consider doing some further research. So she headed back to Charles Sturt to do an honours degree. That was the beginning of another journey.
"During that time I took the opportunity to do some teaching. And it's interesting how those attributes I spoke about before can translate into other areas without you even realising. When I was lecturing and tutoring students, I appreciated how much I loved passing on my knowledge to the next generation of regional and rural dental students. So, I became an associate lecturer. I could continue to do what I love in the student dental clinic and also supervise a student who would one day go on to look after other communities. That makes teaching a very rewarding experience.
"It was an unexpected pathway, but one I'm very glad I took. And once again, it's helped me further develop as a healthcare professional."
Create a world worth living in
What does a better world look like to you? Does it mean finding a cure for illnesses, caring for the sick, improving health and education, making new discoveries, leading a movement or developing innovative technologies? Or, like Jessica, is it about having an impact in your local community and making a difference to the little guys out there through a Bachelor of Dental Science?
If you've ever wanted to make a difference in a career you're passionate about, you can with us. What's more, our wide range of courses will give you the skills and industry knowledge so you can be the change you want to see in the world. Follow your heart, get qualified and land a job you'll love with Charles Sturt University. Let's get to work!