Georgia Fay didn't know a great deal about fast fashion and textile wastage until the Charles Sturt University business student looked into fast fashion research in a subject called Social and Environmental Marketing.
Textile wastage is a complex issue with social and environmental impacts around the world – it's so big that Georgia had to narrow her focus of study. She decided to investigate the fast fashion phenomena. Georgia would examine how to change behaviour or firmly held beliefs on fast fashion for the benefit of individuals and societies. Then she'd put together a marketing campaign.
"I'd never really heard of textile wastage, but someone else in the class mentioned it and it sounded really interesting.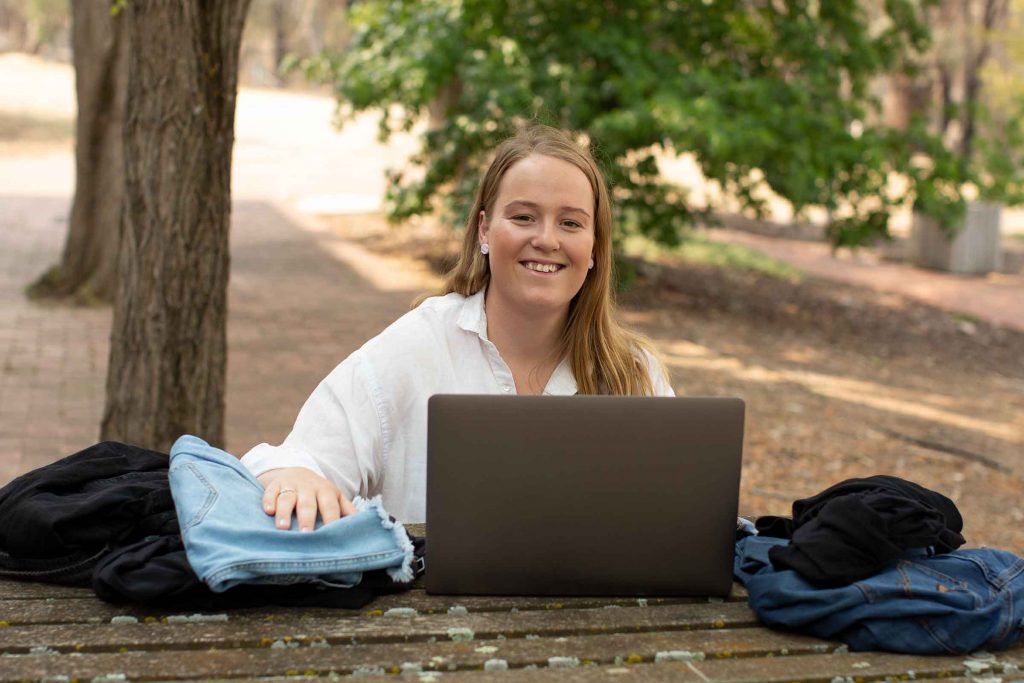 "It's a serious issue in the fashion industry and is having a serious impact on the environment. It's estimated that six tonnes of clothing is dumped into landfill every 10 minutes in Australia. And the problem has escalated due to the concept of fast fashion."
Georgia Fay
What is fast fashion?
Georgia explains that fast fashion means more and more mass-market clothing produced and sold extremely cheaply. It means more clothing in stores, more often, at bargain basement prices – but with lower quality. Fast fashion has plugged into society's shift towards a throwaway culture. While it may sound like a shopaholic's dream, the reality is much more damaging.
"The whole idea of fast fashion is it's cheap and disposable. The clothes have very similar designs to high-end fashion brands, but they are sold at a fraction of the price. Consumers are purchasing more clothes at a much cheaper cost rather than spending more money for quality clothes that last.
"It means we're throwing away clothes at an increasing rate. We don't have to worry about holding onto them for as long because we can just buy more. We buy cheap clothes so it allows us to only wear them a few times before throwing them out and buying something new.
"Manufacturers want to supply clothing that you'll only wear three to five times because they'll bring out more and more ranges each year. These clothes aren't meant to be long-term, two-year kind of items. They're meant not to last. That way you'll continue to buy more clothes from the company, more frequently."

Georgia Fay
Fast fashion's huge consequences
As she dived further into her research, the Bachelor of Business (Marketing) student became shocked by what she was finding. Wastage at alarming rates. Production processes that are harmful for the environment – and textile workers. And a consumer-driven market with little idea of what was going on.
"The consequences of fast fashion are so big, yet a lot of people don't know much about the issue.
"I put out a poll on my Instagram (@georgefay), to start a conversation. Some of the insights I received included the fact that 55 per cent of respondents hadn't heard the term 'fast fashion' before, and 25 per cent who knew the brands responsible – knew they were damaging the environment – still shopped with them.
"Fast fashion is affecting the whole supply chain, beginning from when the clothing is made. Manufacturers are aiming to make as much profit as possible and that sees them cut costs anywhere they can. So, when they're mass producing, often in third world countries, they use cheap, harmful chemicals. These chemicals and the toxic water used to dye the clothes goes is disposed of into the waterways.
"Then the clothes make their way to us and soon get thrown out – straight into our landfill."

Georgia Fay
Georgia's research also highlighted another environmental issue.
"In my fast fashion research I found that the fashion industry is responsible for 10 per cent of humanity's carbon emissions. That's more than all international flights and maritime shipping combined. It's insane. I was blown away by the stats I found and wondered why this issue isn't talked about more often."
Time to shop with a conscience
It's an enormous problem, but Georgia was keen to make a difference anyway she could.
"A lot of time we say: It's only $10. It doesn't matter if I like it or throw it away. But, really, that $10 is supporting a fast fashion brand and allowing them to grow. I want consumers to place importance and significance on every clothing item they purchase. We need to stop supporting the concept of fast fashion.
"One of my assignments in my fast fashion research was to introduce a marketing campaign. Within that my idea was a program where people could return clothes and get points to then spend in-store. The aim was to raise awareness of fast fashion and increase consumer understanding around which companies are supporting it."
As a uni student Georgia knows it's hard to afford high-quality clothes. But there's plenty we can all do to play our part, Georgia explains.
Instead of continually buying new outfits, try accessorising your old ones differently.
Shop at op-shops.
Buy sustainable fashion items.
Start up a clothes swap.
Leasing options (which are starting to pop up).
Less is more when you have quality items.
Support ethical companies.
"Unfortunately, there's such a stigma around wearing clothing twice. We have shame attached to repeat wearing. People think they need a new outfit for each event. But it shouldn't be that hard to do the right thing. It just comes down to people's mindsets. We need to consider what we're supporting when we buy certain brands.
"Realistically, we all buy fast fashion brands. And that won't stop completely overnight. But just try to lessen those purchases a little bit. Take some responsibility and shop with a conscience!"

Georgia Fay
Want to play your part and make a difference?
Charles Sturt's wide range of courses will give you the skills and industry knowledge you need to be the change you want to see in the world – just like Georgia. Find out how we can help.