Physiotherapy is all about helping people. Helping them to improve physical activity. To recover from injury, reduce pain, and maintain mobility as they age. To live happier lives. So it's an ideal career if you like working with people and making a real difference. But how do you become a physiotherapist in Australia. Let's go through it. In this post we'll cover:
What does a physiotherapist do?
How can I become a physiotherapist?
How long it takes to become a physiotherapist?
What skills does a physiotherapist need?
How much can I earn as a physiotherapist?
Next steps
What does a physiotherapist do?
A physiotherapist's working day will typically involve seeing several different patients. It's a very people-focused role.
You'll assess and test patients. Talk to them to understand more about their condition and its improvement. And then provide advice and treatment plans. Some of the information will be specific to their symptoms, such as a specific injury or muscle problem. What's more, physiotherapists also offer advice and guidance on holistic ways to treat the body, such as exercise regimes that will bring overall health benefits and how eating healthily can influence physical mobility and reduce future problems.
As a physiotherapist you will use a range of techniques to improve movement and strength in a specific part of the body and/or whole-body fitness. These range from joint manipulation and stretching to massage, hydrotherapy (exercises done in water) and relaxation. Sometimes treatment will involve equipment – everything from heat packs to gym machinery, to electrotherapy to ease pain. You could also instruct people in the use of aids to help their mobility, such as crutches, walking sticks or wheelchairs.
Physiotherapists work in various health and community settings. These include public and private hospitals, private medical practices, sports organisations, community health services, and residential aged care. Some also choose to open their own practice. Which is where Daniel Searle took his career.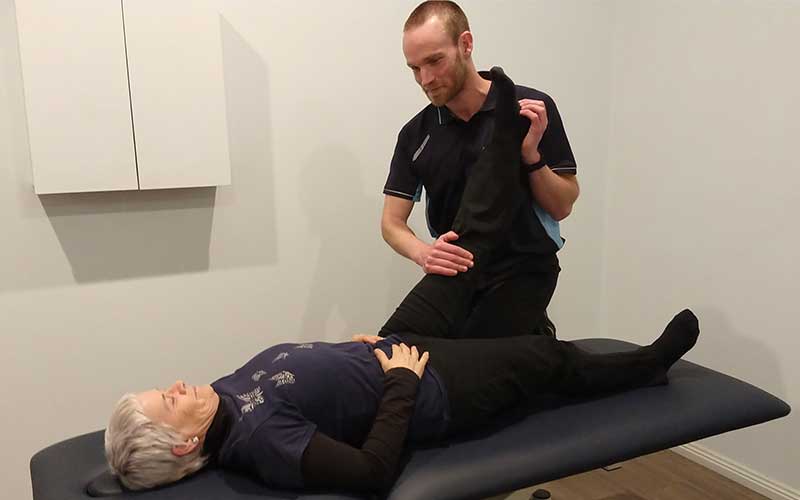 "For me, a physiotherapy career has been a really good choice – one where I can give back. My study in pain science helped me realise I needed to grow and explore what else I was capable of, so I decided to set up my own business.
"I really enjoy running my own business. If I recognise that a patient needs help and they can't afford it or if I think a patient needs extra time during their appointment, I can make that decision. I can also spend extra time with my patients and find out what is going on in their lives and what factors might be influencing their health."
How can I become a physiotherapist?
To become a physiotherapist there are three key steps:
Get a degree
Become registered
Keep developing your skills
A degree like the Bachelor of Physiotherapy from Charles Sturt University is the first step in your career helping people as a physiotherapist. It's accredited by the Australian Physiotherapy Council, so you know you're getting the knowledge and skills you need. One of the keys to getting the best physiotherapy training during your course is practical, hands-on learning. Putting theory into practice. Getting familiar with the equipment used in real workplaces. Treating patients. That's why in your bachelor's you'll undertake work placements with health organisations. And you'll spend a lot of your time in facilities on campus. These are designed to simulate clinical environments found in real workplaces. They include a musculoskeletal clinic, hospital ward, rehabilitation gym, movement laboratory, clinics and skills laboratories. You can choose to study your course on campus at Albury-Wodonga, Orange or Port Macquarie.
You will need to register with the Physiotherapy Board of Australia. Apply to register through the Australian Health Practitioner Regulation Agency six weeks before you graduate from your course. So you can start your career as soon as you leave uni.
In order to continue practising as a physiotherapist in Australia, you have to undertake at least 20 hours of continuing professional development every year. This ensures you stay up to date with the latest skills. It could include things such as attending conferences, reviewing journals and running education sessions at your workplace.
How long does it take to become a physiotherapist?
Studying a Bachelor of Physiotherapy takes three years. That's if you study full-time. Which means attending uni for two out of the three study sessions each year. You can, of course, always choose to study part-time (and, for instance, work a job the rest of the time to pay for the course and gain experience). In that case, you're looking at eight years.
What skills does a physiotherapist need?
You can categorise physiotherapy skills into two kinds: technical skills and soft skills. The former are the healthcare skills you'll learn during your degree. Things like:
Anatomy – how the human body functions
Neuroscience – how the nervous system works
Human bioscience – understanding how the human body works
Pharmacology – which drugs to give and when to give them
Soft skills are the ones that complement your technical skills and make you a top, all-round physiotherapist pro. These include:
Patience
Empathy
Problem-solving
Communication
Organisation
How much can I earn as a physiotherapist?
The latest government figures put the average weekly wage for a physiotherapist working in Australia at $1,444. That works out at around $75,000 per year. Now, that figure is an average across all working physiotherapists. It includes those who have just started their career and physios who have lots of experience. And it is generally the case that your salary rises as you gain more experience. However, you could expect to earn $55,000-60,000 in your first job after you graduate.
What's more, the government predicts that physiotherapy is going to be one of the jobs that will be in demand in the future. Which means you will have lots of opportunities to grow and develop your career.
Next steps
While you don't have to do particular subjects in high school to apply for a Bachelor of Physiotherapy, you're going to put yourself in the best position to succeed if you select at least some science subjects for your HSC or VCE subjects. They will give you a great foundation of knowledge to build on in your physiotherapy degree.
Work hard in high school. You're going to be looking for an ATAR of at least 80 (although this can change from year to year). Doing some volunteering with a physiotherapy organisation could also give you some hands-on experience before you start your degree.
And, if you want some more guidance on how to become a physiotherapist, just reach out.

Bachelor of Physiotherapy CRICOS number: 039053K