H2O. It's the stuff of life. But it's not unlimited. As we face ever more drastic shortages, we see the effects of a lack of water across our regions. Not least in the Murray-Darling Basin.
Beneath the media headlines about tragic fish kills, water stealing, a complex water trading system and prolonged drought, there's another quieter, but no less important story: the slow, steady work of environmental scientists turned mediators and communicators, and the participation of many different parties in finding solutions.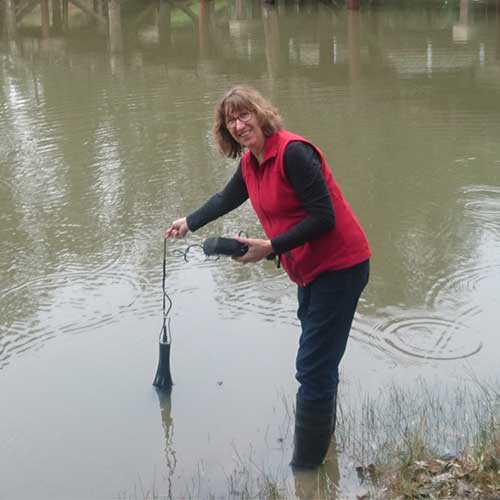 Professor Robyn Watts of Charles Sturt University is one person who's helping inform the management and restoration of aquatic ecosystems with her Murray-Darling Basin research. Another of her vital roles is to communicate how these complex systems function, and why they are so important.

The complexity of the Murray-Darling Basin
The Murray-Darling Basin is Australia's largest and most complex river system. It serves millions of people with drinking water. It irrigates the nation's food bowl. And it feeds many wetlands, where countless species of animals and plants make their home.
Robyn says there are four levels of complexity with the Murray-Darling Basin: geographic, institutional, social and ecological. Within that network, there are many different perspectives on how to best manage the system.
Despite this, Robyn – who lives and works in the Central Murray – says there has been a decades-long effort by different agencies, community groups, irrigator groups, environmental groups and scientists to work together.
"Collaboration and engagement takes time. Improvements in the river system are gradual and tend to not make news headlines."
Robyn says the story of the Murray-Darling Basin is really a tale of two basins. A southern basin and a northern basin. The climate, biophysical environment, water licenses and the management of water are different in each.
"However, at any given time, the people and the river ecosystem in different parts of the basin may be experiencing very different circumstances. One area can be in extreme drought. At the same time, another part has received average rainfall."
This affects the way that water is managed. It also influences people's perceptions of water management. And it highlights the essential role of community advisory groups, which provide an opportunity for different perspectives to be heard.
"There are some great examples where community representatives have been working collaboratively at adaptive management for many, many years now."
Adapting to change
Robyn is an expert in the adaptive management of environmental water: the water releases that maintain and improve the health of rivers and floodplains. These releases are aimed at protecting the plants, animals and landscapes that underpin healthy communities within the Murray-Darling Basin.
In her Murray-Darling Basin research, Robyn synthesises the results of environmental flow trials to better engage a range of perspectives among stakeholders. Her research has evolved from primarily working with ecologists, hydrologists and geomorphologists, to a transdisciplinary approach involving the community and social scientists. For example, the research team interviews landholders and managers about their perceptions of environmental flows.
Robyn also says she has been struck by the role female scientists have played in increasing the participation of different stakeholders. These groups include First Nations, irrigator and recreational angler groups.
"Quite a few of the scientists involved in engagement are women. They are actually leading this work using a participatory approach. Working with people from different parts of the community, they show that it's possible to make changes beneficial for the environment and the community. It's about looking for win-win opportunities and being there for the long haul – which is something that Robyn is set up for because she is passionate about her field.
"I love working in STEM. Through good science we can improve knowledge. And through engagement with managers and the community, we can use the science to improve decision-making. And that helps create healthy river ecosystems."
First Nations, angling and community groups are increasingly involved in the monitoring of turtles, fish and water quality as part of a current Australian Government-funded project that Robyn leads.
"Murray-Darling Basin research is a collaboration. We're incorporating community knowledge and experience, along with the science, to improve monitoring design. This will ensure we get the best design and outcomes."
You can make a difference
Our water systems, natural landscapes and wild ecosystems are under pressure like never before. Play your part with an environmental science degree from Charles Sturt University. From undergraduate courses to research degrees, however you want to make a difference, you can here.