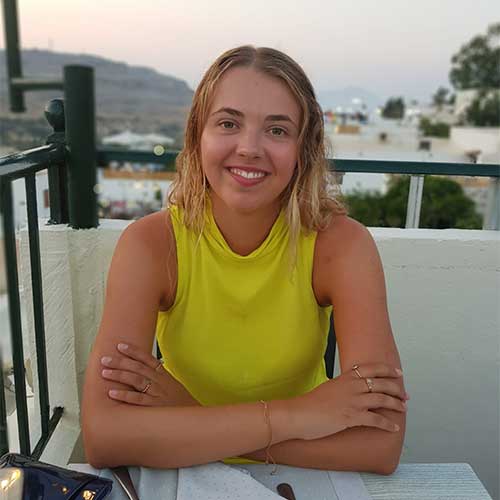 By Lucy Pirrie
Bachelor of Communication (Advertising)
Charles Sturt University
Starting university in Australia and want to know what it's going to really be like? Well, Charles Sturt communication student Lucy Pirrie can fill you in on her first year at university. Lucy moved from Sydney to study at Charles Sturt's Bathurst campus. Despite being nervous, it turns out her big move was the best she ever made!
In the beginning of my first year at university
Like anyone, the thought of moving away from home to go to uni was daunting. Why would I leave the comfort of home where the fridge is full, I'm surrounded by friends and family, and I don't have to worry about a thing in the world? Well, a year later I can thankfully say that making the move to live on Charles Sturt's Bathurst campus was a great decision.
Moving to an unknown place is a scary thing to do. You pack up your bags, start from scratch to build a new group of friends, and essentially, a new home. Orientation (the first few days you're on campus when the uni helps you learn the ropes) is honestly hectic – there's so many new people to meet! Though you'll probably want to be liked by everyone, always remember to be yourself.
If you feel homesick, reach out to your neighbour, hallway buddy or new friends and have a chat. Who knows, they may be feeling the same as you?
I had to find my balance
The opportunities to socialise and make long-lasting connections at uni are endless – there are so many inclusive and fun events you can attend. Here's a tip. The dress-up nights are hilarious. Everyone bonds and jokes over the weird and wacky costumes.
However, living on campus I had to learn the art of self-discipline. To know when to prioritise study and when to go out with my mates. I also found that having time to yourself is also incredibly important. Just going for a walk by yourself is nice, and can clear your head for your next study session.
Throughout the year there are times of intense study and more chilled periods where you can socialise or go out a bit more. You can't do everything, so don't get caught in the FOMO (fear of missing out) trap. Simply pick the events that interest you the most. Once you get into the groove, life at uni is a lot of fun. As soon as you can, sort out your timetable and make sure you have a good balance of study and social events.
I became a joiner in my first year at university!
Your first year of uni is also your opportunity to get involved in as much as you possibly can! Sign up to every club, sporting team, and group that takes your fancy. It's a really rewarding opportunity to meet different people outside of your classes and dorms.
Starting university? It's hard work – but help is always at hand
Your first year after starting university in Australia is definitely different from high school. Your tutors expect more of you, and expect you to be more independent, managing your study outside of lectures and tutorials – which is something that comes with practice.
Don't be down on yourself if you occasionally feel overwhelmed with work. We all feel like that at some point. The work will get done and you can always reach out to your teachers or the support staff if you need some advice (or even ask for an extension under extreme circumstances).
I learned to step outside my comfort zone
Above everything else, starting university in Australia was transformative. I discovered so many things about myself that I would never have done if I'd stayed at home. Stepping out of your comfort zone and attending university in another part of Australia gives you an amazing opportunity to grow as a person. You meet people who help uplift, inspire and support you. It can take a bit of courage to put yourself out there – but once you do the rewards are really great.
So, go out and smash your first year at uni. Do your best in every area of your degree… but remember to live a little!
Your move
So, what are you waiting for? Take the leap and fill your year with things you're passionate about. You can at Charles Sturt. Let's get to work!