Making a career change is both hugely exciting and a tiny bit scary. And regardless of whether you're stepping into a new line of work through necessity, personal circumstances or to realise a dream – every bit of student financial support you can get will be super valuable.
Just ask Charles Sturt University student Iain Wood.
At 42, the single father of three has left his career in law enforcement and is now studying a Bachelor of Education (K−12).
"I spent six years with the Australian Federal Police and then another six years with NSW Police. The challenge of leaving the police force and transitioning to civilian life has been a struggle at times, and a big adjustment. And being a divorced father of three children and changing careers, the challenge of returning to study as a mature-age student was extremely daunting."
We've got your back – with lots of student support
When you study with Charles Sturt University, you become part of something bigger. You become family. And families support each other. We've got your back from day one – as Iain found out – with plenty of student support.
Returning to studying as a mature-age student, on campus and then online due to COVID-19, Iain was nervous.
"Walking onto campus during Orientation as a mature-age student I had enormous doubts and anxiety as to whether, firstly, I could learn again, and secondly, whether I would fit in.
"The welcome by the Orientation staff and student body, as well as the student services team, helped ease my nerves. And once the lectures and tutorials commenced, the support from the lecturers was fantastic.
"The availability of lecturers to provide feedback and advice was far greater than I expected. It went a long way in helping me improve my confidence, my direction with assessments, and resulted in me achieving some great – and surprising − results in my first semester."

Iain Wood
We're all here to help you achieve your goals. Student support isn't an add on; it's part of your experience. Our experts can help with assignment advice, writing guidance and getting past referencing roadblocks. And with online resources and workshops, you've got study advice at hand, whenever you need it.
Scholarship support boosts success
At Charles Sturt, we offer student support that goes beyond the classroom. For example did you know that we have $3 million in scholarships up for grabs? Scholarship support is a great way to help boost your study success and make university easier for students like you!
Iain's father graduated in 1970 from Bathurst Teachers' College – a predecessor institution of Charles Sturt University – and taught for 35 years, mostly in Bathurst. Following in his father's footsteps meant Iain was eligible for a $3000 Bathurst Teachers' College Alumni Scholarship.
As the successful recipient, Iain was extremely grateful for the boost this scholarship offered.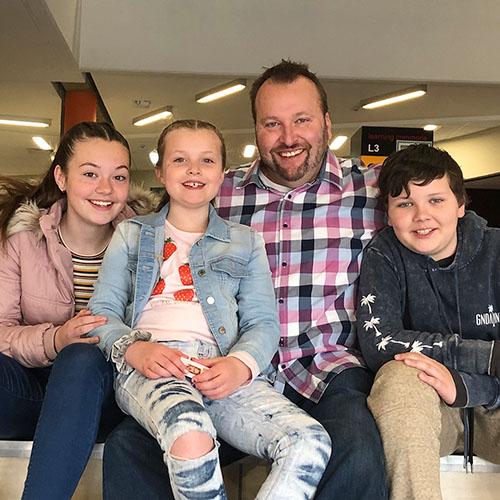 "Having the financial support of this scholarship has had a flow-on effect. My current costs of living and raising my family can be met more effectively with my current income."
Iain Wood
The scholarship has enabled him to purchase textbooks and a laptop, and be able to print journal articles and notes.
"Without this scholarship I would have found it very hard to adjust my budget to be able to afford learning materials as well as day-to-day necessities."
How can you get a scholarship for university?
1. Don't rule yourself out, count yourself in!
It's a common misconception, but university scholarships are not just for school leavers. At Charles Sturt, we have scholarships for all kinds of students – from those just starting out to those at the cutting edge of research and those making a career change!
Scholarships have all sorts of criteria and there are so many that you may qualify for. Remember, we have $3 million available. So Iain's advice? "Do it, just apply."
"There are so many scholarships that may be applicable. I suggest grabbing a coffee, sitting down and browsing through the Charles Sturt University scholarships on offer."
Another thing to bear in mind is that you're not limited to one uni scholarship. In other words, you can apply as many times as you're eligible for – and you can apply all throughout your degree ­– not just in your first year.
2. Know that applying for scholarships is easy.
Don't think the application process will be too hard. It's really not – 75 per cent of our applicants, including Iain, say it's easy.
"The search tools on the scholarship page are helpful in narrowing down which scholarships you may be eligible for and the application process is easy to follow.

Iain Wood
"The link took me to the relevant pages and the instructions and checklist were clear and easy to follow. I was able to save my progress and return to edit or complete more details prior to the final submission."
And the process is pretty quick.
"The application process for the Bathurst Teachers' College Alumni Scholarship closed in February and I was notified in April that I had been awarded the scholarship. It gives me great confidence for my future teaching career."
Do you want help reaching your goals?
Learn how we can help you reach your goals with our support services and scholarships. And feel free to contact us to discuss the what, when and how of applying for a scholarship when you accept an offer to study with us.