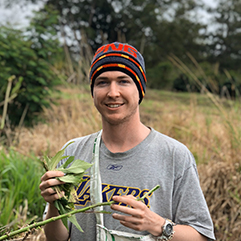 By Dylan Male
Bachelor of Agricultural Science (Honours)
Charles Sturt University
Want to know what it's like to study overseas? Well, Charles Sturt University agricultural science graduate Dylan Male can fill you in. Dylan tapped into the exciting opportunities CSU Global offers and soon found himself winging his way to Papua New Guinea (PNG) for an enriching study exchange.
There's more to uni than sitting in a lecture theatre
When I first accepted my offer to study at Charles Sturt University I never anticipated the opportunities I would be given. Studying a Bachelor of Agricultural Science (Honours) has been much more than simply sitting in a lecture theatre.
CSU Global is Charles Sturt's international liaison office that support students to study abroad. And they were the team that brought my attention to the Australian Government's prestigious New Colombo Plan (NCP) Scholarship Program.
I knew very little about the NCP and was completely unaware of how the program was about to impact my life. But, with the support and guidance of CSU Global, along with the Charles Sturt Career Development Office, I was able to smash through the application process and was successful in receiving an NCP scholarship.
What a plan!
The NCP is an Australian Government initiative that aims to increase knowledge of the Indo-Pacific in Australia. It does this by supporting Australian undergraduate students to study and undertake internships in the region.
It invests in building Australia's 'soft power' with our closest neighbours through the strengthening of people-to-people relationships and deepen institutional links.
As an NCP Scholar, there were a staggering 40 countries I could have chosen to be my host for study. I chose Papua New Guinea for many reasons. Though it is Australia's closest neighbour, I was surprised by how little I knew about the country. I soon became fascinated by the country's cultural and geographical diversity and was eager to experience it.
As an agricultural science student with a strong interest in research and development, I saw PNG as a perfect place for me because most Papua New Guineans depend on agriculture for their livelihoods.

Dylan Male
I wanted to better understand the people and how their agricultural systems functioned. That appreciation enabled me to use the knowledge and skills gained during my Charles Sturt degree to contribute to the future of agricultural development in the country.
Super clichéd, but my study overseas experience was life-changing
My time overseas in PNG was profoundly transformative. I arrived not knowing exactly what to expect, who I'd meet or what experiences I'd have.
I began an internship with Wafi Golpu Joint Venture – a mining project attached to my NCP sponsor company, Newcrest Mining.
Gaining an insight into the work environment of a different country, I also had countless opportunities to network and develop my professional skills. I followed up this experience by undertaking honours research, coursework and Tok Pisin language training at the Papua New Guinea University of Technology – as their first-ever Australian undergraduate student!
I was studying alongside students from across PNG and, despite our many differences, what surprised me most was how much we had in common. Many of them were curious to learn about university life in Australia and dreamed of studying at an institution such as Charles Sturt.
When the time came to leave the country, I had forged strong friendships that will last a lifetime. I left with knowledge and skills that will help me in my future career.

Dylan Male
I had a new perspectives and a deep understanding of PNG in all its rich diversity. I also left with a realisation that PNG has so much to offer, and with a strong desire to return to the country and work there in the future. Most importantly, I left with a feeling of accomplishment and a realisation that I can help create a world worth living in.
What are you waiting for? Study overseas!
As Charles Sturt University's 2020 New Colombo Plan Ambassador, I encourage all undergraduate students to consider applying for an NCP scholarship (or mobility program) – and any other scholarships you might be eligible for.
Whether you are an on-campus or online student, an Indigenous or non-Indigenous student, an agricultural student or a teaching student, the NCP can help you make the most of your Charles Sturt experience and open doors you didn't know existed.
Your move!
What are you waiting for? Once you've found your perfect course, you can start exploring all the overseas study options that might come with it. Start your uni study in the regions… and then take it around the world!