Want to know how to study to be a social worker, and what it's like studying a social work course online and balance it with family and work commitments? Well, Charles Sturt University student Sarah McPhail can fill you in.
Why study a social work course online?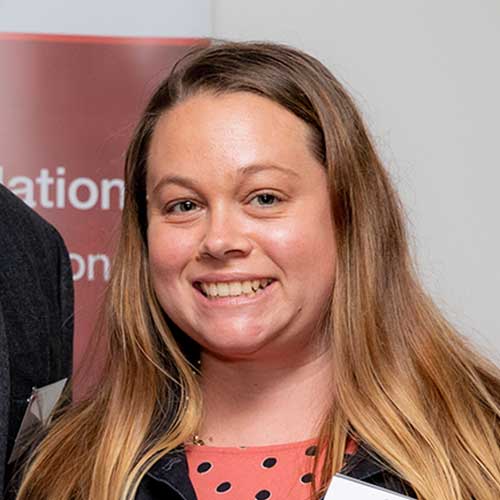 The short answer is I originally wanted to study a social work course immediately after I finished high school. But, as is often the case, life took me in another direction. One filled with a range of career adventures, from real estate to teaching and financial planning, then finally retail management.
But there came a time in my life when social workers provided me with invaluable support. A time when I most needed help. They inspired me to pay it forward, so I decided to go back to uni and study social work.
Why did I choose to study online? Well, I'm a married mum of four (who are all under 10 years of age) and work part-time as a disability support worker. If I wasn't able to study online, I simply wouldn't be able to complete my degree.
Happy days and tough times
The birth of my boys, Ethan and Ashton, were two of the happiest days of my life. But they were also some of the toughest times in my life.
During my pregnancies, I suffered Hyperemesis Gravidarum. It's a debilitating illness with unrelenting nausea and vomiting. It lasted my entire two pregnancies and resulted in countless hospital admissions and even a visit to the ICU when my organs started shutting down from malnutrition and dehydration. Both boys were born prematurely – at 33 and 31 weeks. And both were in the neonatal intensive care unit.
It was a horrible time. The saving grace for me was the help I received from the hospital's social worker. She provided me with unconditional support and advocated for me. The counselling was what I needed to get my life back and to help me deal with the trauma of such difficult pregnancies and premature births. Afterwards, I decided to go back to university. I wanted to provide support to families during challenging times, just as my social worker had done for me!
But there were a few more hurdles I had to overcome before I was able to get back to the books. I divorced and remarried, inherited a beautiful step-daughter and welcomed another little girl to our family.
What does a typical day looks like?
I'm in my fourth year of a Bachelor of Social Work (Honours), work part-time in disability support and look after four children. So, things are pretty busy!
A weekday starts at 6am. I wake the kids and get them organised for school. Make breakfasts and lunches, find shoes and hats. Walk the boys to the bus stop and clean the kitchen. Then it's off to pre-school with my two-year-old and primary school for my step-daughter.
Back home and time to plan my day. With the outset of COVID-19, I've been very fortunate that I can continue my work placement online. So, I organise a list of what needs to be done for work placement: analyse case studies, plan activities, attend Zoom meetings with families, make calls or attend online training. We have a Zoom team meeting that runs for an hour and a half every morning.
Lunch is a chance to get some fresh air, before I get back to the list. If I finish early, I take a look at next week's uni readings.
Around 5pm my husband and I cook dinner together and we eat as a family.
Depending on my workload and what assessments I have, I'll spend another couple of hours on uni work. My husband takes the kids and I lock myself in the bedroom, trying to drown out the 'mum' calls from the lounge room! I research assignments, plan essays, zoom and teleconference with other students or my Honours supervisor. I work backwards from my assignment due dates to ensure they're submitted on time.
I finish uni work at 9:30pm and relax with my husband before going to bed.
On the weekend I work in supported independent living, providing support to people with a disability.
Online study fits with my life!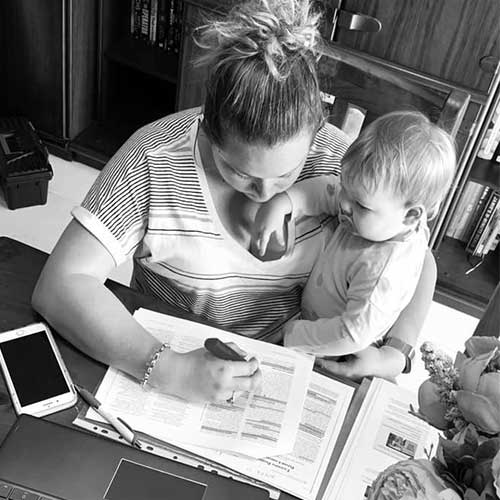 I enjoy the flexibility of being able to study from home, to listen to online lectures and interact at my own pace. Charles Sturt's online platform and the amount of support that is available is second to none. The academics are incredible, supportive and encouraging.
Being a self-motivated person, it's easy to organise my time and dedicate myself to study. It's something I have down to a fine art after seven years!
To ensure I have enough social interaction while studying online, I've become a mentor for the university's social work Facebook group. It's great to interact with other students and lean on them for support when I need it.
Studying online with Charles Sturt has always been a positive experience – and it's one I've recommend to several friends who are now enrolled in various degrees. With two Executive Dean's Achievement Awards and an Honours scholarship, I'm proof it can be done if you want it!
Hands-on experience – it's invaluable
So far, I've completed 860 hours of practical learning, with another 140 to go!
It's invaluable experience. I put my skills into practice, link theory with real-world situations and have learned many things you just can't get from a textbook. Field placements let me observe, try while supervised, and then do it on my own. My social work supervisors are amazing. They're the best sounding board for any ethical dilemma I encounter and always support me to achieve my goals.
The other important aspect of workplace learning is the many professional networks and contacts that I've developed. They'll be a great foundation for my career as a social worker!
Your move!
At Charles Sturt, we're all about making a real difference in the world. You can, too. Perhaps, like Sarah, you're keen to know how to study to be a social worker online. Or maybe law, nursing or environmental science is your go? Wherever you want to take your career, we've got hundreds of online, practical courses to get you there.