No matter what your goal is – a better job, new career, shoring up your current position or realising a dream, online study with Charles Sturt University can help you get there.
But we know the thought of studying online can sometimes be daunting.
So, we thought we'd settle your nerves straight out of the gate! Studying our online courses is easier than you might think (yes, it really is). How do we know? Because we spoke to some of our online students and asked them to give us the goss.
You may be surprised to hear that, in many ways, online learning can be easier than studying on campus. You can schedule study around YOU. Run your own race, at your own pace.
The list goes on.
Study when you want and where you want. Late at night, early mornings. In the car, at a library or at home.
You can do as much or as little study as suits you. Got a lot on your plate? Study one subject a semester. Want to finish faster? Pick up a subject over summer. It's easy to study your way.
You won't miss a thing. Everything you'll need is online. Lectures and tutorials are recorded so can watch them at your convenience. No stress.
Some tips to help you succeed
We all know life gets busy. Adding study to the mix can be a challenge. But using some simple strategies will help set yourself up for success!
Gather support. Get your friends, family and employer on board with your study goals. That way you'll have a great support team.
Have healthy habits. You can only study at your best when you have a healthy mind, body and soul. So, take care of yourself. Eat properly, sleep well, stay active and be social.
Get a head start. Make yourself a deal – don't procrastinate. Doing a little bit each day for your study will keep you on track, and may just put you ahead.
Plan. Plan. Plan. You'll have a lot to do, juggling work, family and friends… and study. So make lists, keep a diary, draft a plan. Do whatever it takes to keep on track and on schedule.
It's your choice
No matter what level of study you're interested in, at Charles Sturt you'll have online options.
You can study one subject that interests you, begin your bachelor's degree or make your way towards a master's. And everything in between. Don't forget to explore whether your work experience or previous learning could get you credit for your next course.
Studying online with Charles Sturt University guide
Remember we're here to help. For more information on how to successfully learn online with us, download your guide to online study.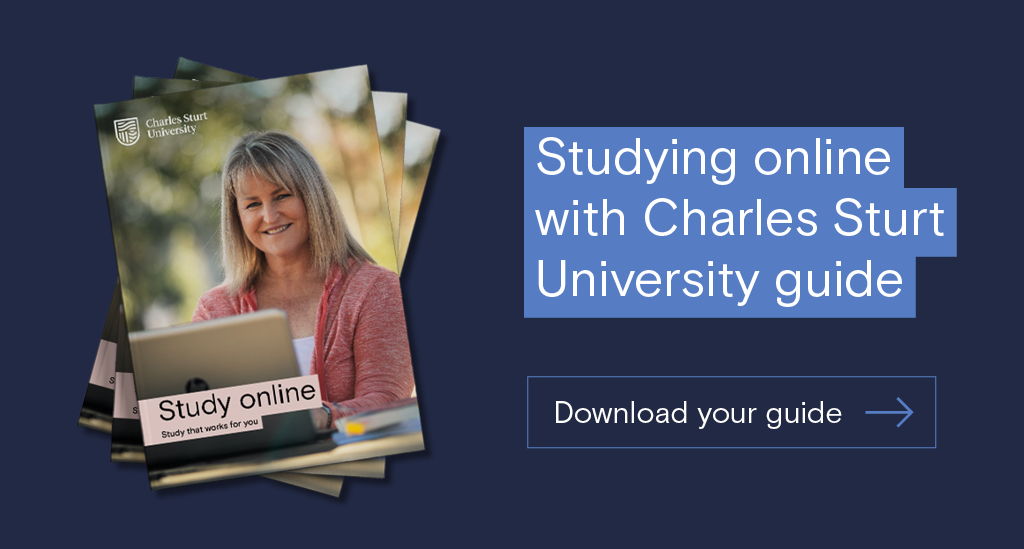 You'll get tips on how you can prepare to study, what equipment you'll need and how to keep yourself motivated. Plus, ideas on how to stay connected and build valuable networks. There's also a list of resources that'll help you hit the ground running and support services that will be useful throughout your study journey.
Studying online is absolutely doable and you'll soon get into the swing of things. So, let's get to work!
Now's your time
Ready to begin your online study journey? Applications are open, meaning you can get ahead on your first degree, or a postgraduate qualification, now. Applying only takes 15 minutes.