According to the Australian Podiatry Association, podiatry deals with the prevention, diagnosis, treatment and rehabilitation of medical and surgical conditions of the feet and lower limbs. But what does a podiatrist actually do? And what are the possibilities for those looking to start a podiatry career?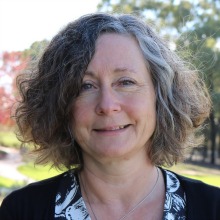 We got the lowdown from podiatry expert Associate Professor Caroline Robinson at Charles Sturt University – and toe-tally avoided using any foot puns when we did (ahem, sorry).
Over to you, Caroline.
What is a podiatrist?
"The word 'podiatrist' derives from the Greek words 'pod' – meaning foot – and 'iatros' – meaning physician.
"So, podiatrists are 'foot doctors'. Allied health professionals who specialise in foot and lower limb health.
"The profession of podiatry actually has a very long history. It dates back to early Greece, around 2400 BC. Today, podiatrists continue to be essential members of healthcare teams in countries across the world.
"Podiatrists are able to diagnose and treat any complications which affect the foot and lower limb. They also provide care for people of all ages and treating a broad range of conditions. And a podiatrist's expertise in foot health can make all the difference enabling a person to be active, participate in exercise, maintain fitness, and reduce the risk of ill health."
What do podiatrists do?
"Podiatrists work with patients to assess foot and leg mechanics. They diagnose conditions or prescribe preventative strategies. You may use computer technology to assess a person's walking and running, their posture, and analyse pressure and loading on the foot.
"Podiatrists have a key role in the diagnosis of circulation problems (peripheral vascular disease) and loss of feeling (neuropathy), affecting the feet and legs.
"Poor circulation and the inability to feel pain place a person at great risk of foot injury, ulcer formation and even limb amputation.
"So, podiatrists work proactively to prevent foot problems, maintain mobility and independence. Which positively impacts upon a person's quality of life."
Who do podiatrists work with?
"Podiatrists work with people across the lifespan, and lots of different conditions.
"Keeping people active and mobile, however old they are, is essential to good health and wellbeing. It reduces the risk of chronic conditions such as diabetes, heart disease and obesity, and premature death.
"Here are just a few examples of things you might do in your day-to-day work as a podiatrist.
Assess a child's walking gait and provide corrective orthoses (insoles) to help stop them tripping over.
Rehabilitate a runner with Achilles tendon damage.
Perform surgery under local anaesthesia for a teenager with an ingrown toenail.
Prescribe antibiotics to treat infected wounds in people with diabetes, to prevent amputation.
Treat a painful corn to allow an older person to walk comfortably.
"Podiatry is particularly essential to support healthy ageing of the Australian population. It helps keep older people active and mobile. Mobility for an older person is vital to maintaining their dignity. And enhancing their quality of life.
"Podiatrists have an important role to play in achieving equality in life expectancy and closing the gap in life expectancy for Aboriginal and Torres Strait Islander peoples."
I'm ready to make a difference as a podiatrist
"Great! And you'll enjoy lots of career opportunities as you do. In fact, demand for podiatry services is forecast to increase until at least the 2050s. That's due to an ageing population and the resultant increase in chronic disease and an ageing population.
"This is particularly so in regional, rural and remote locations. Here there is a higher prevalence of chronic illness. Plus, a shortage of healthcare professionals.
"So, you can choose where you want to make a difference."
Right, let's get to work – explore our Bachelor of Podiatric Medicine.