Why should you apply for a scholarship? Well, there are probably as many reasons as there are scholarships! At Charles Sturt we have more than $3 million in scholarships or grants that are up for grabs. It goes without saying that some extra cash often make a big impact. We spoke to five students who each told us how their scholarship helped.
Charles Sturt Open Day is back on campus in August and September and we're excited to show you around. Join us on campus for our 2022 Open Day and discover your study options, all about scholarships, what uni life is like and what we have to offer.
Cristina: Financial disadvantage shouldn't hold you back
Growing up, Cristina Da Silva experienced financial hardship that stopped her pursuing further education. But there was a silver lining. Cristina witnessed the positive impact education has on people and those around them.
That's why, after working in healthcare for 15 years, Cristina decided a new career as a practitioner was for her. So she enrolled in the Bachelor of Podiatric Medicine.
Now in her third year, Cristina wants to provide quality care, free of cultural, racial, or economic biases. And she's passionate about leading the way for others from a low socio-economic background. Proving it is possible to obtain a quality education.
"This degree will equip me with skills needed to offer the very best in health care to my family, friends and community.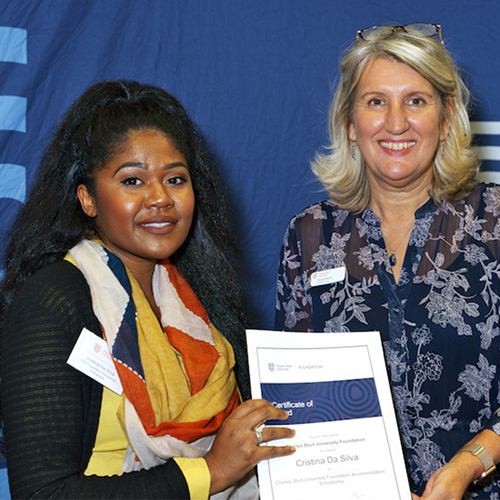 "It also shows others that it doesn't matter where you come from, we all have the power to transform our lives by pursuing education in a field in which we feel we can make a difference."
Cristina Da Silva
But she needed a little financial boost to help her do it, so Cristina decided to apply for a scholarship.
"The support I received from the Charles Sturt University Foundation Accommodation Scholarship helped relieve the financial pressure. It has put me on a secure pathway to finish my course.
"Obtaining this qualification would not have been possible without the generous support from Charles Sturt University. For that, I am eternally grateful."
Ryan: Investing more hours into the books
Ryan Mies left home in Tasmania to pursue a career in radiography at Charles Sturt University in Port Macquarie. And his first goal is to maintain a grade point average of which he can be proud. It's a task that's been made a little easier thanks to a scholarship from Charles Sturt.
Ryan thought 'why not apply for a scholarship?' and it paid off. Literally. He was awarded a Charles Sturt Campus Services Financial Assistance Scholarship. And that freed up time that Ryan would have had to spend working to cover the cost of his accommodation. Instead, he's investing the hours into revising course content.
The second-year Bachelor of Medical Radiation Science student said the scholarship means he'll remain on campus for another year.
"I absolutely love living at the Port Macquarie campus. Having immediate access to course facilities such as the library, reliable internet and my peers has been invaluable. It's helped me get the best marks I can.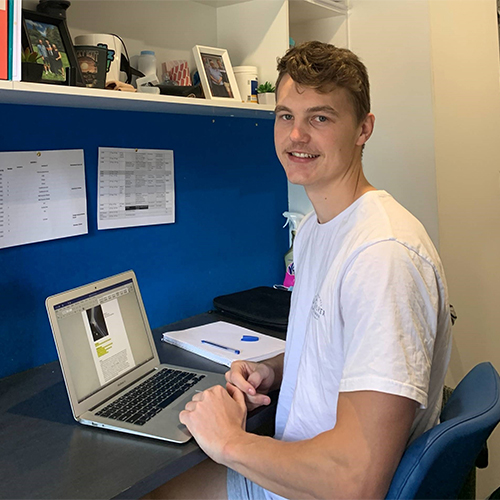 "I'm a long way from home and this scholarship has reduced the stress of accommodation costs. The financial support has saved me at least 10 hours a week, which I'm able to put back into the books."
Ryan Mies
Will: Chasing two dreams at the one time
Will Hodges is in hot pursuit of not one, but two dreams! The talented cyclist competes at the national level – while studying for his Bachelor of Exercise and Sports Science.
The Charles Sturt University scholarship recipient and elite cyclist pedals towards success, on the track, and academically, thanks to the financial support.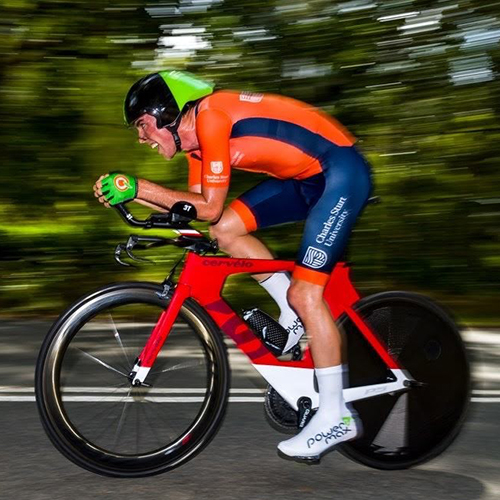 "I am extremely grateful for the investment and belief Charles Sturt University has shown in me. It will go a long way to help me maintain my commitment to elite sport and continue studying to get my degree.
Will Hodges
"The funding will help pay for textbooks and other study materials along with the costs associated with racing.
"This scholarship has provided the backbone for me to give my all on the track. And I will be able to support other athletes by becoming a practitioner in the exercise and sports science world."
You can apply for a scholarship in each year of your degree and you can be awarded more than one scholarship during your study with Charles Sturt.
This the second time that Will has been awarded the Charles Sturt University Sports Council Scholarship.
"I'm honoured to received this scholarship for the second year. The Sports Council do a great job supporting student athletes. I definitely made the right choice in picking Charles Sturt for my higher education."
Charles Sturt is proud to support the academic, cultural and sporting goals of our students. Our Elite Athlete and Performer Program allows students to continue developing in the sporting realm, while also pursuing their chosen course.
We have a long list of former students who have competed at elite levels, including the eight athletes who participated in the 2020 Tokyo Olympics, and Para Olympian gold-medallist Kurt Fearnley.
Angela: Get qualified and give back to the community
Regional high school teacher Angela Hanigan wanted to give her students with disabilities the best possible experience at high school. To do that she knew she would have to build her knowledge, so she enrolled in Charles Sturt's Master of Inclusive Education.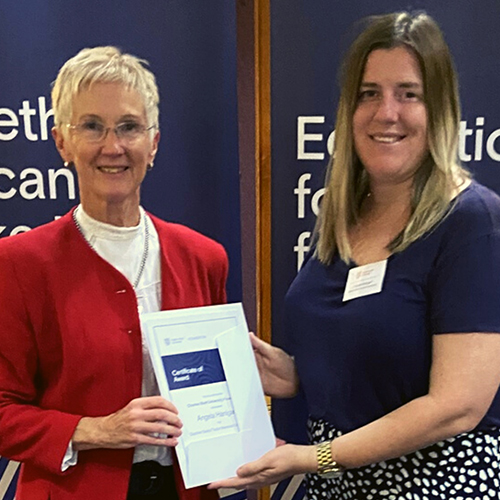 "I knew I needed to pursue further study in inclusive education to give my students the best possible experience, regardless of the financial burden it would put on me. And I was excited to extend myself by teaching in this area."
Angela Hanigan
Angela said there was a huge need for more support unit workers in rural NSW, so moving into the disabilities support role would also give her greater job security.
"Almost 700,000 women and young girls with a disability live in rural and remote Australia. While data on disabilities among First Nations People is limited, it is estimated that there are double the rates of disability among them in contrast to the non-Indigenous population."
Receiving the Daphne Saxby Taylor Memorial Scholarship meant that Angela could more easily continue her study at Charles Sturt in Dubbo and most importantly to her, the entire community would benefit from her new qualifications.
Angela's take-away message? Don't delay study because of financial concerns – apply for a scholarship and pursue your career dreams!
Nidhi: Freeing up time to do the important things
Nidhi Kanekal was born and raised in Bangalore, South India, before moving to Sydney with her family. After finishing high school, Nidhi continued to strive for a better education and new career opportunities.
The first-year Bachelor of Animal Science student is preparing for a long and illustrious career caring for animals. And she is keen to be financially independent of her parents, so Nidhi looked into the many scholarships that were offered by Charles Sturt.
She received a St Martins College Helen and James Faulks Scholarship. It helped with accommodation costs and meant Nidhi could live on campus in Wagga Wagga. Plus, the financial support also enabled Nidhi to spend time getting her driver licence so she could more easily get part-time work. But perhaps the most important benefit of the scholarship is the time it gives Nidhi to connect with the on-campus community.
"I don't wish to burden my parents with the cost of higher education as they're still raising my brother. And this scholarship enables me to pursue my dream career in animal sciences – because there are many more job opportunities in Australia in this field than in India.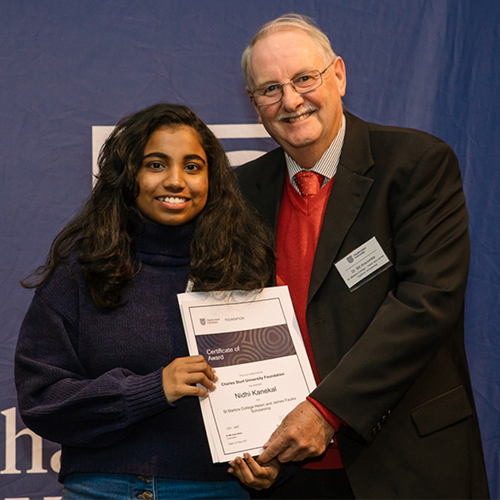 "Living away from home can be lonely, but I've made some great friends at St Martin's College and on campus. They also want to work with animals, and we help each other with our studies."
Nidhi Kanekal
Nidhi has her sights on a Bachelor of Veterinary Science and possible further study into animal psychology once she's completed her current degree.
"I've always loved animals and working as a vet behaviorist is a profession I am interested in."
Ready to make your mark?
Explore our courses that will give you the skills to make a real difference, whichever industry you choose. From agriculture to environmental science, communication to teaching, and business to psychology – we'll have a course to get you where you want to go. And chances are you'll also be eligible to apply for a scholarship to help make it a reality.