A fresh start in a new city saw Kristen Eade ready to combine work and study. A childcare educator for most of her career, Kristen decided to study what had always interested her – psychology – as soon as she relocated to Bathurst. So she enrolled in Charles Sturt University's Bachelor of Psychology.
As well as starting a new course and living in an unfamiliar city, Kirsten needed to find a new job. It had been a long time since she'd compiled a résumé, so finding a job – quickly – was a little daunting, as was balancing work and study.
"I was also hoping to get work that was different to my childcare educator roles."
"I knew I needed to further my skills in terms of looking for work and updating my résumé, because I'd never had any professional help before. What's more, I was new to Bathurst, so I didn't know what was needed to apply for jobs around here. So I got in touch with Charles Sturt's Earn As You Learn team."

Kristen Eade
What is Earn As You Learn?
Earn As You Learn (EAYL) is more than some help to get your résumé up to scratch – though that is an important service offered. Importantly, we'll put you in touch with a career development officer and connect you with local employers. You get free access to customised resources and workshops to help you find employment.
There's also free accredited training in the Responsible Conduct of Gambling (RCG) and the Responsible Service of Alcohol (RSA).
If you're studying on campus at Charles Sturt University in Bathurst, Port Macquarie or Wagga Wagga you can register with Earn As You Learn and get ready for casual and part-time work that helps with balancing work and study. It gives you the opportunity to support yourself financially while you study and learn new skills to become job-ready.
Best of all, it's free!
How EAYL helped Kirsten
The EAYL program was a big boost to Kirsten's confidence.
"I hadn't had any formal interviews in my career before heading to Bathurst. I'd just fell into the roles I'd had. So, I wanted to get some more experience; see what I could do with my résumé, how to best apply for jobs and how to go about things like cold calling. I'd never done any of that before!"
As part of a day-long EAYL course, Kirsten met with some local employers who explained what they looked for in employees.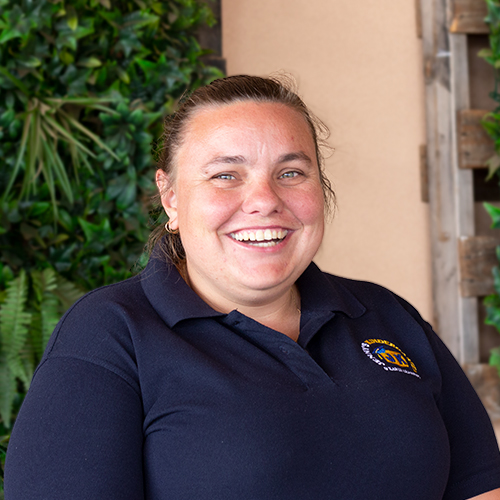 "It was really beneficial to hear their perspective. It provided great insight into what employers are looking for and how to approach them. I realised that the skills I'd developed in the childcare industry would also be very useful elsewhere. That gave me the confidence to start applying for other jobs."
Kristen Eade
"I learned to work through barriers I'd created that had stopped me from applying for jobs. For example, I always thought being a mum with kids would hold me back from getting jobs because workplaces wouldn't be flexible enough to cope with that. But it didn't seem to be an issue for the employers who spoke to us. It was great reassurance and my barriers started to come down.
"At the end of the course the EAYL team helped me set up my résumé. I went home and worked on it and was still able to correspond with the EAYL coordinator who fixed some things up for me. Best of all, my confidence grew because I knew how to tailor my résumé and cover letter to specific industries and sectors.
"It was just amazing and without this help I wouldn't have the job I now have."
Balancing work and study made easy
With the skills she picked up from EAYL, Kirsten picked up casual work and then quickly secured a full-time position – still within the childcare industry, but this time in administration. It was the best of both worlds. She could work and study!
"EAYL opened by eyes to the many different roles within the childcare industry, not just being on the floor with the kids all the time. My new admin role suits my family life and study. I have set hours but can leave early to be part of their sporting activities, start later so I can drop them off to school or pop out to their school assemblies.
"The program is great for students who are just out of high school, as well as those, like me, who are a little older and want to work and study at the same time. It's perfect because EAYL opportunities are tailored to the local area.

Kristen Eade
"Register, it will be the best decision you make. It is the only opportunity you'll get to speak with employers in a non-threatening environment. There are also opportunities to volunteer to enhance your skills and knowledge. Your confidence will grow and you'll be a valuable asset to your employer."
What are you waiting for?
Once you've found your perfect course, check out our Earn As You Learn program and get the help you need to find a job that fits in with you studies!