Leanne Sanders has a vision. One that makes a difference to her community. That connects people with their culture. And one that is all about helping others picture a brighter future.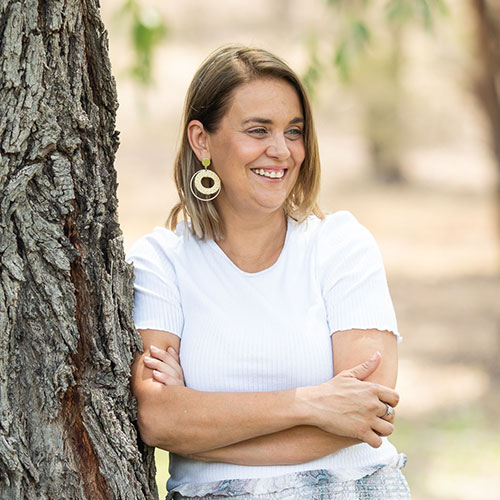 Leanne is the founder of Visual Dreaming. It's a digital platform for addressing Aboriginal mental health and empowering Aboriginal youth to regain cultural identity and understand, access, negotiate and use government services, such as the National Insurance Disability Scheme (NDIS).
When the NDIS was launched, Leanne noticed that the complex system and lack of meaningful engagement meant that many in her community – particularly Aboriginal youth – were not getting the assistance they needed.
Visual Dreaming is an app that gives Aboriginal youth the tools to create a positive future, no matter what their origin, by sharing the richness of Aboriginal spiritual wellbeing. It is intended to help foster leadership and pride in Aboriginal identity and culture, and create self-determination. The goal is to reduce social isolation, mental health issues, incarceration and, most of all, suicide, in an often disenfranchised population.
She is determined to halt the cycle of intergenerational trauma. And her journey to launching her unique app has seen her travel – with support from Charles Sturt University all along the way.
Support to help make it happen
The app was workshopped and refined at the AgriTech Incubator. This incubator is a joint project between Charles Sturt University and government to support and develop small businesses, start-ups and entrepreneurial ideas in the Wagga Wagga region. Leanne took part in an eight-week Ready to Launch program.
"The incubator lit the fire in me to reconnect with my 'why' and build that into the business model. Also, discovering how to share Visual Dreaming as a story rather than a business, and learning to pitch that in a way that people could understand, was incredibly confidence-building."
The incubator works with current students and alumni of Charles Sturt University – as well as the local community – to bring ideas to life.
Indeed, Leanne herself has returned to study a Graduate Certificate in Wiradjuri Language, Culture and Heritage at Charles Sturt. Previously, she completed a Bachelor of Health Science (Mental Health), so the connection with the university is deep – and ongoing.
"Having that local support and incredible energy of belief in what I was doing saved me when I was burning out. For me, it's about community."
Building hope from dark times
Community was at the heart of the app's genesis. Leanne brings lived experience of the system's failures to Visual Dreaming, having lost a cousin, Dallas, to suicide. She bears the grief of so many others in the community taking their own lives.
"There was one week here in Wagga where we lost five people in our community to suicide. Too often we hear that another has been lost and that another family and community has been affected.
"You don't ever repair from that. And if only people had had the tools to see that there's a light at the end of the tunnel, then so much pain could be avoided. Plus, we could prevent kids ending up in custody as their mental health deteriorates. But without Aboriginal NDIS providers in the region, there's a genuine lack of culturally appropriate support and Aboriginal mental health really suffers.
"Visual Dreaming is unique in that individuals set goals using images and create vision boards for their desired future, without the language or cultural barriers they otherwise experience.
"They then choose local mentors that best match with what they want to achieve, which is far more powerful than the dominant care working model. They have full control of the journey; the goals are their own, not those set by their family or a care worker."
A vision for the future
Crucially, Visual Dreaming's holistic focus means capacity and skill-building goals sit alongside spiritual objectives and addressing Aboriginal mental health. These all enhance connection to Country, culture and community.
"The app can also help create a community where we are all connected, and enable Aboriginal children in out-of-home care to maintain connection to culture, and even help immigrants from non-English speaking backgrounds access the NDIS while discovering our rich culture.
"Firstly, we're planning to launch in our Riverina communities first, then take it to every community in Australia. Secondly, I'd like it to be available worldwide. That way everyone can explore Aboriginal culture and envision a better future for themselves."
What's your vision?
Do you have a plan to help your community? To make a difference where it's needed most? Wherever you want to make your dream happen, you can at Charles Sturt. And you'll get all the hands-on experience and dedicated support you need. Let's get to work!
For help in a crisis, call Lifeline on 13 11 14.