Your child's primary school days are a memory, and their high school journey is coming to an end. Next on the list of life-changing challenges is guiding them through the process of getting into uni! At Charles Sturt we've done some of the hard work for you and compiled the ultimate list of all you need to know about university.
First things, first
Here's a little info about Charles Sturt. Your child can choose from more than 65 undergraduate degrees to study with us. From ag to arts, business to border management, communication to computing, dentistry to digital media, engineering to education (you get the idea), we have a course that can get your child where they want to go!
We're big on practical experience – we call it hands-on learning. It's heavily embedded in all our courses because we all know that employers look for people who can do, the job not just know the job. So when your child studies with Charles Sturt, they'll learn by doing. Our professional, accredited courses will give them the practical skills needed to step into a career and get the job done.
Now, on to the A to Z of all things uni…
Applying to study with Charles Sturt
There are two ways your child can apply to study with Charles Sturt – and it depends on how they want to study.
If your child is planning on studying their chosen course online, they'll apply direct to Charles Sturt University. It's super simple and can be done online in 15 minutes.
If your child is coming to uni from high school and planning to study on campus with us, they'll apply through a tertiary admissions centre (UAC or VTAC).
ATAR (Australian Tertiary Admissions Rank)
The Australian Tertiary Admission Rank is a number between 0.00 and 99.95 that indicates a student's position relative to all the students who sat the HSC. It's one – but not the only – criteria for entry to an undergraduate degree.
Bachelor's degree
Often referred to as an undergraduate degree, a bachelor's is usually the starting point for anyone wanting to get their first uni qualification.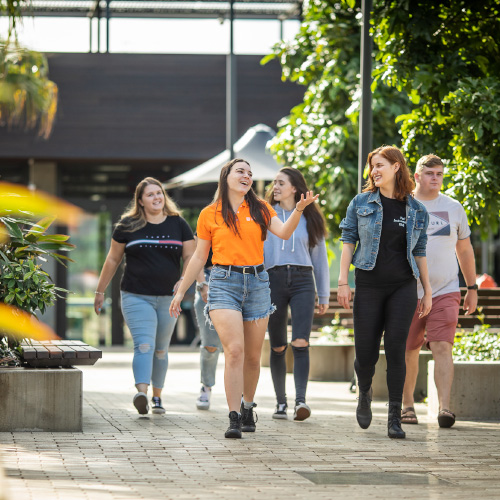 Campuses and campus tours
We have six campuses: Albury-Wodonga, Bathurst, Dubbo, Orange, Port Macquarie and Wagga Wagga. You and your child are welcome – and encouraged – to book a campus tour. We're available on any working day of the year. You'll go behind the scenes with one of our current students and check out our learning and teaching facilities, student amenities and support services.
Change of preference
At a few different times across each year, universities offer students the chance to study with them. These opportunities are called 'rounds'. When your child applies to study at uni – done through UAC or VTAC – they'll be able to create a list of course 'preferences' to apply for. Change of preference is when your child can add, delete or change the order of their preferences – or even the courses selected – at any time before uni offers are made in each round.
They'll put their ideal course first, then order the other courses they'd like to study (which will act as back-ups in case they don't quite get the marks they were after).
Commonwealth supported place (CSP)
A place at a university or higher education provider where the government pays part of a student's fees. This part is a subsidy, not a loan, and your child won't have to pay it back. Commonwealth supported places are available for most Australian undergraduate students.
Early offer programs
There are two initiatives which enable Charles Sturt to offer your child a chance to study with us, even before they sit final exams and received their ATAR.
Schools Recommendation Scheme. This early offer program considers your child's academic achievements at high school plus their school's rating of their abilities. Sometimes known as a principal's recommendation.
Charles Sturt Advantage early offer program. This program considers two things: your child's Year 11 results and their soft skills. Soft skills are personal attributes that will help them succeed at study – and life. Things like communication skills, resilience, empathy, and motivation to create a world worth living in.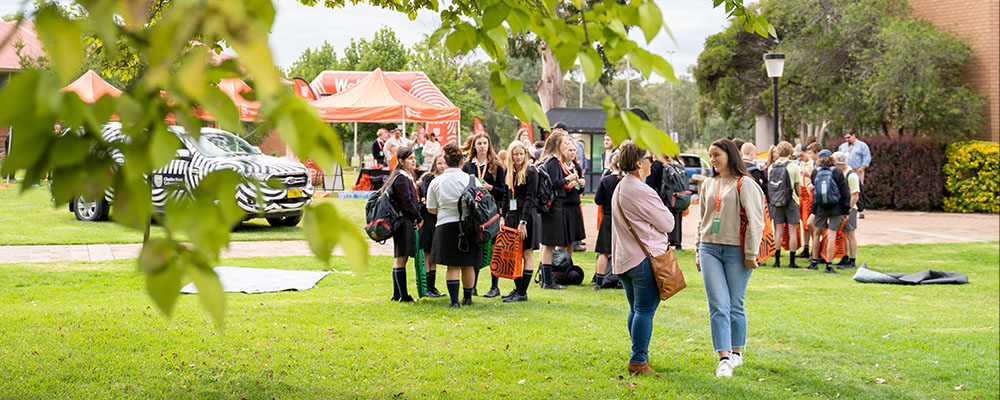 Events
We run lots of in-person and online events throughout the year. They are the ideal opportunity for you and your child to discover all about Charles Sturt.
Open Day – discover what uni life is really like. Get questions about courses, study modes, living on campus, support services (and everything in between) answered. Jump on a campus tour and check out our accommodation and state-of-the-art facilities.
Explore Day – Students in Year 10, 11 or 12 can get hands-on and have fun with practical experience in our facilities and learn about the courses they're interested in.
Parent Information Session – Twice a year Charles Sturt hosts info sessions for parents where you'll also have the opportunity to chat one-to-one with lecturers and university staff.
Fees and costs
The two main costs incurred from studying at Charles Sturt are course fees and accommodation. Course fees will differ depending on what your child is studying. They are payable each session your child studies – usually twice a year. If your child is eligible for a government HECS-HELP loan they can defer the payment of these fees. Accommodation fees will differ depending on which option your child chooses.
GPA
Your child's grade point average calculated from their results in each subject completed.
HECS-HELP
A government loan scheme that helps eligible Commonwealth supported students defer the payment of their student contribution amount.
When your child enrols, they'll need to indicate that they want to pay all or part of the fees via HECS-HELP (they'll need a tax file number, but that's easy to get).
The government pays your child's fees and registers them against their tax file number.
The balance is paid back through pay deductions when your child starts working. They can also choose to pay back the money at any time, but it's only required once they earn above a certain amount. In 2022 the threshold is $47,014.
Jobs
A great job – that's the beginning of a fulfilling career – is the main goal of uni study. When your child studies with us they'll be job ready. Which is great because we're the number 1 uni in Australia for grads who get jobs.

Key dates
On-campus classes begin in late February/early March each year and run through until mid-June. This study period is called Session 1. Session 2 classes begin mid-July and run until the end of October/early November each year.
If your child is moving from high school to uni in the coming year, the Universities Admissions Centre (UAC) key dates will also be of interest.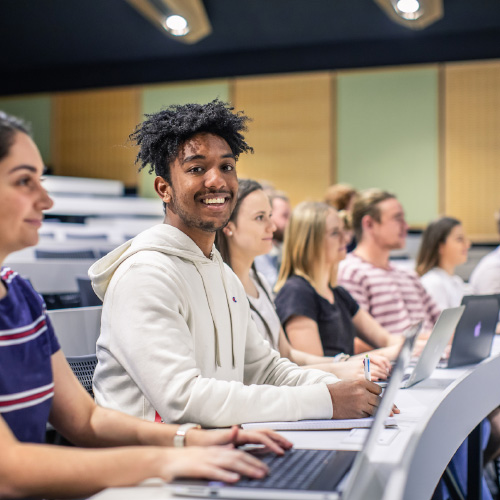 Lecture
A listen and learn time. A lecture is a formal teaching session usually presented in a large theatre by an academic staff member. Usually there's one lecture a week for each of your child's subjects and they run between one and two hours.
Major
Major study is an area within a course that allows in-depth study in a particular field. A major usually consists of eight related subjects. More than one major may be allowed in a course.
Minor
Minor study is grouping of between four and seven subjects within a course, allowing you to focus on a particular field.
Newsletters
Stay informed about all things Charles Sturt by subscribing to our parent newsletter. Sent monthly, they highlight events, point you to parent resources and offer information. Think scholarships, early entry, accommodation and how to book a campus tour.
Offer rounds
Offer round(s) refers to the series of dates on which unis send students an offer to study with them. Rounds occur throughout the year, and offers can come direct from a uni or through a tertiary admission centre like UAC or VTAC.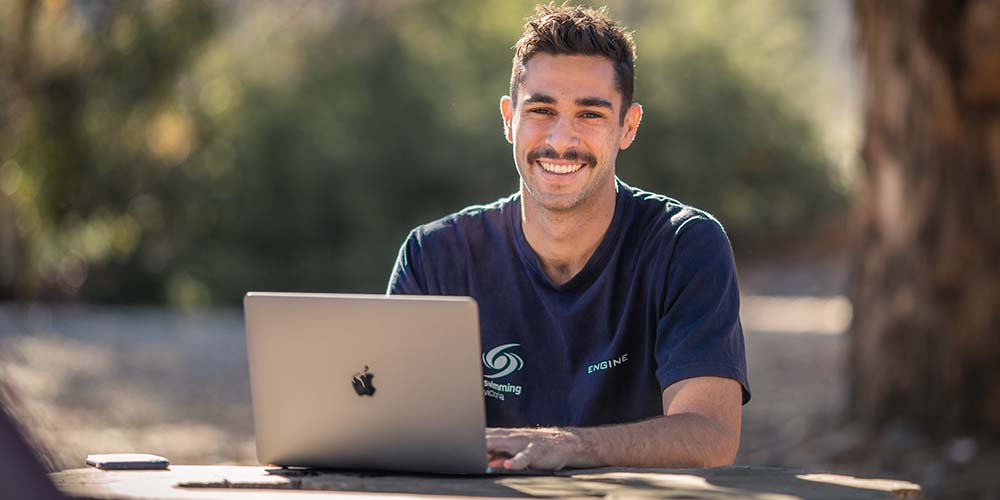 Online study
Online learning (previously called distance education) is when all study is completed from home, work or anywhere you can take a laptop. Access to lectures, lecturers and materials is all via computer. Charles Sturt students can often mix up their on-campus study with some online subjects to help with study/work/life balance. Being Australia's most experienced provider of online learning also means Charles Sturt students can seamlessly transition from on-campus to online study when necessary – in case of further COVID-19 lockdowns.
Pathways to uni
We all know there are many different routes to career success. Dreams of going to uni don't have to be shelved if your child is not happy with their ATAR. We've got two courses that will give your child guaranteed entry into many of our bachelor's degrees – and get them ready for university study. They can choose from the Diploma of General Studies and Charles Sturt University Pathway Course.
Questions?
Call us on 1800 275 278, submit your questions online or arrange a one-to-one consult with one of our friendly team members. (These consults can be on the phone or in person on campus, depending on COVID restrictions.)
Resources
Want to learn more about studying at Charles Sturt? An easy way to start is to visit our parent info hub. You'll find all the info you need on courses, campuses and costs – plus online resources.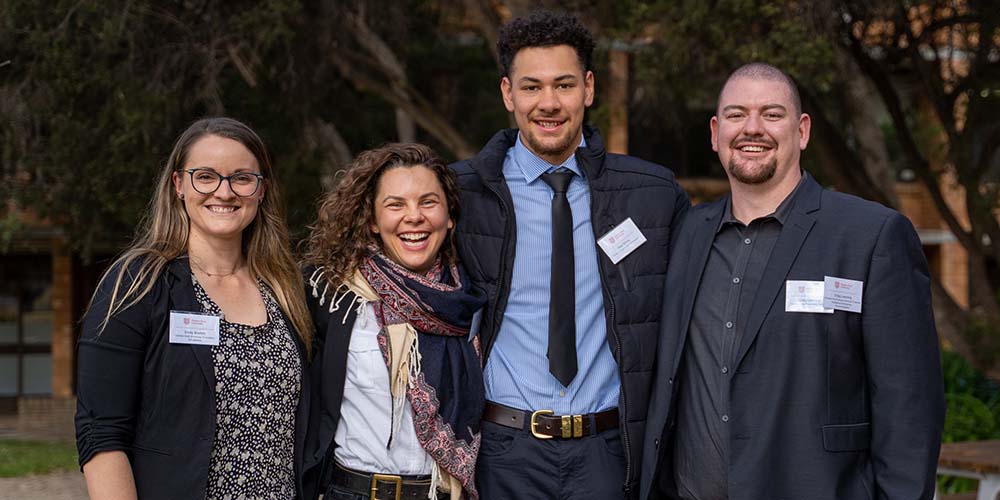 Scholarships
Scholarships are a great way for your child to get a financial helping hand to study. And there's more than $3M up for grabs. Scholarships aren't just based upon academic performance. Some are offered for studying at a certain campus, for studying a certain course or those experiencing financial difficulty.
Session
A period of time during which classes are held. Session 1 usually runs from February/early March through until mid-June. Session 2 classes begin mid-July and run until the end of October/early November.
Selection rank
This is the rank universities use to assess whether your child can study a course. A selection rank includes their ATAR, plus any adjustments they're eligible for, such as equity, location or subject adjustments. It can also include portfolio assessments and supplementary test results. The most commonly known is the Regional Location Adjustment. If your child is completing high school in a regional area we'll automatically adjust their selection rank by five points, as part of our Regional Location Adjustment scheme.* Best of all, they won't have to do a thing to get it – the adjustment will automatically be made when they apply through UAC or VTAC.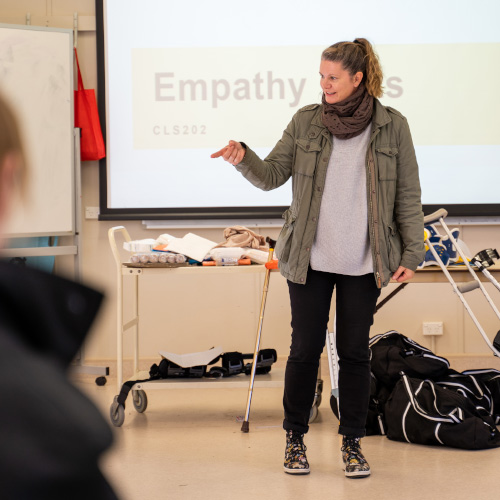 Tutorial
Besides the lecture, the content for each subject is also taught in a tutorial. A 'tute' is a smaller class of about 15–20 students, usually scheduled after the lecture. The purpose of the tutorial is to discuss and interact on the topic with classmates, guided by the tutor.
UAC – Universities Admissions Centre
If your child is coming to uni from high school and planning to study on campus with us, they'll apply through a tertiary admissions centre. In NSW it's UAC. (If your child is a Victorian Year 12 student and wants to study on campus at Albury-Wodonga, or study the Bachelor of Oral Health at Holmesglen, it's VTAC.) So how does UAC actually work?
Your child will pick their preferred courses and load them into UAC.
Then study hard and sit their Year 12 exams.
Your child's results will be used to determine if they've been successful in getting into their top-listed chosen course.
If not, UAC will move down their preference list, offering your child a place in their next eligible course.
They'll have the opportunity to change their preferences at different points (also known as offer rounds) – so there are plenty of chances for them to land their ideal course.
Feel free to reach out to our friendly student adviser team if your child needs help at any point with their application process.
VTAC – Victorian Tertiary Admissions Centre
VTAC is the Victorian equivalent of UAC.
Workplace learning
Charles Sturt University grads are job-ready. Why? Because practical learning is at the heart of their study experience. They'll get to put theories and knowledge into action in our world-class facilities. And because we have such close ties with industry, our courses are packed with workplace learning experiences in real-world settings. It's exciting, practical and confidence-boosting. When they study with Charles Sturt, your child could get hands-on experience in industry for anything from one day to 150 days, depending on what they're studying.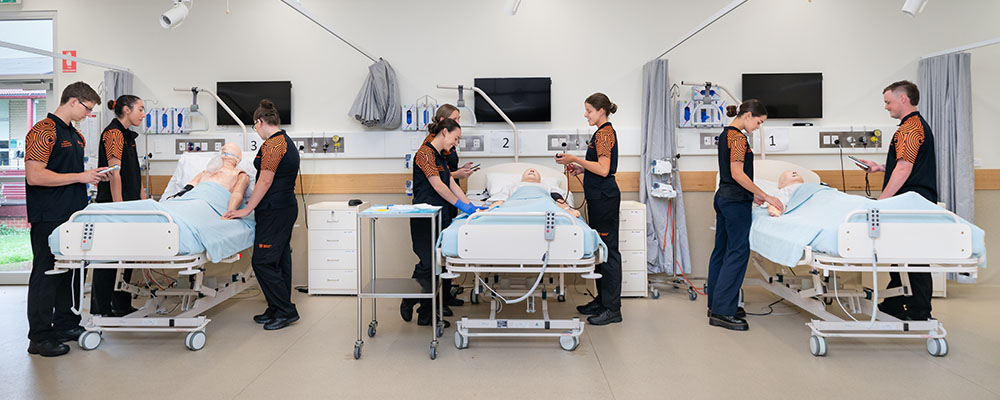 Yindyamarra winhanganha
This is our ethos. Yindyamarra winhanganha is a Wiradjuri phrase meaning 'the wisdom of respectfully knowing how to live well in a world worth living in'. Since day one, we've empowered people to make the world a better place. When we connect people to their purpose, we make communities better. And when we make communities better, we create a world worth living in.
Zero tolerance
Subject Zero is Charles Sturt's initiative that supports our continued commitment to safety, respect and inclusion in our communities. Whether your child chooses to study online or on campus, we are dedicated to keeping them safe and supported.
We're here to help
Visit our parent info hub or reach out to our friendly team if you'd like any other uni questions answered.
*Not applicable to the Doctor of Medicine.