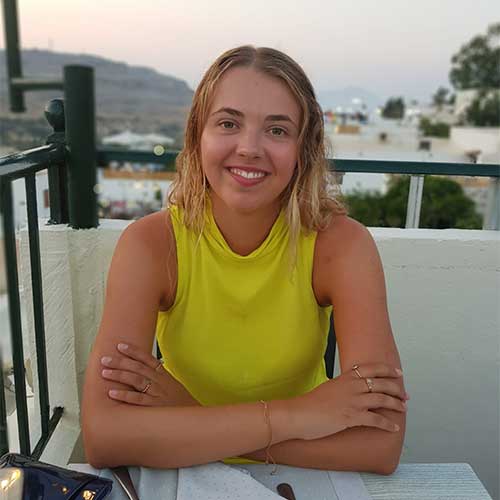 By Lucy Pirrie
Bachelor of Communication (Advertising)
Charles Sturt University
Sometimes it's nice to just sit back, relax and listen to a good podcast. And why not. They're a pretty awesome way to entertain AND educate ourselves. They are also a great distraction, whether you're cleaning your room, stuck on a long commute or simply trying to cure a case of boredom. Here are my must-listen best podcasts for uni students (that might even help you with your studies as well!).
No Limits with Rebecca Jarvis
If you're lacking motivation and looking for some positive reinforcement to help you conquer the world, this one's for you! ABC News journalist Rebecca Jarvis interviews super successful women, talking about their next-level careers, how they got there and the best advice they've been given along the way. You'll hear deep conversations with boss babes like Arianna Huffington, Jessica Alba, Emily Ratajowski, and plenty more.
Becoming Wise
As the description puts it: Offering depth and discovery in the time it takes to make a cup of tea. SOLD!
The Becoming Wise podcast series is for the curious listener. It covers life's many quandaries – episodes have tackled things like love, happiness and the meaning of life in simple ten-minute conversations. Philosophical by nature, this podcast grasps your attention with its fascinating questions! It's a chance to reset your day, get some perspective and become zen with the world. A definite for any best podcasts list!
The Drop Out
Want to know how the world's youngest self-made female billionaire lost it all in the blink of an eye?
This podcast was the buzz of 2019 and explores the indicted charges of Elizabeth Holmes. She was accused of wire fraud having lied about her revolutionary single-drop blood tests, delivering false blood test results to consumers. A hit podcast from ABC News and Nightline, this podcast relates the rise and fall of Holmes, revealing bizarre stories of the dangers of chasing wealth and glory.
13 Minutes to the Moon
For science and technology lovers, this podcast hosted by Kevin Fong is an in-depth look into the moon landing and what it took to make it happen. It takes you through every step, from the planning stages to the moonwalk itself. Produced by the BBC World Service, this 12-part podcast is a fascinating account of one of the most significant events – ever! It takes a fresh approach to a story from many years ago – and you'll be pulled in by Fong's super engaging storytelling abilities.
Hamish and Andy
A crowd-favourite, the Hamish and Andy podcast gives us a hilarious insight into the activities of comedians Hamish Blake and Andy Lee. Since the boys said goodbye to their daily radio show (for the second time) at the end of 2017, their fans have had to make do with a podcast. And it does not disappoint. Sharing their funny stories, new discoveries and ideas, this podcast will definitely give you the giggles.
The Health Code Podcast
Social media influencer and YouTube vlogger Sarah Day and her boyfriend Kurt offer a fun, unfiltered and real podcast on all things health and fitness. The dynamic duo crack the code on how to live a healthy and fit lifestyle, as well as how to manage relationships and build your dream career. Every episode is a unique mix of information, banter and fun – so you get some really great info without feeling like you're being preached at. Listen in for some serious tips, tricks and healthy hacks!
Your podcast here…?
So now we've established that a good podcast is the best way to relax, have you thought about making your own? With Charles Sturt, you can. Jump online and check out our Bachelor of Communication. With a digital media production specialisation you could very well produce the next Serial podcast of our generation and be on future best podcasts lists!