What is a scholarship?
Okay – let's start off with the easy stuff.
Scholarship

noun

A grant or payment made to support a student's education, awarded on the basis of academic or other achievement.
Basically, scholarships are financial help given to students while studying. Sometimes a scholarship is a one-off payment. Sometimes it can be an ongoing payment given to students each semester or year.
Everyone loves extra cash, right? And that's what a scholarship is. Money for you to put towards your studies.
In some cases, the scholarship will set out exactly what you can spend the money on (for example: accommodation, textbooks or work placements). But other times, the scholarship funds can be used however you like.
The main thing to know: your scholarship money isn't a loan – so it doesn't need to be repaid.
The value of a scholarship
Did you know that we offer more than $3million in scholarships each year to Charles Sturt students? Just think what you could achieve when you don't have to stress about how you're going to afford uni.
Scholarships and grants take the pressure off and can make your uni experience that much easier. Extra cash in the kitty means you don't have to stress about paying for things like course fees, accommodation, textbooks and attending work placements.
You don't need to be a great essay writer or the world's best student to be awarded a scholarship – but you've got to be in it to win it. Trust us, it's worth your while.
Or ask Dav.
---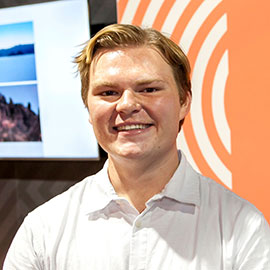 "I want people to know the unprecedented worth of my scholarship. It went beyond monetary value. I was able to concentrate on the important things and not stress one little bit about money. Through our scholarships we've been given the opportunity to make the absolute best of our university experience."
Dav Francis,
Bachelor of Paramedicine
How do I get a scholarship?
In order to get a scholarship – you need to apply. That's the biggest barrier to our students getting their hands on some cash. You've heard the phrase 'you've gotta be in it to win it', right? That's definitely the case here.
Many scholarships get left on the table each year because students assume they won't get one, so they don't bother applying. Our number one tip? Don't rule yourself out. APPLY!
Here's what you need to know about getting a scholarship.
Find the scholarships you're eligible for. Use the search function on our scholarships page to narrow down the list of scholarships to those that fit your study situation. Then each scholarship has its own eligibility criteria and instructions for applying. Check out the closing date too (not all scholarships have the same dates!)
Don't assume financial hardship doesn't apply to you. If you'll find it difficult to provide for yourself while studying or you're working to support yourself and this cuts into your study time, that's financial hardship. The secret is to tell us why it's tough.
Answer the questions. Don't skip questions just because you think they don't apply to you. And make sure you take the time to write more than one line – a couple of sentences will increase your chances. The panel is interested in YOU! Tell them about yourself.
Check your application before submitting. Make sure you've attached any documents required and give your application a good proofing. Ask family or friends to read over your responses, just to be sure you've covered everything.
Don't think it's too hard or not worth the effort. It's not as hard or as time consuming as you think – 75 per cent of our applicants say it's easy! So, what are you waiting for?
What types of scholarships can I get?
You don't have to be some kind of genius to get a scholarship. Remember that. We give out scholarships for a range of different reasons.
Academic scholarships
If you're a star student, you can get a scholarship based on your academic performance.
Campus-specific scholarships
Planning on living on campus? We have scholarships available for accommodation and general costs relevant to living on campus.
Course-specific scholarships
Our faculties and schools offer funding help for certain courses. Check out the website and see what's on offer for your course.
Equity scholarships
We have special scholarships available to make sure everyone at Charles Sturt has the same opportunities.
Industry and community scholarships
Scholarships are also donated by Charles Sturt staff and alumni, industry partners and community organisations.
So, remember: scholarships aren't just for the smart cookies. We value diversity at Charles Sturt – and the scholarships on offer reflect that.
How can a scholarship help my study experience?
A scholarship could mean the difference between enjoying your study experience – or stressing out about it.
Honestly, it's worth your while – as Jacqui, a first-year pharmacy student, can confirm.
"I didn't have academic skills, so didn't think scholarships would be for me. But a friend helped me apply.
"I've never asked for help before but I decided to put my hand up so I can fulfil this dream. I applied for everything – and I didn't know if I was doing it right or wrong – I just wrote the truth. The scholarship gave me the funds to cover moving costs, set up costs, tutoring and living costs."
"It enabled me to cut back on the hours I worked and concentrate on my learning, because I'd never done anything like this before."
Chat to us to find out more
Still got questions? Reach out to our friendly team. They can talk you through the entire process (and maybe even give you some tips on how to write a killer application).