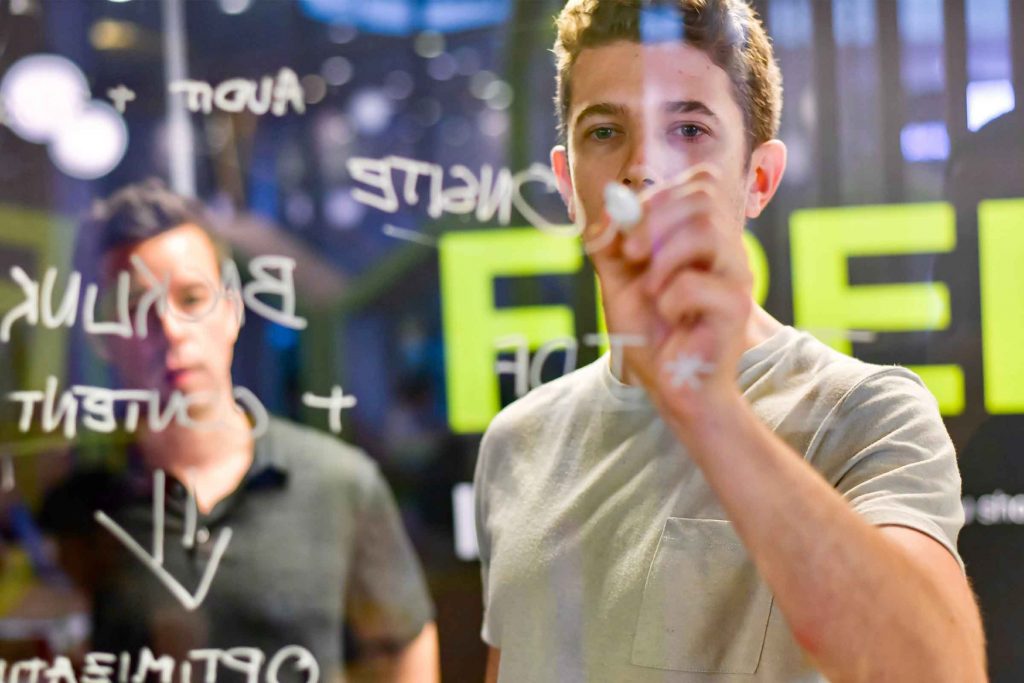 Wondering what you can do with a business degree? Quite a lot actually.
That's probably why business degrees are so popular. Because business is a broad, wide-ranging industry – which means lots of opportunities. It's a field where you can really choose your path – even if you don't know quite which way you want to go at the start of your journey.
That's what Dennis Dunn thought when he started out.
"Originally I didn't quite know what I wanted to do. So my thinking was 'well, everything is a business in some way', so a business degree would help set me up with career opportunities in the future. I actually got into a traineeship in banking while I was at school, and I liked the industry, so I thought the degree could help me progress in that field."
Having graduated, Dennis now works in the banking sector, which is just one area you can go into.
Let's take a look at a few of the areas you can work in with a business degree.
Finance
Human resources
Management
Marketing
Strategy
Careers 'outside the box'

Work in finance
Are you a numbers person? A career in finance could be your calling. From reviewing a business' financial situation, to advising clients on tax, working in finance is all about helping organisations and people maximise their financial security. You make a difference to the bottom line.
It's not always just about the numbers. There are plenty of other avenues for you to explore while working in the finance industry. You might find yourself in a client-facing role at a bank. Or you could work in an insurance firm where sales is the main game.
Work in human resources
If you consider yourself to be approachable, an ace problem-solver and a total people person – human resources (HR) might be the right career path for you. Your main responsibility? Supporting each one of the employees in your organisation.
Workplace health and safety. Payroll. Recruitment. Harassment. Policy and procedures. Training. Conflict resolution. Data management. You're the go-to person for employees. And you can make a really big impact on their experience in the workplace.
Yianni Athanasopoulos, who lectures on HR at Charles Sturt, explains what a career in this field looks like.
"HR professionals oversee the business of managing people in an organisation. This includes remuneration, benefits, training, career development, staffing, and strategic HR management. Human resources practitioners work alongside management to recruit and retain the best employees by making the company competitive in terms of its attractiveness to potential candidates by being the employer of choice. HR plays a central role because people are the only thing that differentiates one business from another."
Working in management
Got a dream to make it to the top of the business world? Specialising in management and leadership is where you want to be focusing your energy. Managers and leaders can be found across all industries and fields – and your main responsibility is to provide structure and strategy to a workplace.
We'll be real with you. Management and leadership roles can be demanding. You'll face more pressure and have more responsibility than others. In saying that: where there's no guts, there's no glory! The trade-off for your hard work is a higher salary and loads of opportunities for career progression.
Work in marketing
Marketing is where you get to combine your business acumen with creative flair. And there are plenty of different roles for you to explore depending on your interests. Events. Advertising. Graphic design. Social media. Market research. Content marketing. Digital strategy. Sales. Public relations. Brand management. The opportunities are endless.
No matter the role you find yourself in, marketing is a profoundly human field. You'll learn how to build brand loyalty with your customers and place the customer at the centre of everything you do. It's one of the few industries where you can bring a business idea to life through original emotive content deployed via marketing campaigns and projects.
Felicity Small is a senior lecturer in marketing at Charles Sturt and knows that a career in marketing is very rewarding.
"Marketing practice benefits society and individuals. The diverse range of activities involved in marketing can lead to a personalised and engaging career. Marketers monitor, track and predict societal shifts. They tell stories to engage with others. Explore and analyse individuals' behaviour and big data sets to draw insights. They create disruptive innovations to provide solutions for consumer problems. Ultimately, a business degree in marketing contains a set of skills that will take you anywhere you want to go."
Work in strategy
More and more businesses are looking for people with the ability to look at an organisation through a strategic lens. It's not enough to just understand how a business runs these days. You need the vision, data and planning skills to take things to the next level.
When you work in strategic planning, you'll set overall goals for your organisation and develop a plan to achieve them. You'll need to have complete oversight of the entire business, an understanding of the strategic goals and priorities, and the vision to bring those plans to life.
Dr Alain Neher is the course director of Charles Sturt's business degrees. He's up to date with the ins and out of strategic planning – especially why there has been such an increase in demand for planning professionals recently.
"Strategic planning establishes a clear path for an organisation to succeed in the future. We can also call it a roadmap which means that an organisation defines the best possible route and provides direction to all employees. As we live in a disruptive world, the direction is becoming more and more important and adjustments may be required when travelling on the road. Therefore, leaders in the industry have told us that they need people who can establish direction and a sense of purpose, develop the right goals and objectives so employees are motivated and engaged to do their job – and the organisation to succeed."
Careers' 'outside the box'
Now, for most people, careers in finance or marketing or management are pretty synonymous with the term 'business'. But did you know that business graduates have skills that are in demand across many other fields that you might not initially think as 'business careers'?
For instance, how about working in the media? Running a fashion label? Managing a disability service? When you study a business degree, you're setting yourself to work anywhere. Literally. You can work in any industry, anywhere in the world.
Ready to begin your business degree?

When you study an undergraduate business degree with Charles Sturt, your first year will focus on the foundations of business. You'll learn theories of finance, marketing and management —and how to apply these theories to real-world problems. This is how we prepare you for the fast-paced, fast-changing world of business.
From there, things start to get interesting. In your second year you'll have the opportunity to start branching out and focusing your studies on a particular area or specialisation – like the ones noted in the article. You also have the option to add a joint study to your course (similar to a double major), which will broaden your skill set even further.
You'll undertake real-world work placements in your second and third year, allowing you to build professional networks before you enter the workforce. And you'll develop a range of employability skills that are important in any workplace.
Business degrees are popular—and for good reason. And the Bachelor of Business (with specialisations) will get that high-flying career in motion.