At Charles Sturt University, we're the regional university with the global outlook. We know you're going places. You're ready to grasp the mettle and be the change you want to see in the world. That could be in your local community or on the other side of the globe. So how about going places while you're studying? Getting hands-on in your studies is one of the best ways of learning. And getting to see how things work in different environments, landscapes, communities and countries can really broaden your horizons. That's where fieldwork research at university comes in.
But don't just take our word for it…
Trekking with camels in the desert
Two Charles Sturt University students travelled to central Australia to care for and handle pack camels. The animals are used to carry supplies for ecologists conducting fieldwork surveys across the region.
Megan Kaye, who is in her second year studying a Bachelor of Veterinary Biology / Bachelor of Veterinary Science and Emma Fallon, a fourth-year Bachelor of Animal Science student, chose to complete their coursework placements with Australian Desert Expeditions (ADE). ADE is a non-profit environmental organisation that conducts ecological and scientific surveys in remote areas of the Simpson Desert. The organisation certainly piqued Megan's interest.
"Most students undertake their placements working with production animals. That means species like sheep, cattle and horses. However, I jumped at the opportunity to do something different."
The all-female crew Megan trekked with comprised six cameleers, two ecologists and five paying clients. They all assisted with ecological and scientific data collection.
"Our team trekked through areas of the Munga-Thirri National Park on the South Australia-Queensland border. That meant exploring areas left untouched since Indigenous people left the land in the early 1900s.
"I also learned a multitude of skills. For example, navigating using the stars, cooking meals over a campfire – with limited supplies – for 13 people, digging pit fall traps for fauna surveys and shepherding camels in the swales of the Simpson Desert. I also learned about politics, weather patterns, camel dentition, the history of Indigenous Australians in the desert and much more. And I had the opportunity to use more vet-related skills, such as treat and clean wounds and give medications."
Fieldwork as research
For Emma, the experience was closely related to her own research.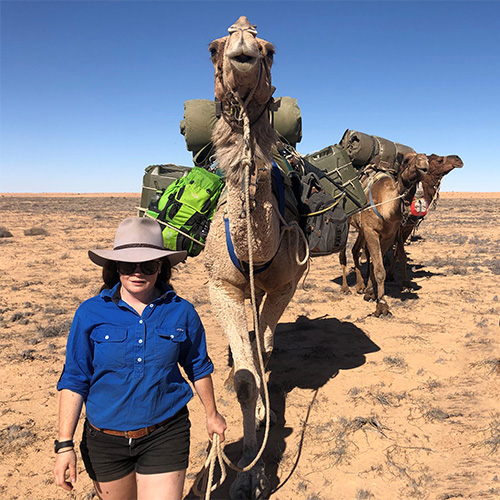 "My honours study is on the camel dairy industry, so I was excited to see the work being done in the desert and how the camels are integrated into the survey process.
"It was fantastic being able to learn how to handle and work with the camels; I had the opportunity to learn from very experienced and knowledgeable animal handlers. Each camel had their own personality, with funny and sometimes frustrating quirks. My favourite camel was named Raj; he was beautiful, both in the looks department and in his nature. But all of the camels had such a calm way of interacting.
"Firstly, my main job as a cameleer was to saddle up the camels each morning, walk beside them through the day and un-saddle them in the afternoon. You're responsible for constantly keeping the camels in line, checking their packs and keeping them settled, especially when crossing the huge sand dunes.
"Secondly, I also assisted with the research. So, for instance, the team would collect fox and cat faeces for survey research of invasive species. Each afternoon we would dig and bury, on the tops of dunes, pitfall traps for ecology studies of the area.
"Travelling through this desert region meant we were exploring territory few people have ever seen. Watching the land transform over the 103-kilometre trip, from the high parallel dunes with spinifex to the large clay pans, was a particular highlight.
"The experience was unforgettable. We camped under the stars in mikari (native wells), under gidgee (trees) or high on the crests of dunes and meandered our way through flood plains. We saw ancient Indigenous artefacts and native birds slowly emerge while eating lunch under the coolabah or whitewood trees."
Library studies in Fiji
Ten students from Charles Sturt travelled to Fiji for a week-long fieldwork study tour, visiting a range of libraries, archives and museums as part of their coursework.
The students, who all study online, travelled from regional NSW and Victoria, Melbourne, Brisbane and Canberra to make the trip. They met representatives from the Fiji Library Association, and spoke with a variety of experts to learn more about Fiji's libraries, archives and record-keeping facilities.
Lecturer in information studies Dr Jessie Lymn, who organised the trip in collaboration with CSU Global, felt it gave students a wider perspective on their industry.
"Understanding the subject matter of library and information studies, such as collection management, community outreach, and the challenges of digitisation, from different cultural perspectives is a valuable learning opportunity for students.
Fieldwork as connection
Dr Lymn took the opportunity to connect current students with alumni working in the field.
"We visited the International School Suva and were hosted by Charles Sturt alumna Wakanisi Vaciloa. She is the librarian at the school. Students said the school had a very impressive library that outshone many libraries they had worked in or visited in Australia.
"We also visited libraries and archives that had limited budgets and resources, but were still using excellent processes and providing valuable services to the community. Our students were very inspired by these facilities and their staff."
Some of the fieldwork highlights from the trip included seeing a perfectly preserved copy of the Fiji Times from 1869 at the National Archives of Fiji, participating in a children's craft workshop based around the United Nation's Sustainable Development Goals, and visiting the Library Directorate of Fiji, the organisation responsible for establishing libraries in all public schools in Fiji.
The fieldwork students also visited the Library of the Pacific Community, the only research organisation that represents all Pacific countries, which specialises in areas such as fisheries science, public health surveillance, geoscience and conservation for food security.
How far do you want to go?
Wherever you want to take your career, you can, here at Charles Sturt University. From your local community to the world at large, you're ready to make a difference. And we'll give you the hands-on learning, work placements and fieldwork opportunities to make it happen. Let's get to work.