Imagine a career where you help people gain knowledge. Be entertained. Access services they need. Connect with others in the community. That's a librarian. It's a job where you get lots of interaction with people, and you're an important part of your community. But how exactly do you become a librarian in Australia? Let's go through it. In this post we'll cover:
What does a librarian do?
How do you become a librarian?
How long does it take to become a librarian?
What skills does a librarian need?
How much can I earn as a librarian?
Next steps
What does a librarian do?
Librarians manage information and help people access it. But that can take many forms. You might help people identify and interpret information in oriented materials and online. You could also develop collections, digitise them, and promote them in community and digital networks. Other tasks might include devising and managing events for the public – from readings for children to local history discussions.
Librarian tasks also include training other members of staff, maintaining databases and reviewing the infrastructure of a library, to ensure it is working best for people to find what they need.
Increasingly, the library reaches far beyond the building it is housed in. Digital resources are more and more central to libraries, as Dr Jessie Lymn, a lecturer in information studies at Charles Sturt University, explains.
"The digital literacy realm will become increasingly important. Sure, Google is there for information, but librarians will play a key role in helping people access the information that they need; for example, how to best use Google's many available features. Today, libraries also have lots of digital services available offsite, such as lending eBooks and audiobooks. So it is still about access, even if not in the physical library space. Lots of libraries are working to increase access to digital information from home. This helps geographically disadvantaged people and those with, say, anxiety and depression for whom going to a physical library is hard."
You could work in a community library, a university library, specialised libraries in businesses (such as a law library in a legal firm) or organisations like museums and cultural archives.
How do you become a librarian?
A degree like the Bachelor of Information Studies from Charles Sturt University is the first step in your career as a librarian. It's accredited by the Australian Library and Information Association (ALIA), so you know you're getting the knowledge and skills you need. It also means that when you graduate, you can apply to become a member of ALIA (which employers definitely like to see).

You'll learn online (meaning you could fit study around other things like getting some work experience). Some online subjects have an intensive (residential) school. An intensive school is your opportunity to come on campus for an intensive study experience for between one and five days. Intensive school provides face-to-face learning with academics and other students in your course and gives you the opportunity to engage in practical learning, go deeper into course material and ask plenty of questions. You'll get to interact with your academic staff and peers, go to lectures, practicals and tutorials, and make use of a range of campus facilities.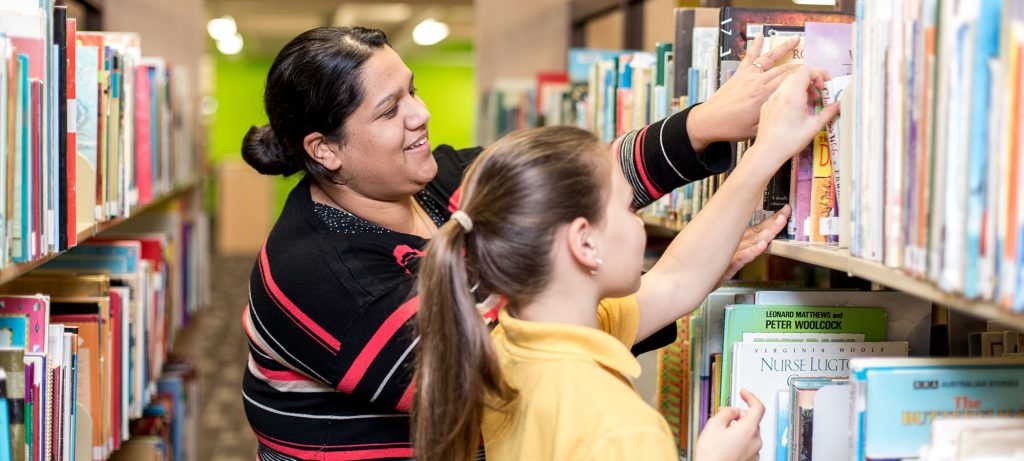 Plus, you'll do a work placement with a library, so you'll get experience in a real library, learning alongside industry professionals, and building your network.
How long does it take to qualify as a librarian?
Studying a Bachelor of Information Studies takes three years of full-time study. You'd attend uni for two out of the three study sessions each year. You can also choose to study part-time, which takes twice the length of time. Part-time study gives you the opportunity to work a job, volunteer or do an internship the rest of the time to gain experience.
What skills does a librarian need?
To be a great librarian, you need two main kinds of skill: technical and soft. Technical skills are those you learn during your course, such as:
Audiovisual archiving
Community outreach
Digital curation
Event management
First Nations knowledge
Marketing
Social networking
Soft skills are the personal aptitudes that complement your technical skills and mean you'll be a top-notch library professional.
Communication
Organisation
Problem-solving
Customer service
How much can I earn?
The latest government figures put the average weekly wage for a librarian working in Australia at $1,654. That means an annual salary of around $86,000. That's the average across all librarians, from those who have just started their career to those who have lots of experience. So, you may well start out lower, but earn more as you gain more experience in your career. You could reasonably expect to earn $55,000-60,000 in your first job after you graduate.
What's more, the government also expects that librarians are going to in demand in the future. Strong future job growth for the profession in Australia means there will be lots of opportunities to grow and develop your career.
Next steps
Work hard in high school. You're going to be looking for an ATAR of at least 60 to get into the Bachelor of Information Studies (although this can change from year to year). That does include any selection rank adjustments, though. So, for instance, if you go to school in a regional area, you could get a five-point adjustment to your rank. Doing some volunteering with a library could also give you some valuable hands-on experience before you start your degree. Contact your local library to see what might be possible.
And, if you want some more guidance on how to become a librarian, just reach out to our expert university advisers, who can answer all your questions.