Working on the frontline of healthcare. Helping people in emergency situations. Getting people to the treatment they need. A career as a paramedic is exciting and incredibly rewarding. If you are a caring, community-minded problem-solver, it could be the career for you. But how do you become a paramedic in Australia? Let's take a look. We'll cover:
What does a paramedic do?
How to become a paramedic.
How long does it take to become a paramedic?
What skills does a paramedic need?
How much can I earn as a paramedic?
Next steps.
What does a paramedic do?
Paramedics are the first responders to medical situations where people need rapid healthcare. Working in small teams (usually of two people), and in shifts around the clock, they use ambulances to get to the scenes of accidents and emergencies. They treat patients as required at the scene – and in the ambulance. Then they transport them to hospitals and other health services to get further treatment.
It's a profession where no two days are the same (and you must work in all kinds of weather!). Charles Sturt paramedicine student Heulwen Spencer, loves this aspect of it.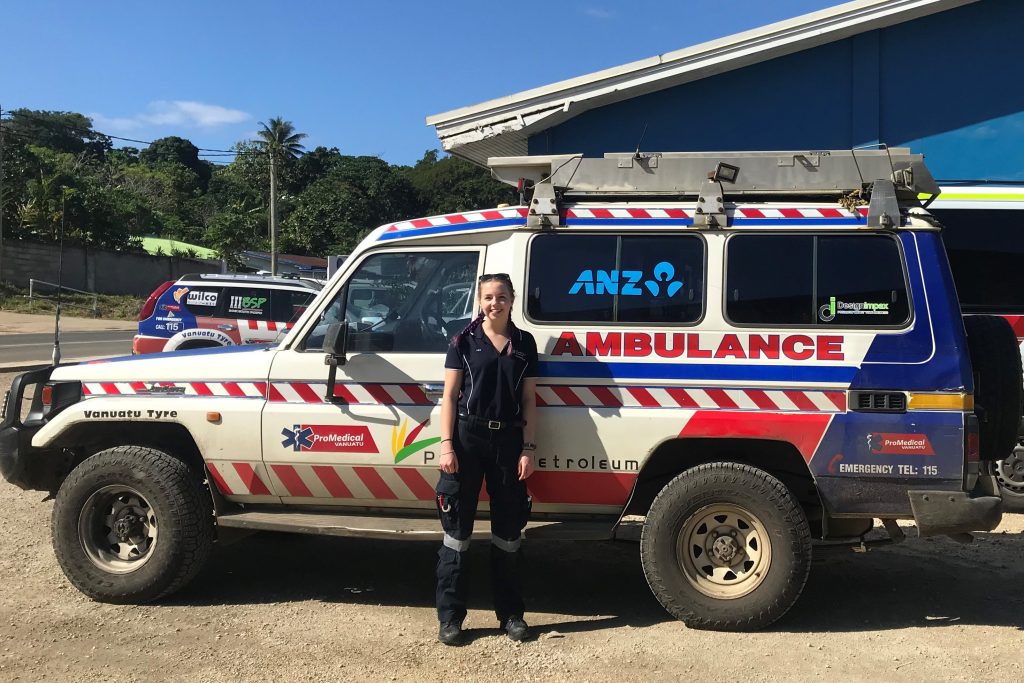 "I realised during high school that being a paramedic would be the perfect career for me because it incorporates a mix of biomedical science, the unpredictable nature of the job and the ability to help people."
You will attend emergencies at people's homes. At workplaces. Traffic and industrial accidents. You'll also work closely with members of other emergency services, such as firefighters, police and the State Emergency Service (SES).
As a paramedic you would make assessments and diagnoses on the spot, and determine the best, necessary care at the scene. That could involve everything from administering drugs or fluids to defibrillation to restart someone's heart, or resuscitation to get them breathing again.
You then determine the next best step in the patient's treatment. You'll liaise with medical facilities and teams to get the patient to the right place for their needs.
Paramedics also attend events such as sports matches, demonstrations and festivals. They can provide on-the-spot medical treatment as the need arises. You may also give medical training sessions to community groups or the staff of an organisation.
Away from the frontline, you'll update patients and incident records, and ensure the ambulance is well stocked and the equipment and supplies are in good working condition.
How to become a paramedic
The first step to becoming a registered paramedic is to get – and keep clean – your driver's license. You'll need one to drive an ambulance.
Then you need to complete a degree. A degree like Charles Sturt's Bachelor of Paramedicine will train you in medical theory and the skills to put it into action. You'll undertake work placements during your course. And you'll learn from people who have worked in the industry – people like Adam Parker.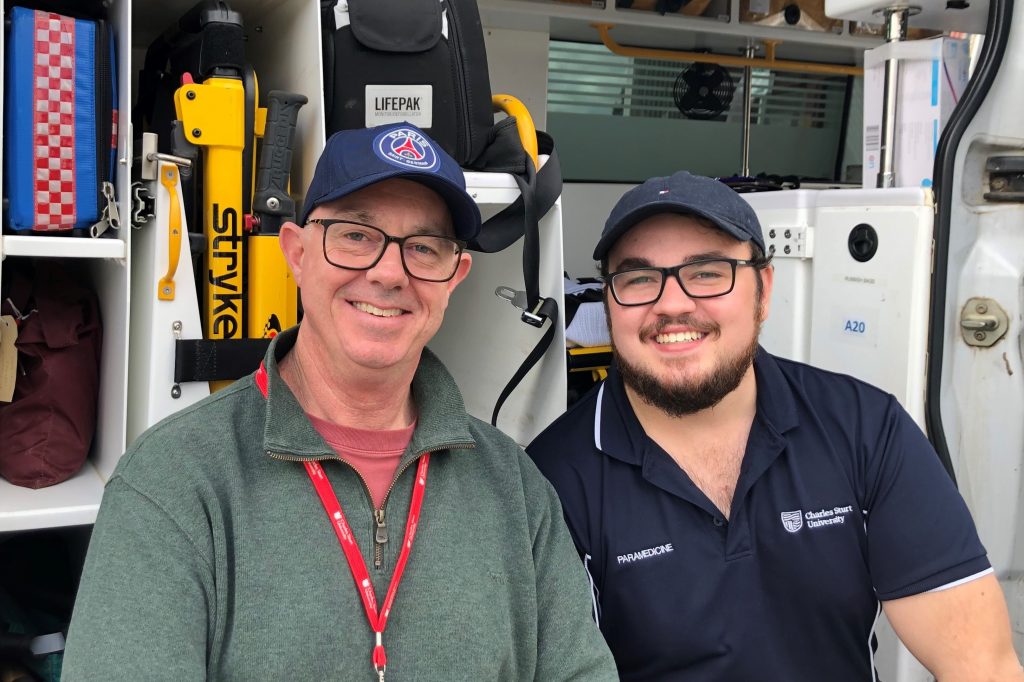 "It's probably one of the things I enjoy most, the fact that the students respond so well to paramedics who are currently out on the road working, who can come in to the classroom, take the theory content of their course and put it into context and into practice, helping the students grasp concepts and build that into the clinical scenarios that we run."
Our degree is accredited the Australian Health Practitioner Regulation Agency and Paramedicine Board of Australia. Which is handy as you need to hold an accredited degree to register with those industry bodies – and registering is the next step to become a paramedic.
Now, you are ready to make a difference as a paramedic. Once you start your career, you will also need to undertake professional development each year to keep your skills and knowledge up to date, and to renew your registration.
Later in your career, you could also decide to take on further study and specialise in a particular area of paramedicine, such as critical care, or move into managing paramedicine teams.
How long does it take to become a paramedic?
Studying a Bachelor of Paramedicine takes three years. That's if you study full-time. Which means attending uni for two out of the three study sessions each year. You can, of course, always choose to study part-time (and, for instance, work a job the rest of the time to pay for the course and gain experience). In that case, you're looking at six years. So, there is some flexibility. You can also elect to study on campus (at Bathurst or Port Macquarie, for example) or study online. So even more choice.
What skills does a paramedic need?
You can categorise paramedic skills into two kinds: technical skills and soft skills. Technical skills are the health science, emergency medicine and healthcare practice you learn in the subjects in your degree.
Paramedic technical skills include:
Human bioscience – understanding how the human body works
Pharmacology – which lifesaving drugs to give and when to give them
Cardiology – how to diagnose heart or breathing conditions
Paramedic ethics – the principles behind being a professional paramedic
Medical emergencies – how to assess and treat patients in emergency situations
Soft skills are the personal attributes that make someone perform well in the role, to complement the technical skills.
Paramedic soft skills include:
Good communication
Coping well and staying calm in stressful situations
Being a team player and collaborating
Problem-solving
Treating everyone with compassion and care
Willingness to keep learning new things
How much can I earn as a paramedic?
The latest government figures put the average yearly salary for a paramedic at $113,000. That's an average across all paramedics, with different levels of experience. When you graduate from your degree and get your first job you could reasonably expect to earn $70-80,000 or more annually.
Next steps
While you don't have to do particular subjects in high school to apply for a Bachelor of Paramedicine, you're going to put yourself in the best position to succeed if you select at least some science subjects for Year 11 and 12. They will give you a great foundation of knowledge to build on in your degree.
Work hard in high school. You're going to be looking for an ATAR of at least 70 (although this can change from year to year). Doing a first aid course could give you an insight into some of the things you'd be doing as a paramedic, and you could also investigate volunteering with an organisation like the St John's ambulance to get more experience.
And, if you want some more guidance on how to become a paramedic, just reach out.

Bachelor of Paramedicine CRICOS number: 036176A