Want to learn how to study online effectively? Keep reading, friends.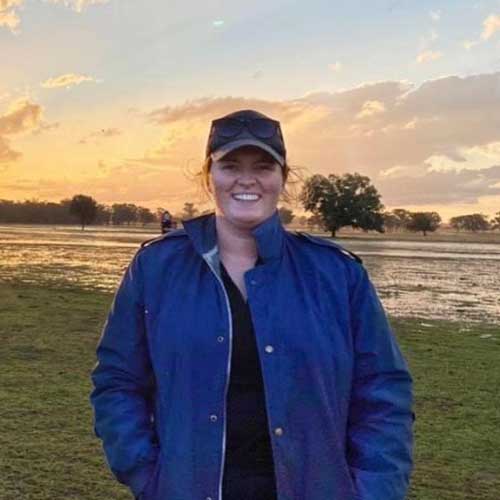 Charlotte Groves completed the majority of her Bachelor of Education (K-12) degree on campus with Charles Sturt. When COVID-19 hit, she reassessed her situation. It made sense for her to move back to her hometown, pick up part-time work, live with her parents and finish the rest of her degree online.
We sat down with Charlotte to get the scoop on how to study online effectively. She put together some helpful do's and don'ts for you to dive into. Enjoy!
Do: invest in study space that works for you
When COVID-19 hit and I moved home, I was originally studying anywhere around the house that I could find. At the dining room table, in my family's home office… basically wherever I could spread out and study. Although this worked initially, I eventually realised that I needed a dedicated study area that I could call my own and keep my things all in one place.
So, I took myself to IKEA, got one of those giant shopping carts and went to town! I bought a new desk, drawers, bookshelf and a comfy new office chair. I created my new study space in my bedroom. It took a bit of effort to get everything sorted and it cost me a little bit of money, but the difference in my study output is massive. I'm more focused, motivated and ready to succeed. It was well worth it and it's definitely my top tip!
Don't: make online study your whole life
When I started studying online, I was so committed to getting everything done to a higher standard than when I was studying on campus. I make online study my top and only priority. I'd miss out on family, social and work events to ensure I was staying on top of my uni work. I realised that there was no healthy way to maintain working at this pace and decided something had to change.
If I had a life commitment pop up, rather than cancelling a work shift or rescheduling a family dinner, I would choose to watch the recordings of online lectures and tutorials at a later time. I also changed my priorities to ensure I was meeting five key goals a week (one for every day of the work week). As long as I met those five goals, I'd consider it to be a successful week. It helped me keep things in perspective.
Do: plan your time efficiently
Whether it be a diary, an app or one of those giant wall planners, find a system that works for you. Full disclosure: I'm certainly not the best at this. But when I got my snazzy new study space set up, I left a dedicated space on the wall for two monthly overviews: the current month and the next month. I write EVERYTHING on there: work commitments, uni commitments, social events, extracurricular activities. Everything! Once the month is over, I file away the overview, so I can come back to it later if needed. I also found it really useful for reporting my income to Centrelink, because rather than sort through all my pay slips, I just look at the overview and see what days/hours I worked. Planning is easy when you take the time to do it properly!
Don't: get into a study rut
When I was transitioning from face-to-face study to online study, I would sometimes sit for a couple of hours studying, but not really achieving anything or meeting goals. I started calling these "study ruts", where you sit and sit, but don't do anything very productive. To break these, I'd go and do something (anything) else for an hour, then come back refreshed and ready to go.
Do: reward yourself after a win
This was a big one during my HSC, and I've found it works for online study too. If I complete something, whether it be an assessment or a whole subject, I'll find a way to reward myself. I might go for a coffee with a friend, catch a movie, or just chill on the couch with some Netflix for a couple of hours. I recognised that I need something to motivate me to reach the little goals. Especially not being around friends because of COVID-19, I needed to find new ways to reward myself.
Don't: forget to stay organised
It may seem daunting, but one of the most important things to remember when studying online is to keep on top of being organised. Making sure you have the correct place for your resources, all the files on your computer set up, and know when all your key dates are. That way, you don't misplace information, lose an assignment or have any issues with online study.
Keen to learn more about how to study online effectively?
We have plenty of resources to help you get the most out of your online study experience.
Ready to start your online degree?
We have hundreds to choose from. From undergraduate and postgraduate degrees, to everything in between, you'll find the right course to start, boost or change your career.