Information studies degree graduate Sally Turbitt is proof that you never really know what life has in store for you. Sure, you can have an idea of what you'd like to do. Set some goals. Maybe even nut out a plan. But sometimes, the path you take unexpectedly twists and you find yourself arriving at a totally different destination.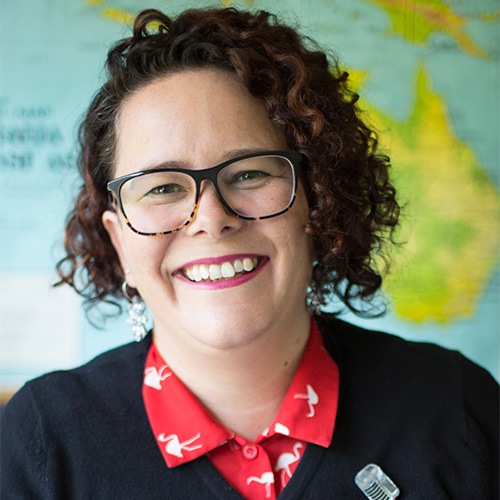 Sally's information studies online course journey began when she returned to learning after some time in the workforce. She was looking for a career – not a job – and wanted to find something she was truly passionate about. After starting in community health and a science degree, Sally had a realisation.
Intuition leads to information studies
"I really enjoyed the first session of the information studies online course. But early on in the piece we were introduced to the library and encouraged to learn how to use the databases and properly search for information. One day I realised that I really liked the way information was organised.
"In hindsight, I'd always had an interest in information, how it's managed and how to make it accessible. And my background is in administration and project management. So, I had a think and decided to switch to the Bachelor of Information Studies and study online. I just went with my gut.
"It was challenging. I had always used public libraries but never worked in one. So the biggest challenge was in navigating the language and terminology. And having to study something for which I had no context – no lived experience. That meant when I was doing readings or an assessment I'd have to do a lot of legwork and background reading before I could even start."
Building networks in information studies
Sally found that, though she was studying online, it didn't mean she was on her own. In fact, reaching out to her peers was beneficial to her study and her networking.
"In my first session one of my lecturers encouraged us to find a buddy. I was really lucky to find one early on who lived in Queensland and had worked in libraries since she was 18. We helped each other through. I was always able to message her and say 'I don't understand' or 'can you explain this process to me?'
"Then the two of us grew to four of us, and we stuck together the whole way through. Having that collective was great. We all brought our own strengths into the study group. We actually made it a goal to graduate together. It was amazing – and we're still friends now.
"One thing the uni pushed was for us to build a network and stay connected. I worked hard, mostly through Twitter, to build an online network of library contacts. It gave me a great understanding of who they were and what work they were doing. Always think beyond your degree – because a good network will last way past graduation."
The juggling act with an information studies online course
As well as studying, Sally was raising two young children and working part-time. She had a lot on her plate – but she had a strategy.
"I didn't sleep a lot! But I also chose to do all the summer sessions so I could finish earlier than a standard load student. I wanted to maintain my momentum."
And she did, finishing her degree in four years rather than the scheduled six.
So, what are her tips for project managing family, work and study with an information studies online course?
"You'll never feel like you're ready, so you may as well just begin. I think, like everybody, I managed quite poorly at times. I only twigged about halfway through the degree that I got a lot more done if I wasn't at home. There were less distractions. I wasn't tempted to do a load of washing, start dinner or chat. So I did a lot of weekend study at the library.
"I managed things as best I could. I could have spent every waking moment when I wasn't with my family or at work studying. But I decided to balance things out and do what I could cope with doing – and pass."
Follow the perfect path for you
If you want to make a difference in a career you're passionate about, you can with us. Our wide range of online courses will give you the skills and industry knowledge so you can be the change you want to see in the world. Follow your heart, get qualified and land a job you'll love with Charles Sturt University. Let's get to work!\