The journey to becoming a doctor is challenging and rewarding. Studying medicine requires dedication and hard work. There's lots of theory and knowledge to get your head around, of course. But you know what really brings your medicine learning to life? Putting ideas into action. And that's where practical, hands-on medicine learning comes in.
But why is hands-on learning so important for a career in medicine? Because you need to be able to confidently apply your learnings in clinical environments. Real situations. With real patients.
We sat down with Damien Limberger, Associate Head of Charles Sturt's School of Rural Medicine. He gave us the lowdown on everything there is to know about hands-on learning.
First-year medicine – what will I learn?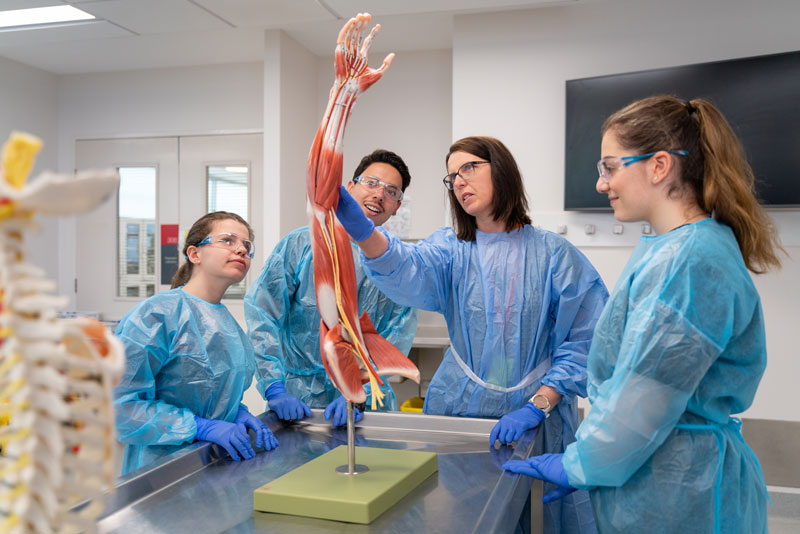 How does practical learning from the first weeks of your medicine degree sound? Bet you didn't think you'd be getting valuable clinical experience so early on!
From the start of your studies, you'll notice a strong focus on developing clinical skills, clear communication and team work. Because, as Damien explains, these skills help you excel.
"Great doctors are able to apply medical knowledge consistently and effectively in clinical settings. Through clinical skills, effective communication and teamwork."
Problem-based learning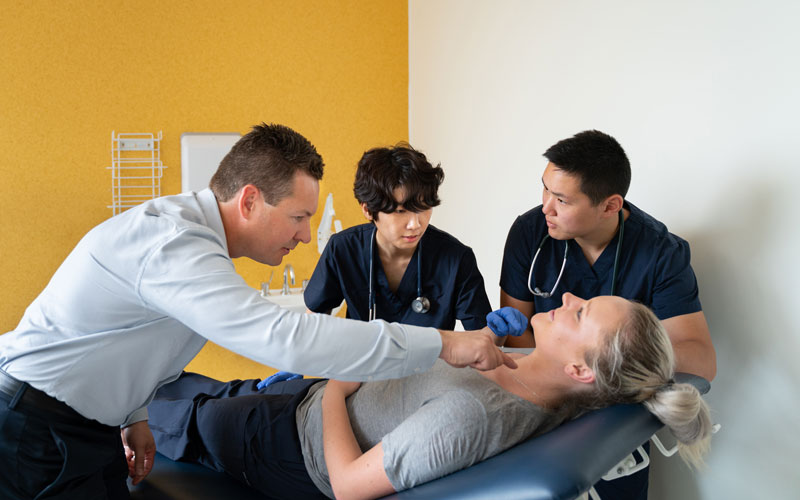 Now, while you can expect to learn plenty of theory, it's just as important that you gain a wide range of practical experience.
And you want to learn from the best. From practitioners who know the ropes. Who know the industry. And who know what it takes to ensure patients are treated as effectively and sympathetically as possible.
Damien – seen here teaching students how to measure the jugular venous pressure – knows that to correctly perform procedures takes practice.
"Students will work alongside skilled professionals. Providing care in real clinical environments. Observing and learning the practice of medicine.
"The key is to put theory into practice in real clinical environments. That's why we use problem-based learning (PBL). Weekly PBL tutorials are all about tackling a real clinical scenario. In everything from anatomy, physiology and pharmacology, to pathology, population health, ethics and professional practice."
Hans-on clinical skills
Damien explains some of the hands-on skills that you can expect to learn from day one. You'll learn these techniques and procedures by using mannequins and other trainer equipment.
Develop hand hygiene and infection control techniques that prevent the spread of pathogens.
Use airway models to learn how to maintain an open airway.
Apply oxygen and manually ventilate patients.
Assess lung function with spirometry.
Learn how to use automatic external defibrillators.
Interpret a patient's heart rhythm using an ECG.
Learn how to take blood and insert cannulas through basic vascular access.
Immobilise suspected spinal injuries and safely roll a patient.
Perform point of care testing including bedside blood and urine tests.
Maintain a sterile field and safely handle sharp instruments.
Learn how to use surgical instruments on skin simulators.
Practise suturing wounds and surgical knots on skin simulators.
Learn how to use needles, infusions and puffers to deliver medications.
Discover how to use a bedside ultrasound machine.
Learn basic life support procedures for adults, children and newborns using mannequins.
Interact with actors to learn how to communicate effectively, even in difficult circumstances.
As you can probably tell, you're going to learn a ton of valuable clinical skills. And this is all from the first few weeks of your course!
Mastering your clinical skills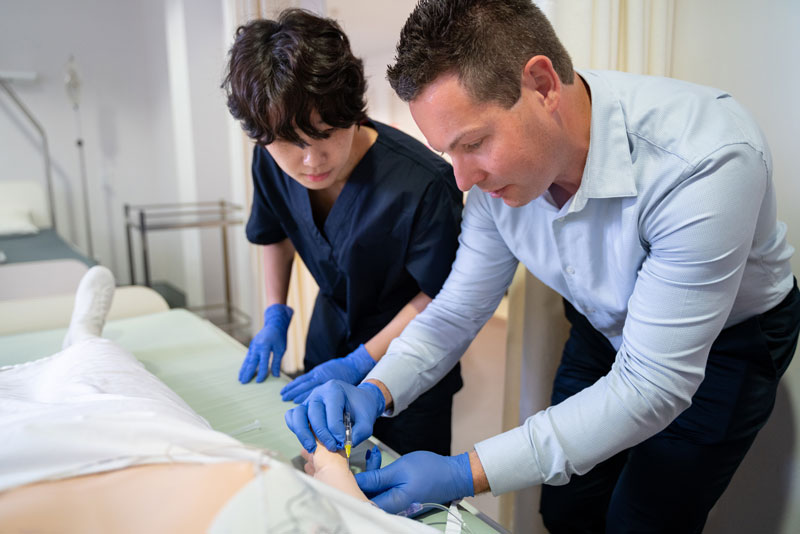 So, you'll kick off your medicine degree with two years of campus-based learning in the sciences.
Here, you'll learn the ins and outs of pharmacology, physiology, anatomy, population health and biochemistry, as well as all those amazing clinical skills we've already talked about.
"Students will learn the foundation of medicine during the first two biomedical science years of their studies. Clinical placements provide the practical application of medical knowledge in the clinical environment to provide treatment and support to patients and their carers."
Damien and our team of medicine teaching staff are passionate about sharing their love for the profession and imparting clinical skills to medicine students. Our team members have backgrounds ranging from academic biomedical sciences, academics and researchers, to general practitioners, rural generalists and specialists.
"The aim is to produce interns that have acquired a high level of clinical skills in addition to medical knowledge. This will support them working as junior medical officers in rural locations where they'll have the opportunity to be very hands-on and procedural."
You'll also get to explore the unique joys of working as a rural doctor. And find out some of the great reasons to study in the regions.
Clinical equipment for your toolkit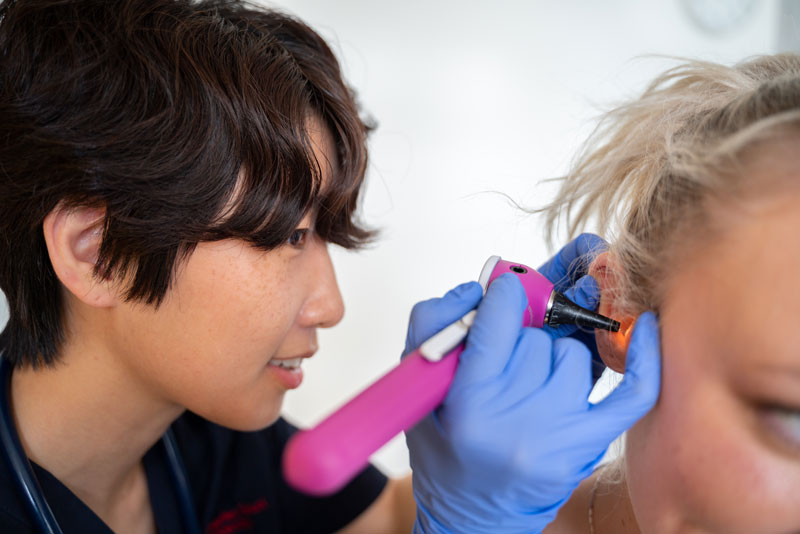 But what kinds of equipment can you expect to get your hands on? There will be loads, according to Damien.
Here he gives us a run-down of some of the clinical equipment and how you'll be using it throughout your medicine degree.
As a Charles Sturt medicine student, you'll get to:
Insert supraglottic airway devices to maintain a patient's airway using advanced airway trainers.
Administer local anaesthetics by using skin simulators.
Take arterial blood samples with arterial arm simulators.
Safely defibrillate shockable rhythms using manual defibrillators.
Apply the chest compression system during a resuscitation.
Gain intraosseous vascular access using the Ezi-IO drill.
Prime and administer intravenous fluids.
Examine the ear canal and remove foreign bodies using an ear examination simulator.
Become skilled at using an ophthalmoscope to examine the eye.
Use advanced catheterisation trainers to insert male, female and suprapubic catheters.
Learn nasogastric tube insertion by inserting gastric tube via a patient's nose.
Safely cross match a patient and administer blood products for blood transfusions.
Develop skills in fracture immobilisation using plaster.
Learn how to perform a rectal, scrotal and prostate examination using an advanced male rectal examination trainer.
Learn breast examination using the advanced breast examination trainer.
Apply the advanced life support algorithm in our simulation lab to resuscitate a patient.
Modern clinical facilities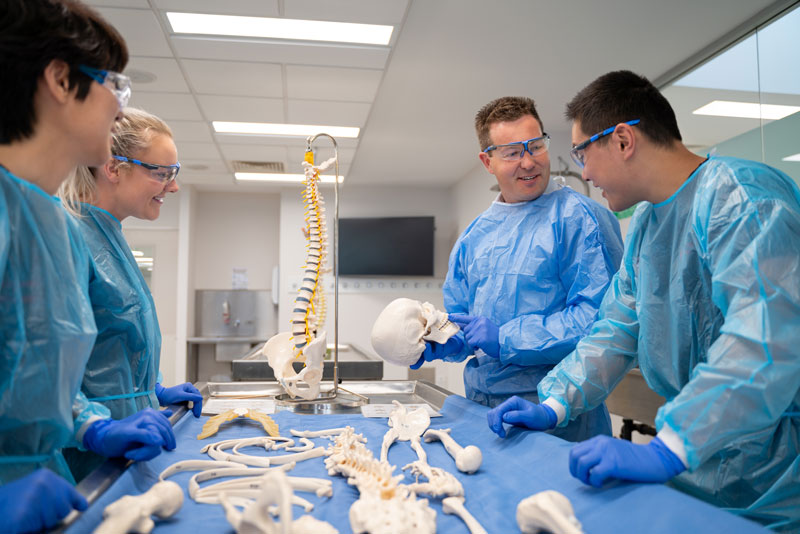 Get set to learn in our state-of-the-art facilities including our brand new academic hub, clinical skills learning centre and new research centre.
You'll be well prepared for your future in medicine when you get hands-on in our anatomy teaching laboratory, simulation hospital wards, interactive study pods and ultrasound room.
"The clinical learning centre includes a hospital simulation area. It consists of two four-bedded patient rooms, scrub room, nurses station and is fitted out with equipment to replicate a real hospital ward. The university has an extensive range of the latest simulation equipment that can provide high fidelity simulated learning and realistic part task trainers for procedural skills training."
Fascinated by anatomy? You can explore the human body in detail when you get hands-on with our range of models and learning materials.
"Students will study anatomy using a range of resources. These include anatomy models, cadavers, plastinated specimens, radiological images and ultrasound. Skilled anatomy tutors and clinicians will teach anatomy and the clinical application of anatomy."
Here's some further insight into our medicine facilities:
Academic hub – the academic hub includes PBL tutorial rooms, student study areas and student kitchenette.
Clinical skills hub – the clinical skills area includes clinical skills rooms and a hospital simulation ward.
Bloomfield site – this training site is located across the road from the hospital in Orange and will have conference room facilities, health exchange networking area, clinical skills rooms, kitchenette, tutorial rooms and student areas.
Clinical placements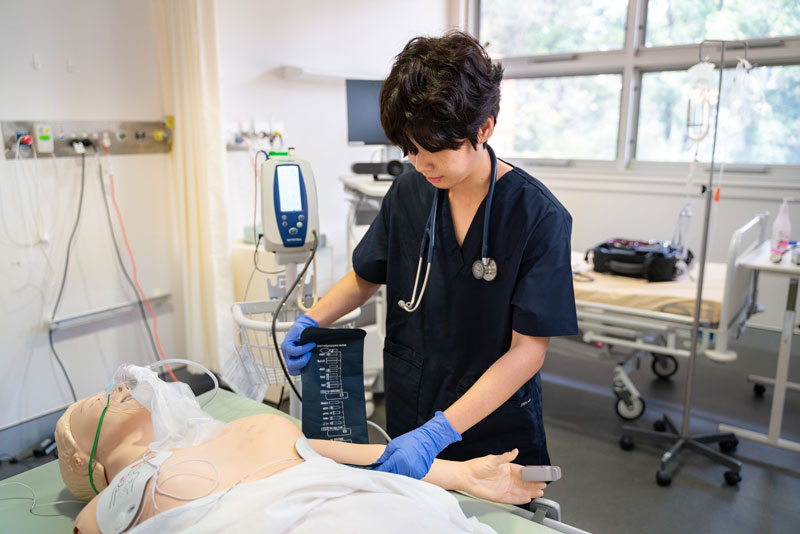 From your third year, much of your hands-on medicine learning will be on clinical placements Throughout your clinical placements, you'll cover a broad range of general, specialist and inter-professional training. This will include surgery, medicine, critical care, obstetrics and gynaecology, paediatrics, mental health, Indigenous health, and medicine in context rotations.
You'll also get to experience workplace learning in both the city and the country.
"Students will undertake hospital clinical placements at both district hospitals and regional base hospitals. Students rotate through the emergency departments, in-patient wards, operating theatres, intensive care units, children's wards, maternity, special care nurseries and out-patient clinics. There will be opportunities to do placements in general practice, allied health, emergency medicine, medicine, surgery, orthopedics, oncology, palliative care, paediatrics, obstetrics and gynaecology, psychiatry, Indigenous health, anaesthetics, and intensive care."
So, there's plenty for you to learn across a broad range of clinical disciplines. You'll have the opportunity to find out where your passions are, and if you'd like to specialise later on.
Placements are also where you build on industry connections, inter-personal skills and build on the communication and leadership training that's built into your studies. Damien knows working together is incredibly important in healthcare.
"Modern healthcare relies on inter-professional team-based models of care to provide high quality, evidence based care to patients. Students will learn within inter-professional learning environments with other nursing and allied health students and professionals. They'll also undertake communication and leadership training to support and enhance team-based care."
Study medicine with Charles Sturt
Learn more about how you can make a difference in your community with a career in medicine.