Work takes up at least a third of our lives. So having a sense of meaning in what you do is a strong motivator to find your passion. But how do you find your passion? And then the question is how do you build the self-confidence to take your next step?
Whether you want to get into the workforce for the first time, shift from a job to a career, get that promotion or move into another line of work, here's some self-confidence tips from a Charles Sturt University academic that will help you make it happen.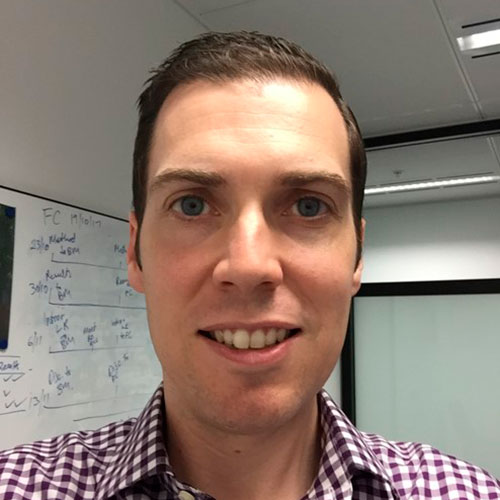 Dr Ben Morrison is a senior lecturer and organisational psychologist at Charles Sturt. What's an organisational psychologist? Well, organisational psychology is the science of people in the workplace, so Dr Morrison knows all about finding your passion at work. After all, he says he took a while to find his own passion. So he's the perfect person to give us the lowdown.
Here are Dr Morrison's top self-confidence tips to build your self-confidence to take your next step – whatever that is.
1. Think about the future
"Starting a degree or changing a career is an investment in your future. So you want to invest in something that will be around for a while to come. Have a think about the types of jobs that are currently experiencing and forecasting strong growth. Consider how technology might disrupt some industries (can you imagine a robot doing that job?)."
2. Get a realistic job preview
"Talk to someone who works in the area that you're interested in. By talking to someone who has insight into day-to-day life in a particular role, you'll get a pretty good idea of the type of work you may end up doing. That means both the good bits and the not-so-good bits. You can also consider completing an online interest inventory (a sort of quiz that helps you identify activities that fire your imagination). This can help you identify the types of careers that you may enjoy."
3. Take the blinkers off and be open to new experiences
"When going to uni, you have an opportunity to meet a really diverse range of people and explore many different areas. Try to be open to the various subjects that you'll encounter, as you never know where they may lead you."
4. Remember you're never too old to learn new tricks
"Charles Sturt sees many, many mature-aged students come through our courses each year, looking for a change in what they do. We also see just as many school leavers and first-time uni students. So the people you'll be studying with represent a mixed bag with very different life experiences. This presents a really great opportunity for peer-to-peer learning and discovering avenues you may not have previously considered."
5. Don't forget that Rome wasn't built in a day
"You don't have to change career cold turkey. Often what you learn in a uni course can be really helpful in your current job, too. Take some time to consider how you will be able to incorporate study into your life. You want to give yourself enough room for it, so that it doesn't become a burden. Plenty of our students have very full lives, so consider a rate of progression that will suit your personal situation and goals."
Making the right decision
So how do you know if you've made the right decision? According to Dr Morrison, it might not be immediately obvious if a decision has been the right one.
"You won't have all the answers straight away. There is certainly room to give new things a go and see where they take you. It's a bit cliché, but I think the old adage of 'Do what you love and you'll never work a day in your life' is actually a really useful yardstick when it comes to finding the right job."
"If you get a sense of meaning from what you do, and feel like you've struck a good work-life balance, then you've probably made the right call!"
While it might feel like sometimes there is an emphasis on knowing your passion right now, Dr Morrison says to remember these things can take time.
"When I started studying psychology, I didn't really know what an organisational psychologist does. It took me until my fourth year at uni to really understand what the role could involve. From there I found something that I have become very passionate about, and my self-confidence grew. But it certainly wasn't a simple A to B pathway for me.
"I think that it can take a long time to find your true passion – and that's perfectly okay. Our lives are so busy that there is rarely a 'right time' to try something new.
"While I think that it's important to consider where new learning will fit into a busy schedule, sometimes you just have to take a leap and work out the finer details as you go!"
Ready to get started?
Full of self-confidence now? Don't worry if you haven't got it all completely planned out. At Charles Sturt you can take the first step into uni study with a single subject. You'll get a taste for uni, add value to your current job, or add another string to your bow when it comes to going for your next one. What's more, you can get credit for your single subject if you choose to study a related course afterwards. Ready to take your next step?