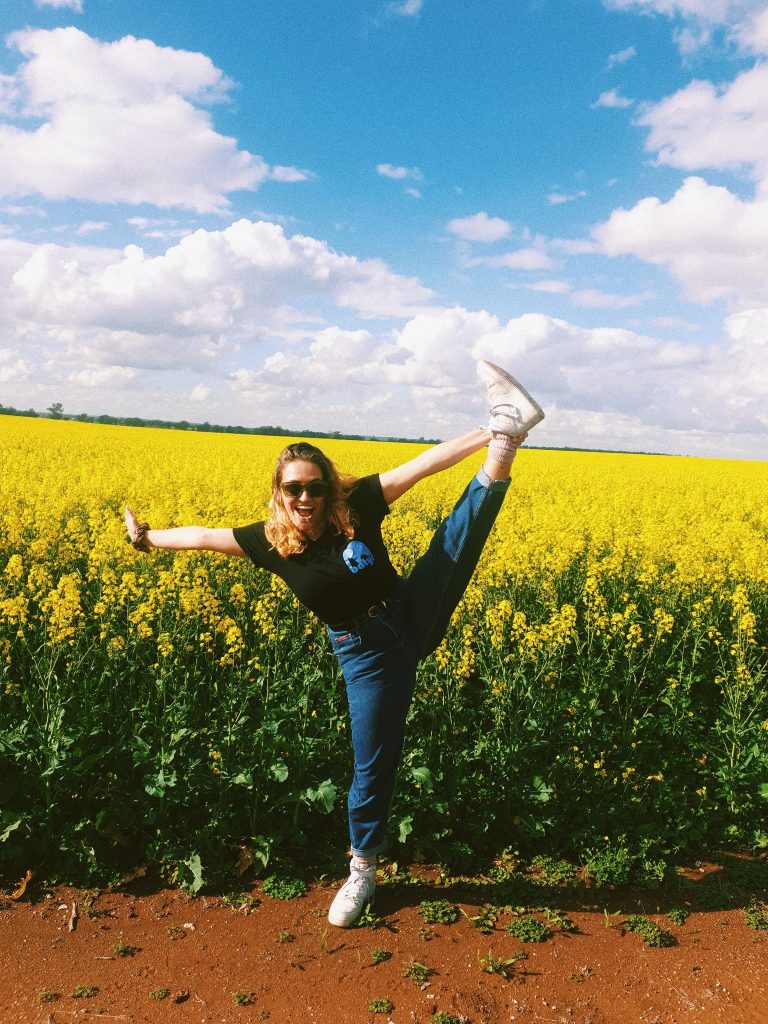 A medical emergency helped Heidi Annand realise she wanted to become a doctor.
A Charles Sturt alumna, Heidi is now a student of medicine. She's part of the first cohort of the Doctor of Medicine being studied on Charles Sturt's Orange campus.
For most people, theatre media is a long way from practicing medicine. But not for Heidi Annand.

The eldest of six girls, Heidi grew up in Bathurst and studied a Bachelor of Communication at the Charles Sturt campus. Since graduating, she's worked in regional arts and events, and really enjoyed her career. Then something changed.
The turning point
"My mum had a stroke four years ago. We took her to Bathurst hospital and then I went in the helicopter with her to Royal Prince Alfred Hospital (RPA). She was thrombolysed and stable, and I spent the next few days with her in Sydney.

"Having not really spent any time in hospital, I suddenly realised what doctors and nurses actually do. And how amazing it is. The care my mum received was incredible. The health providers in Bathurst and at RPA were just so impressive.
"Then, due to the impact of COVID-19 on theatre and live events, I lost my job at the Bathurst Memorial Entertainment Centre. I took it as a sign. That's when I decided to focus on becoming a student of medicine."
Being a student of medicine in Orange
Heidi is part of Charles Sturt's first cohort of the Doctor of Medicine. And like Heidi, many medicine students have completed or partially completed a previous university qualification, such as communications, law, dentistry, nursing or physiotherapy.

"I chose to study again at Charles Sturt because I'd been hearing about the School of Rural Medicine for a long time. I'd previously worked at the university, so I was very aware of the buzz around the upcoming course and new medicine buildings on campus.

"It was such an amazing experience at Charles Sturt the first time around. However, I don't think I would actually have applied for medicine if it hadn't been offered in Orange.
"One thing that surprised me about the course is how much the tutors care about you. These are working doctors who take time out of their hectic lives to teach and support us. We're learning how to engage with people and communities in a sustainable and ethical way. We get mentorship and personal guidance. I didn't realise how much work doctors put into training the next generation. It's special. I feel extremely privileged to have the experience we get in Orange."
From student of medicine to doctor of medicine
While she's just starting out as a student of medicine, Heidi is considering a career as a GP or rural generalist.

"I'm keen to go in that direction, as I'd like to be that first point of contact with healthcare for people and provide a holistic experience. I like the idea of following through with patients. Of having a lifelong connection with people in a health provision role. I'd love to work more rurally as well and spend time in remote Australia. And I have a particular interest in gynecology and obstetrics.

"Charles Sturt lobbied so hard to get medical training in the regions. They were committed to addressing rural medical shortages. It follows the uni's motto yindyamarra winhanganha – meaning the wisdom of respectfully knowing how to live well in a world worth living in. It's a motto I take very seriously as an alumni, both professionally and personally.
Make a difference
Want to become a student of medicine and learn to serve your community? Our undergraduate-entry Doctor of Medicine is for you.