At Charles Sturt University, tackling sustainability issues in Australia – and beyond – is at the heart of everything we do! In fact, according to the Times Higher Education Impact Rankings 2021, we're in the top 10 per cent of universities in the world for climate action! And that means as one of our students you'll study sustainability issues as part of your course – no matter which degree you choose!
We've recently embarked upon a project to integrate sustainability into all our undergraduate degrees. We spoke with Dr Jonathon Howard about this ambitious and vital initiative.
Dr Howard explained that the driver for this project was one of Charles Sturt's nine graduate learning outcomes. These outcomes are like the common characteristics of all Charles Sturt graduates. They're the foundations from which they will create a world worth living in.
"Our learning outcomes can be grouped into three clusters. Learning about how we know things (academic literacy, numeracy and research). Learning to do, or how to be a professional (ethics, lifelong learning and professional practice). And then there's the outcomes that relate to learning to be.
"They're the sort of dispositions we want within all our graduates. These learning outcomes include having an awareness of indigenous issues, being a global citizen and the driver for our project – being able to reduce our impact on the planet."

Study sustainability issues in Australia – learning to be
Tackling sustainability issues, Dr Howard says, is far broader than just looking after the environment.
"The United Nations has adopted 17 sustainable development goals that we can all work on to transform our world. They include:
eliminating poverty
having good health
economic growth
infrastructure
gender equality
environmental issues.
"You can't draw out one of the 17 and say that alone defines sustainability. They're all interwoven. It's important to understand we can't separate these goals. To tackle sustainability we have to address them all."
And that's what we strive to do at Charles Sturt. This initiative recognises universities across the world for their social and economic impact based on those very same United Nations' Sustainable Development Goals.
The rankings measure sustainability initiatives across research, outreach, and stewardship. How we support the sustainable development goals through teaching and research. But it also looks at internal practices and policies (like being Australia's first carbon neutral university).
Introducing a very important change
With the world changing, the need to integrate sustainability into the teaching of all our courses is more important than ever, Dr Howard believes.
"The past year and the start of this year have seen many extremes. We have fire, flood, and drought, and the issue of climate change has been front and centre. But sustainability is a balancing act. We have to balance the needs of the environment, humanity and the economy, and balance the needs of current and future generations.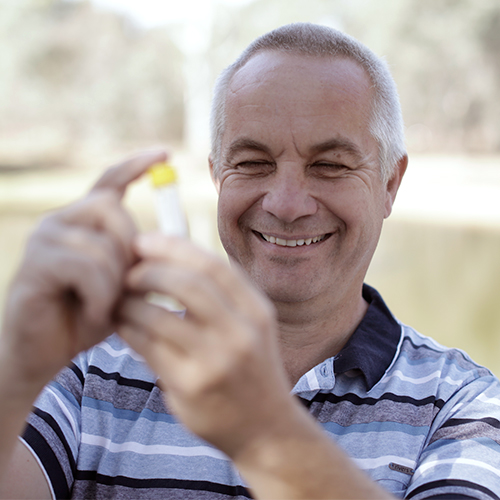 "We want all our graduates – from dentists to engineers, podiatrists to historians – to consider the social, economic and environmental impacts of what they do."
Dr Jonathon Howard
"It doesn't just apply to areas you think are relevant to sustainability, like social work or environmental science. It's about incorporating sustainable into all our undergraduate courses."
A hub of excitement – and resources
The challenge was to work out ways that sustainable practices could easily be applied to the range of courses we offer. From accounting and arts to paramedicine and wine science – and everything in between.
"One of the critical things about these changes was making it easy for academics to integrate sustainability into courses and their teaching. So, we've collected teaching examples from universities around the world and housed them in a virtual library – called the Sustainable Practices Hub.
"These teaching resources come from Australia, the United Kingdom, Europe, and the Americas. But Charles Sturt University is the only place in the world where these examples come together in a one-stop-shop. Staff can use these and learn how sustainable practices can be applied to their particular degrees. It has literature, examples, design technology and a recent staff training module. There's even a section on workplace learning. The workplace learning experiences that our students get are a great opportunity to understand sustainability and make it relevant to their workplace."
Add some flavour to change values
Charles Sturt teachers will take the knowledge and examples from the Sustainable Practices Hub and apply them in their subjects.
"Their curriculum will remain the same, but there will be a context to it – a sustainability 'flavour', if you like. The focus for the teachers is on where, in their profession, students can implement sustainability. For social work it might be helping to improve life for those in impoverished communities. And there's a whole range of 'green health' initiatives for dentistry, podiatry and medicine. For others it could be reducing waste, growing crops with less water, or better supporting communities to recover from disasters."
Including sustainability into all our degrees is an ongoing process given our courses are always updating to reflect best practice. And the value of this, Dr Howard says, is also ongoing.
"Hopefully this initiative will help change our students' values. At Charles Sturt we think about what type of future citizens we are creating. Our students will be the leaders and influencers of tomorrow. They'll play key roles in society. That's why we have graduate learning outcomes.
"I can think of hundreds of sustainability issues – war, fire, flood, pandemic – that we've experienced recently which highlight our need to be geared towards creating a world worth living in for tomorrow. We'll need leaders who can make good judgements about our future.
"So, not only will our students graduate with a degree, they will also leave the university with a set of skills ready to respond to the wider community's needs and the uncertain future graduates face."
Leading the way to tackle sustainability issues
We know there's so many ways to tackle sustainability issues in Australia and Dr Howard explains that, at Charles Sturt, we continue to lead the way.
"Initiatives like the hub, solar panels, carbon offsets and water conservation have all helped put us at the forefront of universities around Australia. And also saw us be awarded at the recent Green Gowns. They're like the Academy Awards for Australian universities practising sustainability! They recognise the exceptional sustainability initiatives being undertaken by Australian universities and colleges."
As well as our nod in the Times Higher Education rankings for climate action, Charles Sturt was a finalist in the Green Gown Awards' Learning, Teaching and Skills category and the winner of the Continuous Improvement: Institutional Change category.
Create a world worth living in
What does a better world look like to you? Does it mean finding a cure for illnesses, improving education or developing innovative technologies? Or is it about having an impact in your community by adopting sustainable thinking and practices? If you've ever wanted to make a difference in a career you're passionate about, you can with us.