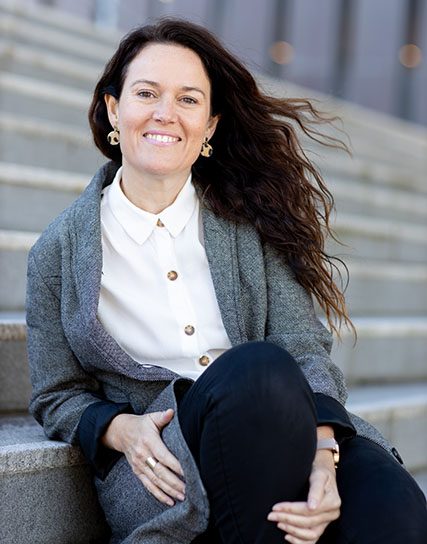 Alison Michalk is a communication graduate from Charles Sturt University. She is also a CEO who's put her passion for environmental and social responsibility into action in her own business. And in the wider business community in Australia. She believes businesses should balance people, profit and the planet when it comes to their operations. So what is ethical business and how do you know if a business is ethical?
Alison runs Quiip, a company which helps build and run online communities.
"One of our first clients was the Australian Federal Government. It was a campaign around reducing domestic violence. So, talking to young people about respectful relationships, but it also touched on every controversial topic you could think of, so it was a very interesting and challenging project to sink our teeth into. That really cemented us very early on in a position where we wanted to use social media or online communities as a force for good."
However, her drive to do good has its roots in her childhood.
"My mother was a science teacher and was quite environmentally focused. We used to take plastic bags to the supermarket in the 80s. You know poor Mum's been doing this for God knows how long, waiting for it to become standard practice and we're still not there. She definitely influenced me. Then when I went to Charles Sturt, I got the role as the environment officer there. So, I've actually joked to quite a lot of friends that the work I'm doing now is this perfect Venn diagram of the 20-year-old environmental activist in me and the 40-something businesswoman, where I get to use business to drive environmental change."
How do you know a business is ethical?
"Quiip is a Certified B Corporation. Certification is one of the higher standards in the world for social and environmental responsibility, which certainly makes it sound very difficult. But the great thing is that the certification program will shine a spotlight on all the things that you're doing quite well as a business, which you know if you're ethically inclined, will be quite a few things, but it'll also show areas where you could increase your impact.
"Lots of companies are Certified B Corporations. Some of the biggest ones include Patagonia and Ben and Jerry's. And here in Australia, we've got Who Gives a Crap – the toilet paper company. Plus, Keep Cup, Kathmandu and a whole range of companies like that. So most people have probably used these products all the time without really realising that they're B Corp certified. So you are probably involved in the movement, making good choices as consumers without even realising. But now you can look out for that B Corp stamp with future purchases."
What do ethical businesses do?
"Who Gives a Crap recently gave away $5.8 million dollars. But you certainly don't need $5.8 million to give away in order to be a Certified B Corporation. Even if you're a tiny company, you can do things that make a difference – giving away some time, looking at how you can offset your energy.
"We launched a community for Australian and New Zealand Certified B Corporations. It's open to everyone, so even if you're an aspiring B Corp or just interested in sustainable, responsible, ethical businesses – anyone can join. But what I particularly love about the B Corp community is how willing they are to share resources and knowledge and information. Everyone wants to pull businesses up to be better.
"So I've just seen great examples where people are saying: 'Oh, does anyone have an inclusive language guide?' And a company will come in and say: 'We're working on one here, but we're really open to feedback or thoughts if people want to have a look at it and share what's working with their organisation.' The business environment typically is very competitive, and I've just really enjoyed how collaborative and willing these corporations are to help other businesses be better.
"There are also B Labs which run around the world to look at how we can help drive collective action. So there's already a few collective action groups within the B Corp movement. There's a big one around climate change: The Climate Collective. There's a net zero 2030 goal, which I think more than 900 B Corporations have pledged to. So we're looking at how we can use that collective power as an even bigger force for good."
Play your part
Charles Sturt University has signed up to the United Nations' Sustainable Development Goals. These goals are a way for organisations to orientate themselves to help build a better, more sustainable future. They take in everything from climate action and reducing poverty to gender equality and quality education.
You can also make a difference – in your career, your community, and for the planet – at a university committed to a brighter future. Choose your course and play your part.