So you've heard about 'soft skills'.
Chances are you already have some, even if you're not familiar with the term. Think things like creativity, problem-solving, listening, empathy, common sense, positivity and motivation.
But do you know why soft skills are important?
Here's the lowdown on why developing these skills will put you in a great place when it comes to your future career.
1. They're the skills that help you collaborate
Your soft skills are the combination of your people skills, social skills and communication skills, as well as your personality traits and attitudes.
That means they're the skills that will help you collaborate on projects. All jobs involve collaboration to some degree. And these days you could be collaborating with people on projects across the country or around the world!
Sure, you'll need technical – or hard – skills for your job, whatever you end up doing. But the perfect blend of hard skills and soft skills will give you the edge when it comes to taking your career where you want to go.
A well-rounded skill set can make the difference when it comes to getting the job you really want!
2. They are skills that robots don't have
The world of work is becoming more and more automated, but there are some things robots just can't do. Like come up with original ideas or have social interactions.
That means if you are good at creative thinking, problem-solving and active listening, for example, you'll be valuable to all sorts of organisations in the future.
And the good news is that at Charles Sturt we'll help you develop your soft skills, whichever course you choose to study. We believe these skills are so important that we integrate them into all our degrees.
What's more, we have loads of other ways you can develop soft skills outside the classroom too.
3. You take them with you, wherever you go!
Did you know that someone who's 15 years old today is predicted to have more than 17 jobs over five different careers? (FYA, The New Work Smarts)
So what's that special something that will help you move seamlessly between jobs and careers?
Answer: soft skills.
That's because they are transferable. You take them with you when you move from one workplace – or career – to another. And they're skills that will be valuable in any industry you might want to work in.
Well-developed soft skills will give you many more options through your working life. And that's always going to be a good thing.
4. They can help you get into uni at Charles Sturt
Say what?! Yep, that's right. We value soft skills so much we built our Charles Sturt Advantage early offer program around them.
We know there's more to being an excellent student than marks alone.
And we get that the personal qualities you bring with you to uni might not always be reflected in your exam results.
So when you apply to study with us through the Charles Sturt Advantage early offer program you get to tell us about your soft skills.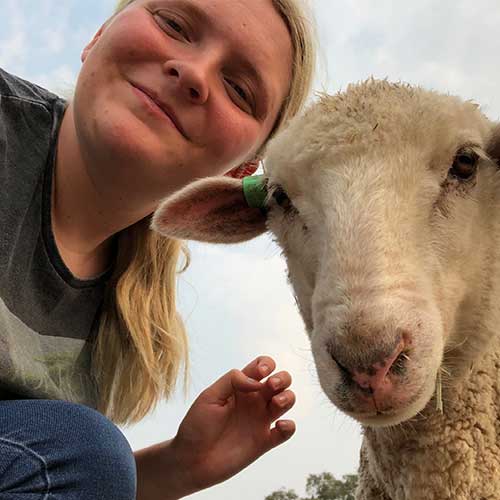 Rachel Fischer got an early offer for her health and rehabilitation science degree through the program.

"Rather than just caring about how smart you are, Charles Sturt also looks at what kind of person you are and your soft skills. I did have some knowledge of what soft skills were (like being a leader, team work and communication) but I didn't know universities even cared about this stuff."
Yes, we care about this stuff.
Because we know your soft skills will help you succeed at uni – and at life.
Get the advantage
Soft skills are a big part of setting yourself up for success when it comes to taking your next steps. Find out how the Charles Sturt Advantage early offer program can help you turn your soft skills into your first step towards your future career. It's time to get the advantage!