Kim Harbour is a lifelong learner. She began her Charles Sturt University postgraduate study journey with a Graduate Certificate in Business Administration, followed by a Master of Social Work (Advanced Practice). She's currently enrolled in her Master of Business Administration.
But a shocking motorbike accident in 2014 almost stopped Kim in her tracks.
Insight sat down with Kim to chat about her road to recovery, her experiences while studying with Charles Sturt – and why she just keeps on coming back.
My path to Charles Sturt
My journey began all the way back in Year 12. I preferred the adult-style learning offered at TAFE as opposed to a school environment, so I began studying social sciences at TAFE. After successfully completing Year 12, I completed Certificate IV in Youth, Child and Family Studies.
Earning this qualification led me to a job as a youth worker for St Luke's Anglicare in Bendigo. Working in this role allowed me to develop and nurture my passion for the welfare of children, young people and families. From there, I applied for the Bachelor of Social Work – and was accepted!
While studying my undergrad, I worked for the Department of Justice, then in psychiatric services, housing and homelessness, and finally, child protection. After building a solid 10-year foundation in child protection, I applied to study for my master's degree in social work through Charles Sturt University. I wanted to increase my practical skills and theoretical knowledge in my chosen field. Another driving factor was the thought of providing an even better service to my clients and being a valuable employee.
I initially chose the university because of the flexibility. I was able to continue working in my field and study at the same time. I also chose Charles Sturt because of the support offered. I found the uni to have realistic expectations about how their students balanced their work, life and study commitments.
Sadly, in the midst of studying my master's degree, my fiancé and I were involved in a serious motorcycle accident which left us both with permanent injuries.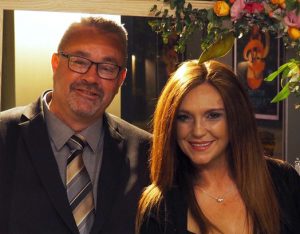 The university was so supportive during these times – and I was able to continue my studies while recovering. With the support of Charles Sturt University and my numerous medical practitioners, I graduated with my Master of Social Work (Advanced Practice) 18 months post-accident and around having nine surgeries.
Regrettably, because of my injuries I was unable to continue working in child protection. I made the decision to start my own business and enrol in the Master of Business Administration (MBA). Although I still have a passion for social work, I believe that when one door closes, another opens. I'm really looking forward to my new career as a business owner and graduating with my MBA.
The university is always there for me
When I decided it was time to further my qualification, I researched the best fit for me and my situation. I was really impressed with Charles Sturt University – the variety of courses on offer, the delivery of online study and the way the staff made me feel when I was making initial inquiries and enrolling in my courses. I felt supported and comfortable, even at that early stage. It ticked all the boxes for me.
While I was studying, no question or request ever seemed too difficult for the staff. I've always found that the range of staff (academic, admin and support) have always gone out of their way to support me through both challenging and positive times.
There were times when I felt overwhelmed looking at the course timetables or assessment requirements. Panic sets in and you begin to question your abilities and coping mechanisms. I've learnt through my studies that anything is possible if you take the time to learn, absorb and commit yourself to the outcomes you want to achieve. My advice to others is: try not to jump to conclusions and think that something is impossible. Because with a positive attitude, coupled with the wonderful support, you can do it! I graduated with a Master of Social Work from my hospital bed – and I've just started another master's degree while starting up my first business!
Why I keep coming back for postgraduate study
When I was asking myself how to choose a university degree, there were plenty of reasons why I chose to study with Charles Sturt University again and again.
I feel comfortable with the delivery model of online learning, as well as the wide selection of courses and subjects. I was able to tailor my academic requirements to suit my professional needs. As I've mentioned, the support is exceptional. And the sense of community makes me feel like I belong – even if I'm studying from afar.
While I was balancing postgraduate study and working in a demanding position like child protection, it was definitely challenging. But when I was communicating with staff about my challenges, I was always given flexible options to meet my needs and allow me to successfully complete my courses.
Finally, the support I was given after my accident was amazing. Charles Sturt University was sympathetic and helpful during the entire ordeal.
For anyone questioning if they have what it takes, I'd say: go for it! You have nothing to lose and everything to gain.
Ready to kickstart your career with postgraduate study?
Explore our Bachelor of Social Work or take a look at postgraduate study opportunities in business with Charles Sturt University.