Question: which of these is going to provide the most fun at uni?
Your regular Zoom hangout with your course mates
The uni library
Joining a sports team or club
Answer: the library!
Okay… we might be telling a little fib with that one. However, the Charles Sturt uni library will be pivotal in helping you do well in your course. Let us show you how to make the most of it. We think you'll find it super valuable – although you still might get the occasional "shhh"!
Everything you need – in the one place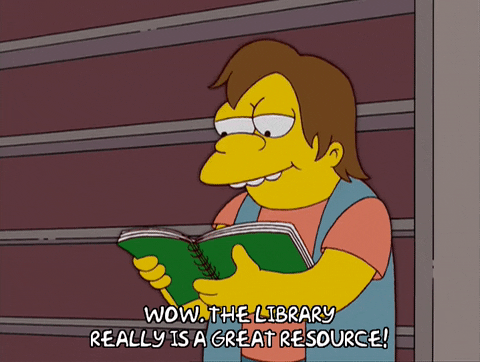 Aside from the obvious benefit of borrowing books, there's so much more you can do at the Charles Sturt uni library. For most of your assignments, you'll need to do some research. The library can help you with skill development and workshops to help you find the best resources that will help you complete your assessments – and get top marks!
The uni library can be one of your major support systems while studying at Charles Sturt. Whether you're studying online or on campus, the friendly team are always ready to lend a hand and help you find what you need.
Here are a few examples of how the uni library might come in handy.
You can use Primo Search and other databases to look for books, eBooks, articles, journals, videos and more to help you smash out an assignment.
Laptop on the blink? You can head to the library and jump on one of the computers for students.
If you think Wikipedia is a good source for your report – think again. It might be a good idea to book in for a free library referencing workshop.
You can book a meeting room for you and your classmates to come together and work on a group assessment.
Need a quiet place to get some work done? Look no further than the uni library.
Questions? We've got answers. You can visit Student Central (located in the library) to have any of your questions about studying with Charles Sturt answered.
Studying online? The uni library has got your back
What's the difference between the on-campus uni library and using the library while studying online? Very little. You can access all the resources you need to ace your degree – however you choose to study.
When you study online with Charles Sturt University, everything you need is there at the click of a mouse. Our extensive digital library is available 24/7, with plenty of online resources and how-to guides to help you find what you need. We've even got a dedicated library YouTube channel for all your library learning know-how. And if you need any books sent to you, we'll post them out free of charge. You can search for all the books, eBooks, articles, journals, videos online. You can also access research, writing and referencing resources that can assist you while working on your assignments.
Free tutorials and workshops to get you feeling confident
We want to set you up with for the best chance of success when you study at Charles Sturt. The more empowered you are, the more likely you are to smash your goals. That's why we've created a whole suite of online tutorials and online workshops for our students. And they're 100 per cent free!
They are a great way to improve your study skills or alleviate any worries around assessments, study or exam prep. Some of the topics include:
getting started with the library
developing your research skills
using library databases
how to protect yourself online
how to promote yourself online.
Get the support you need to succeed with the uni library
If you want a uni that provides an interactive library with genuine and friendly support – look no further. The Charles Sturt uni library will empower you with the tools and knowledge to achieve your study goals.
Ready to begin your Charles Sturt journey? Find the right course for you.