When it comes to making career choices there's no right or wrong way. There's no time limit. And no experience that's not valuable! All that you do will form the stepping stones of your unique career path.
Think of it like a patchwork quilt.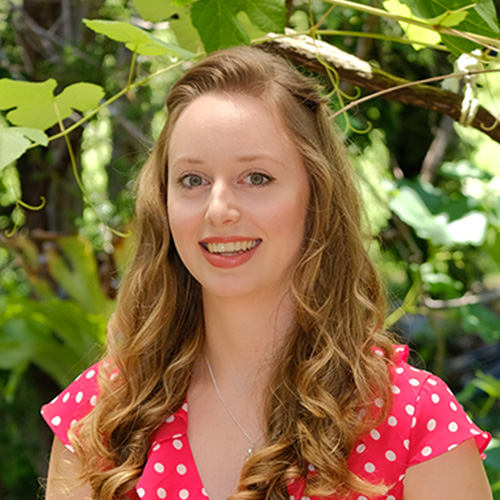 You have an assortment of jobs or qualifications – and collected a range of different skills along the way – they'll all join to create your own diverse career patchwork quilt! And often you'll be surprised by where your career choices will take you.
Charles Sturt University alumna Louise Sicard's originally thought she'd have a career in music. Then she considered teaching. Today Louise is a lecturer in criminology! Her story highlights that where your career journey begins is not necessarily where it will end.
The age-old question: what do I want to do?
Music has always played a big part in Louise's life. That's why she thought the music industry might be the key to her career. The accomplished singer, pianist, tenor saxophonist and clarinettist first studied a Bachelor of Music.
"Often you like what you're good at because those things tend to come easier to you. At school I was pretty decent at music. So, I was led to a career in music because of my passion – as well as other people's encouragement.
"I was open to following any type of career in music. I enjoyed composition and the technology side of music. I was looking at film score composition or studio work. As a musician you know you'll always have your thumbs in a lot of different pots!
"Postgraduate study meant I'd have another qualification in case I needed it.
"Without any absolute career choices master plan, I enrolled in a Master of Teaching. At the time I didn't know how useful that qualification was going to be, I just thought it was good to have. And it only took me a year-and-a-half to do."
Tuning in to TV – and career choices!
While doing that Master's, things started to shift for Louise, and she became fascinated with studying.
"I was becoming better at critical thinking and getting more involved in lecture discussions and arguments. After one lecture (where I'd been arguing a point full-on with another student), my lecturer asked to speak with me. I thought I was in trouble! Instead he asked whether I'd ever considered doing more study.
"In the back of my mind I did have something brewing. And it was something quite different. I wondered whether I could look into music therapy for offenders. Was there some way music could be useful with people who had done really awful things?"
The musical link is easy to make, but you might be asking how someone doing a master's in teaching jumped to criminology? The answer may surprise you.
"During my bachelor's at another university I had pitched the idea of looking at high risk offender treatment and the potential of music therapy within this field. I was laughed at, so I thought I'd just leave it at that. But then I pitched my idea again to the lecturer who had pulled me aside, and he immediately put me in touch with his colleague in criminology.
"In a single meeting with him, we defined my four-year plan – including one year of Honours and then my three-year PhD.
"We wrote all the ideas in a tiny, tiny notebook, which I saved for the four years. When I finished my PhD I gave it back to my supervisor and said 'it's all done!'"
The next piece of the puzzle…
It turned out that the lecturer who encouraged Louise to strive for her PhD had taken a position with Charles Sturt, so Louise decided to do her study with us. And that lead to another career choice!
"PhD's are interesting. While you're undertaking them, you often you end up lecturing or tutoring in your discipline because at that time you're at the forefront of research. I really didn't know it, but I was slowly gaining a lot of interest in lecturing, researching and being an academic. It seemed it was becoming my profession even before I finished my research! My ideas around a career formed during my PhD, not at the end.
"Lecturing is a fun role, though I've never enjoyed public speaking. So even when you aren't innately born with a skill (like public speaking) you can end up loving it.
"I've been lecturing for more than three years and now coordinate several subjects. I lecture in criminology, including subjects like Punishment and the State, Policing and the Community, and Organised Crime."
And what of music therapy for offenders?
"Often your PhD research is a stepping stone to further research as an academic. I'm still writing about music therapy. And I'm still trying to open up our corrections settings to use more music therapy because my research indicated that it would work wonderfully for those types of individuals."
Where you start doesn't matter!
Louise says it's true.
"I took an odd path to arrive at a career in criminology. And doing my PhD in criminology, without having any earlier background in the field, was certainly a time! But it shows that it doesn't really matter where you start – you can get to where you want to be (even if you don't quite know where that is at the beginning).
"Sometimes you just need to be flexible with your career choices and believe in yourself. Just say 'yes' when you're thinking 'can I just change degrees, hop into an Honours or a PHD?' Give it a try! Opening another door can be okay. It might even suit you better. Nibble on new opportunities, because I think that never hurts. Realise you can study a few different courses.
Ready to make your next career move?
Explore Charles Sturt University's range of qualifications and find your postgraduate online course. With more than 200 degrees on offer and fee help available, there's no better time to open your next career door.