If you're a practicing healthcare professional and looking to advance your knowledge – or pivot your current career trajectory – then a postgraduate degree is for you. With the healthcare industry only expanding in size, employers are increasingly prioritising postgraduate study when considering career advancement. Now is the time for you to start thinking about your next step.
A Master of Health Management and Leadership from Charles Sturt will give you the skills to open doors and grow further in your health-based career. You'll develop the in-depth knowledge required to manage and lead teams and projects, as well as plan, implement, monitor, and evaluate the health service delivery industry. It's exciting, life-changing work. It lets you be an agent of change in your local community.
So, what do management and leadership in health look like? And why would a master's help catapult you to your next big career move? Let's dig in.
What is health management?
We'll be the first to admit that health management and leadership are very broad. So we've gone ahead and summarised it for you: it's all about the successful running of the healthcare sector. Successful management and leadership ensures all operations within the healthcare space are maintained to allow things to run smoothly. So our healthcare system can be the best it possibly can be.
Management and leadership roles can be found in every type of health organisation – public, private and not-for-profit. It's also prominent in almost every health space you can think of. For example:
Aged care
Dentistry
Medical sciences
Medicine
Nursing
Paramedicine
Physiotherapy
What type of jobs can you get?
The healthcare sector is large and management and leadership roles can look very different. Charles Sturt's Associate Professor in Health Management and Leadership Judith Anderson gave us the lowdown, and spoke to us about what sort of jobs you can land.
"There is certainly a wide variety of management positions in health. For example, I worked in aged care for a while, and registered nurses are often in charge of a ward or facility – particularly after hours – so they are already doing health management. They are leading teams.
"Management and leadership in health can be found in a huge variety of positions. For example managers of an acute ward of a hospital, managers of a radiology department or a pathology lab, or even a director of a hospital all work within management and leadership in the healthcare space. Management and leadership go all the way up to the highest positions in the healthcare sector.
"Quite often in management positions you would also be managing other staff outside of the direct health remit. Staff such as catering or cleaning teams. All of those roles will sit under a health manager too".
So, what sort of things will you learn through a Master's in Health Management and Leadership? What skills are valued by employers?
The skills you'll develop
Judith explains that a wide variety of subjects and courses are taught in the program, to cater for students from varied health backgrounds. This allows students to hone their skills in practical areas that can be transferable across the industry. Some of these skills include:
Communication skills
Conflict resolution
Epidemiology
Finance management
Future forecasting – predicting what communities will need in the future
Government structures
Information management
Leadership skills – such as idea generation and leading change
Population health
Managing product supply chains
Risk and quality management
Workforce and consumer management
"Some people will start studying these courses early on in their career before they get into management positions. Others do it later – perhaps when they discover there is something they have overlooked or what to expand their knowledge on.
"That's why studying the Master's of Health Management and Leadership is the way to go. You develop your skills in such a wide variety of areas. It's a recognised qualification – if you do a master's, then those employers know that a substantial amount of learning has taken place. And that you have the skills to get you those positions."
How you'll learn
The course is delivered online and can be studied full-time or part-time, so students can study around their existing work and family commitments. It's also focused on authentic assessment items – things that health professionals will be actually doing within their workplace. Judith explains why this is important.
"We structure assessment items around policies that are implemented in their own workplace. This helps not only cater for our wide variety of students in different health fields, but it also means that you'll be able to make an impact in your own workplace from the moment you start your study.
"We have found that this master's course has given students the ability to land permanency in employment. It allows them to upskill and transform their career. This makes a big difference to their lives".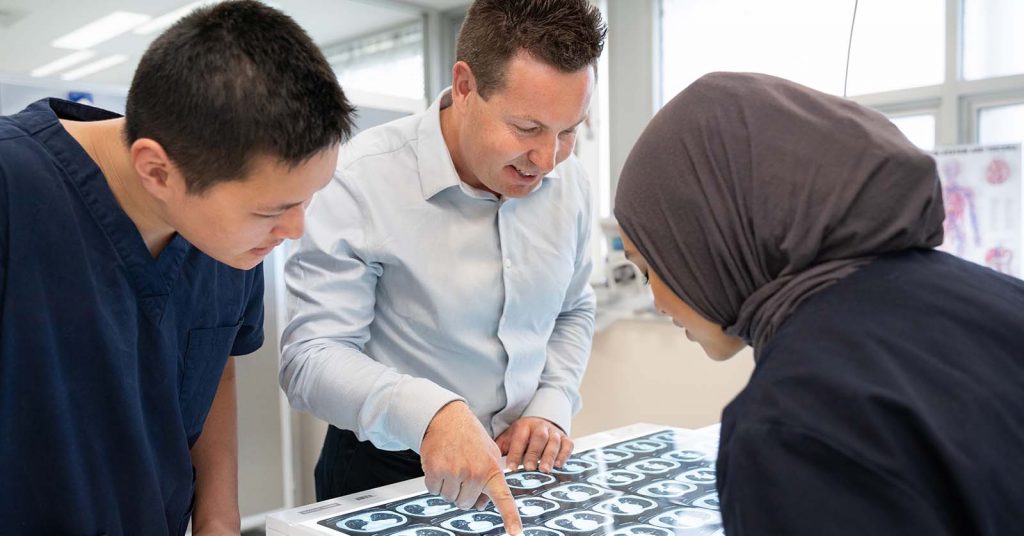 Choose your journey
With multiple exit points, you can choose to leave with a Graduate Certificate in Health Management and Leadership after 0.5 years of full-time study (or part-time equivalent), a Graduate Diploma of Health Management and Leadership after 1 year of full-time study (or part-time equivalent), or gain your full Master of Health Management and Leadership after 1.5 years full-time study (or part-time equivalent). You can even choose to complete your graduate certificate or graduate diploma and come back later to complete your master's – so you can gain the right qualification for you.
You can also choose to start small and ease into your study – or choose to upskill in a particular area – with a micro-credential. This lets you undertake small chunks of study and learning at your own pace. Letting you choose what particular skill sets you to want to hone in on.
Master's and graduate certificate:
Micro-credentials:
The takeaway
Employers are increasingly looking for post-graduate degrees when considering applicants for health management positions. And a Master's in Health Management and Leadership will give you the knowledge to build your employability.
So, are you ready to polish your skills? And take the next step to advance your career? Apply now to begin your journey to upskilling today.