Wondering how to get into cyber security in Australia when you don't have an IT background?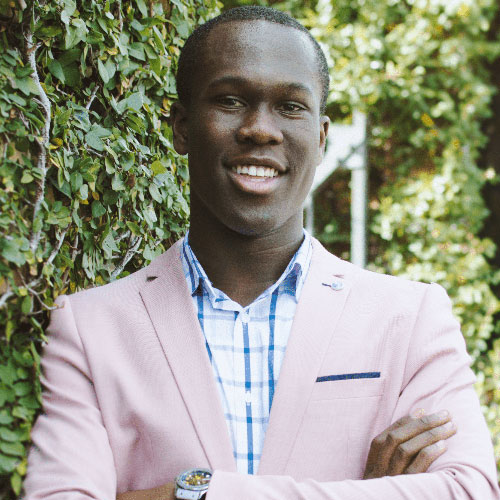 Charles Sturt student Yaw Kyei works in higher education. He recruits and trains student volunteers to assist with events on his campus. It's a world away from cyber terrorism and the dark web. But that hasn't stopped Yaw from pursuing a career change into cyber security. His story will show you how to get into cyber security – whatever your background.
First, choose the right cyber security course
Yaw and a colleague were both looking to reskill into cyber security, so researched courses from different institutions.
"Like me, my colleague is not from a technical background. When he found Charles Sturt University's Graduate Certificate in Cyber Security, his comment was the program was quite flexible."
Yaw wasn't sure what aspect of cyber security he wanted to get into. So a flexible course was important. But there was another, more significant deciding factor.
While Yaw had used computer systems in his work roles, his experience was limited to administrative functions. Studying cyber security would be his first exposure to the technical aspects of information security. He was understandably nervous.
"It was definitely a little worrying, going into cyber security without an IT background. But when I made enquiries about the course, I was able to openly and honestly voice my concerns.
"Some free short courses were recommended to help me understand the fundamentals and baseline language of cyber security before I started my formal studies.
I think it's a testament to how Charles Sturt University onboards students, to provide resources like the free short courses before you officially start your studies."
Free short courses prepare the way
The free short courses Yaw took are offered by IT Masters, the industry-based education company that Charles Sturt University partners with in delivering its online IT qualifications.
"I knew it would be a bit of a learning curve. So to prepare myself, I did three of the free short courses before starting the graduate certificate.
"Each course is online and takes four weeks to complete – although I did my three courses in five weeks. It's a little flexible as all the content is recorded, so you can do it at your own pace. And all were completely free through IT Masters!"
Yaw gained certificates of attainment in Computer Network Fundamentals, Digital Forensics and Enterprise Cyber Security Fundamentals.
Try before you enrol
Yaw is a passionate advocate for the free short courses. And not just because they prepared him for postgraduate studies in cyber security.
"The short courses closely align with the subjects offered in the graduate certificate or master's level courses. So you can get a taste of what a subject is like before doing it officially.
"I started one short course and then realised it wasn't for me. That meant I was able to cross that topic off my list of subjects for my graduate certificate or a potential master's program."
When you're investing in postgraduate studies, the opportunity to try a subject before you enrol in it can mean significant savings in both time and money! Yaw agrees.
"I've recommended the short courses to a lot of my friends – some from non-technical backgrounds like me, some from a technical field at a bachelor's level who are now considering postgraduate studies. I tell them 'You can upskill yourself and see if you want to study either in that field or those subjects specifically – for free!'"
Credit where credit is due
As icing on the cake, when Yaw completed his three short cyber security courses, he received one industry credit towards his graduate certificate. This meant he would only need to complete three units to attain his Graduate Certificate in Cyber Security.
"There were great resources online about how to apply for credit. It was a nice easy process. I just had to complete an online application form, upload some certificates as proof of completion, and from there IT Masters processed my credit.
"Just before I started my official studies, I got the email to say that my credits had been approved. And my student profile showed that I had completed 25 per cent of the requirements for my graduate certificate."
So how did Yaw feel, starting his course knowing he was already a quarter of the way through?
"It was a huge relief!"
What's more, fees aren't charged for subjects that receive credit. That means significant cost savings – which could be more than $3000 per unit credited!
Advice to others wanting to get into cyber security
So, thinking about how to get into cyber security in Australia and wondering if it would be worth it? Yaw has these words.
"A lot of companies and the federal government through their latest cyber security strategy are investing money into this area. That means over the next couple of years they're going to be investing more in the people who might work in information security.
So don't be afraid to branch into cyber security. Dip your toes in a little bit, maybe do a graduate certificate or some short courses.
"When I apply for jobs and say I'm doing a graduate certificate in cyber security, I find everybody perks up. They recognise the importance of cyber related skills.
"It's a really good resume booster. And it's definitely enhanced my personal profile when I'm networking."
How to get into cyber security in Australia: start today!
If you've been looking for a career change but have been unsure how to get into cyber security – or are an IT professional wanting to upskill into the field – Charles Sturt's Graduate Certificate in Cyber Security can get you where you want to go. Reach out to find out how you can get started today.